Jaybird, one of the few noteworthy and quality Bluetooth sport earbud brands, announced two new products to its line-up today, the Jaybird Freedom and Jaybird X3. Both will be available later this year, along with a patent pending app to give you custom sound profiles on each. 
With the Freedom, Jaybird is saying that these are their "most advanced" Bluetooth earbuds to date. You have a patented "tapered step-down design" that, along with Comply foam tips and "enhanced comfort" ear fins, ensures a proper a comfortable fit, even with smaller ears.
Jaybird says the Freedom gets up to 8 hours of playback time, which is a combination of a 4-hour charge on the buds and another through a charging clip.
With the new X3, you get earbuds that are a lot like the X2, only in some new colors and what we are assuming are all new quality parts.
The big deal with both, though, is the fact that each pairs with Jaybird's new MySound app, which allows you to setup custom sound profiles on the headphones that can then be taken to whatever music app you want to listen to. The app will be available on both Android and iOS and will allow you to setup profiles, sync to the headphones, and then take off for your workout or commute.
The Jaybird Freedom runs $199 and will be available in Q2. The new X3 is $149 and will be available in Q3.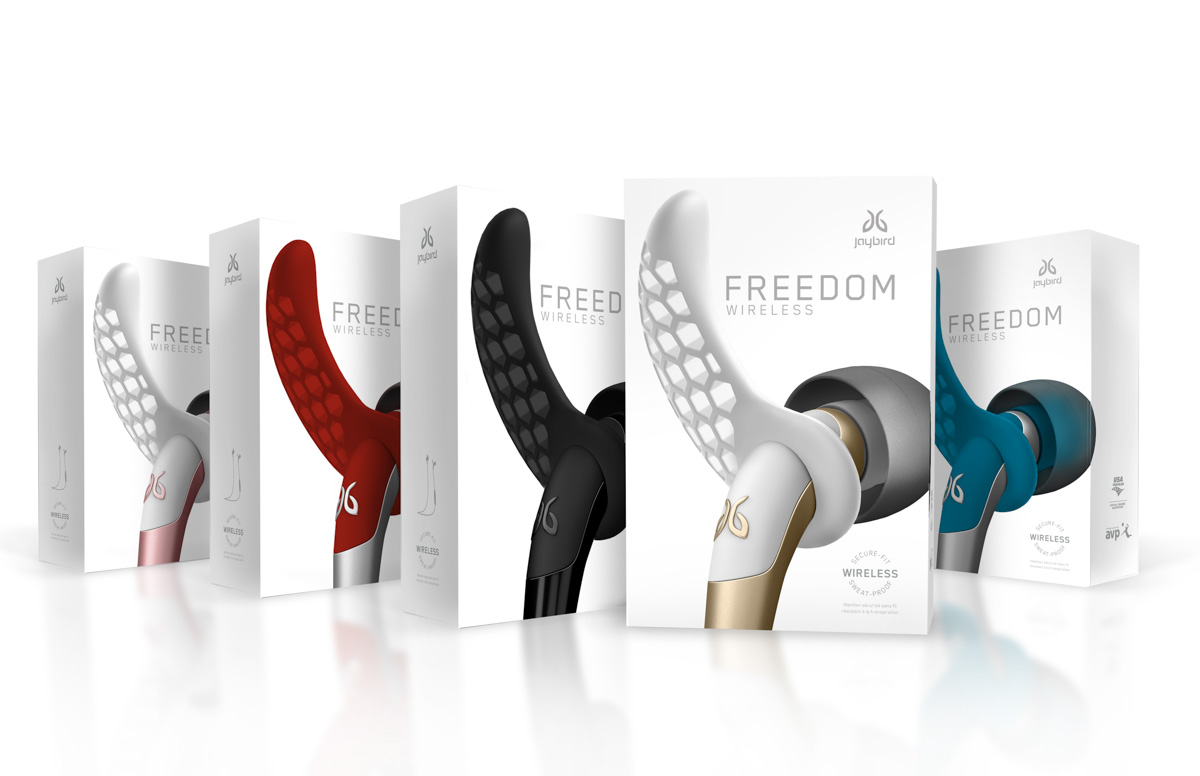 ---

Jaybird Announces Two New Wireless Sport Earbuds: Freedom and X3

— New earbuds feature industry-first design and audio technology —

SPECIAL TO CES — January 5, 2016 — Premium active lifestyle brand, Jaybird, today announced the addition of Freedom and X3 to its growing line of high-end sport earbuds. Jaybird Freedom and X3 are the first wireless sport earbuds to include a customizable sound profile that moves with the user from device to device, and will be available in Q2 and Q3 2016, respectively.

Jaybird Freedom

The micro-sized, secure-fit Jaybird Freedom are the company's most advanced Bluetooth earbuds ever. The most notable feature of Freedom is its patented tapered step-down design, ensuring a comfortable, secure fit in any ear size. These sweat-proof premium metal buds fit perfectly in even the smallest of ears and come with Comply™ memory foam tips, as well as enhanced comfort ear fins to ensure a secure fit. Its passive noise isolation drowns out ambient noise to enhance the sound quality customers have come to expect from Jaybird's audio line.

With its new, patent-pending Jaybird MySound app — available for Android and iOS — users can now customize their equalizer settings, which are then automatically synced to Freedom, creating a unique sound profile that is saved on the buds no matter the music device they're paired with — a first for the wireless sport earbuds market.

Freedom provides users with eight hours of playtime — four hours in the buds and an additional four hours with the included charging clip — for worry-free listening throughout the day or a week's worth of workouts. Equipped with Bluetooth 4.0, Freedom can be paired with up to eight devices, and its inline metal remote gives users complete control over their wireless music with volume buttons and allows for phone calls with its built-in microphone.

Freedom will be available for $199.95 and come in five beautiful color metal options — Carbon (black on black metal), Blaze (red on silver metal), Ocean (blue on silver metal), Gold (white on gold metal), and Blush (white on rose gold metal).

"Freedom combines fashion and sport into the smallest and most elegant wireless earbuds we've ever designed," said Rene Oehlerking, Jaybird's CMO. "The product is both gorgeous and versatile and is designed to be the only buds you'll ever need for fashion, fitness and work. Freedom takes a huge step forward in wireless earbuds innovation by giving users the features of premium over-the-ear headphones in a micro-sized, in-ear package."

Jaybird X3

The successor to the wildly popular Jaybird X2, these secure-fit sport Bluetooth 4.0 buds also feature the proprietary Jaybird MySound app, which gives users complete control over their sound profile by allowing them to customize the EQ settings, and like Freedom automatically sync on the X3 hardware. The seven-hour battery allows users to enjoy a week's worth of music during workouts on a single charge, and Jaybird's proprietary SignalPlus™ antenna architecture allows for a stronger signal resulting in skip-free music listening in outdoor environments.

Featuring the same powerful award-winning Jaybird sound, the X3 includes passive noise isolation technology to enhance sound quality. Sporting a smaller hardware profile than its predecessor, the new sweat-proof buds also incorporate the X-Fit™ system as well as enhanced comfort earfins to give users an even more secure fit during the hardest of workouts. The inline remote allows for easy wireless music and call control, and its Voice Prompts let you know when you've successfully connected X3 or turned the device on or off. At launch, X3 will retail for $149.95 and be available in five colors — Blackout (black), Alpha (military green), Road Rash (red), Dune (tan), and Surf (blue).

"Jaybird has always prided itself on delivering world-class sound, and the MySound app in both the new X3 and Freedom will give users audio control like they've never experienced in a wireless sport earbud," continued Oehlerking. "We're excited to give users full musical freedom to crank up the bass or fine tune for that perfect acoustic sound. "

Jaybird Freedom and Jaybird X3 will be featured at the 2016 Consumer Electronics Show (CES), January 6-9, 2016, at booth 21060 (South Hall). For more information about Jaybird, visit www.JaybirdSport.com.

About Jaybird

Established in 2006, Jaybird is an active lifestyle consumer electronics brand based in Salt Lake City, Utah. Jaybird makes premium market leading sports tech products to inspire people to be active and empower them to improve their lives. Jaybird is known primarily for its innovations in the Bluetooth headphone market. Jaybird is one of the fastest growing private companies in the world, ranked in the Inc. 5000 three times running (currently 392nd nationally, 13th in Utah), and the third top premium sport headphone brand in the US behind only Beats (Apple) and Bose. For more information, please visit www.JaybirdSport.com