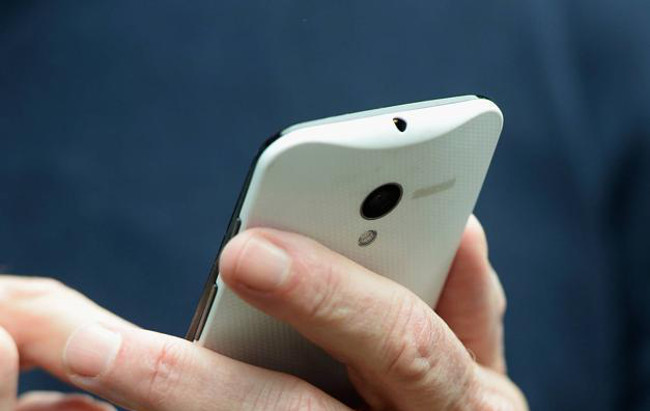 With the Moto X going all sorts of official this Thursday, August 1, we thought it was time for another round-up of all we think we know about Moto's new flagship phone. And yes, we're calling it a "flagship" even though the specs are thought to be somewhat mid-range because we'd be surprised if Motorola doesn't by all means consider this to be on-par with the One, Galaxy S4 and iPhone 5. They wouldn't have taken out an entire full-page ad in several massive newspapers, let Eric Schmidt run wild with it in front of photogs, bring it up on stage at D11, or reportedly have prepared a $500 million marketing budget for it if they didn't think what they had created was nothing short of awesome.
So let's talk about what we're pretty sure we know with only 3 days left until the device's unveiling. 
Design
That is the Moto X in both white and black. It has leaked left and right, including through a previously mentioned photo shoot with Google's Eric Schmidt. He sported the white version with black face, but since the phone can be customized on some level, you could potentially choose how you want both the front and back to look. The press renders of the white and black versions are likely the stock models headed to carrier stores.
We're also expecting some level of customization, which we think means that you will be able to choose the front and back colors of the device, plus potentially pre-load it with wallpapers of choice. We have already seen green, red, blue, and purple back plates, but there are rumors that materials like wood will be available as well. A green version of the phone also recently popped up at a Motorola employee gathering. To allow for this type of customization, Motorola will have to launch some type of website that will take your orders. Rumors suggest that Motorola will promise a couple of day turn-around once ordered. The phone is being assembled in Texas.
In terms of build, the most recent rumors suggest that the phone will come equipped with "Moto Magic Glass," a single layer of Gorilla Glass which is molded to a special polymer to make for a continuous surface that wraps around the entire front and edges of the phone. There will be a zero gap construction, allowing for a smooth and seamless feel along the backside. Last, the Moto X may feature a laminated aluminum structure for a light weight and high strength design.
If all of this pans out, it could be one of the best feeling and looking devices of the year.

Specs
On a spec front, we have what we believe to be the entire spec list thanks to a variety of leaked benchmarks. As I mentioned above, the spec list isn't going to blow your mind if you are concerned about numbers. Motorola has done some tweaks to the processor in what they are calling their X8 Computing System. X8 uses a modified Snapdragon S4 Pro dual-core processor, which has been tweaked to help the phone power select areas in the device – some that require always-on low power, others that need more juice for bigger tasks like gaming. The battery life should greatly benefit by this new system.
The rest of the specs match up to most of the current smartphones on the market, outside of the display which only weighs in at 720p. Most high-end phones in 2013 use 1080p panels, but Motorola has done some interesting things with the panel they are referring to as a "Motorola OLED." It has areas that can light up by themselves without powering on the entire display to show things like on-screen notifications. The 720p panel should also help reduce battery drain.
Here is the list:
Processor:  1.7GHz Qualcomm Snapdragon S4 Pro (MSM8960DT, dual-core) processor
Display:  4.7-inch display, reads as 4.5-inch because of on-screen nav buttons (1184×720 resolution)
RAM:  2GB RAM
Cameras:  10.5MP rear, 2.1MP front
Battery:  2200 mAh
Storage:  16GB internal storage (no microSD slot)
Other:  NFC, 802.11a/b/g/n/ac WiFi
OS:  Android 4.2.2
Software Goodies
Thanks to a leaked Rogers video and the announcement of the new DROID line-up on Verizon, we know a handful of the new software features that will accompany the launch of the Moto X. we know that the phone will show you notifications on-screen, rather than through a notification light. We know how the camera works. We know it'll always be listening for your voice commands. And we know it'll have a way to "zap" photos to other devices nearby. To see most of these new features in action, hit up our DROID hands-on videos here and here.
Carriers
The Moto X is going to all of the major U.S. carriers. We don't know the specific time of launch for each just yet, but FCC approvals at least give us proof that it will be on Verizon (XT1060), AT&T (XT1058), Sprint (XT1056), US Cellular (XT1055), and T-Mobile (XT1053).
Release Date and Price
There currently is not an announced in-store date for the Moto X. The device will be announced and unveiled on August 1, that much we know is true. August 23 has been tossed out as a possibility for an in-store launch (on Verizon), and I would have to admit that that seems likely. I know that a rumor came out over the weekend suggesting that the device could arrive as early as this week, but I'm not ready to buy into it. That sounds amazing and all, however, Motorola isn't showing the phone to press until this Thursday, so making the phone available the same day or the next makes almost no sense. If anything, we could see a pre-order come Thursday or Friday, but that's speculation on my part. Hopefully, I'm wrong and we can all buy it at the end of this week.
In terms of price, there are rumors that think we could see the phone for as cheap as $300 off-contract, while my mind is starting to wonder if it'll be priced like other high-end phones at $199 on-contract and $599 off through carriers. The reason I bring up those prices is because the new DROID phones sit at those numbers and feature almost identical specs and features to the Moto X. We know that Motorola wants prices to come down far below those typical $600 and $650 off-contract price points, but I don't know if they are ready to do it just yet.
Thursday can't get here fast enough. We'll be on hand in NYC for its unveiling – be sure to keep close.