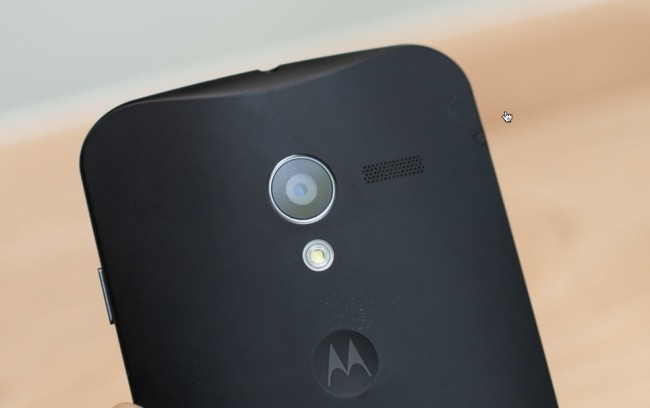 It wouldn't be a proper day at this point if we didn't have something to report on either the Moto X or Nexus 7. Since the Nexus 7 has been everywhere this afternoon, we thought we'd also share some Moto X happenings that popped up, mostly because they help round out the specs, and we know that you love talking about this phone, if nothing else. The rest of today's leak via Android Police – outside of the specs – is really just a bunch of blurry cam shots of the AT&T model and other info we already knew. Anyways, let's get to the new stuff. 
So according to a series of benchmark screenshots that were run on the device, we can now essentially confirm the 10MP camera on the rear, and that the device does indeed sport a 4.7-inch display, with about 4.5-inches usable because of the on-screen navigation buttons. The processor, once again is a dual-core Qualcomm Snapdragon S4 Pro. We also get second or third or fourth (I've lost track) confirmations on the RAM, storage, connectivity options, and battery.
In terms of the benchmarks that were run, the device is not going to be some sneaky beast, because after all, it is running a semi-older dual-core processor.
Just keep in mind that we're starting to really hear that Motorola may do something crazy with the price of this phone to make it irresistible to almost everyone, and that's off contract. We've also heard nothing but glowing remarks from those who have had a chance to use the device. In fact, I haven't heard one complaint about the screen resolution or the lack of a new processor like the Snapdragon 600.
We'll get our hands on the device come August 1, so be sure to mark it on your calendars and hang around the site.
Here are the specs now that some other pieces have been figured out:
Processor:  1.7GHz Qualcomm Snapdragon S4 Pro (MSM8960DT, dual-core) processor
Display:  4.7-inch display, reads as 4.5-inch because of on-screen nav buttons (1184×720 resolution)
RAM:  2GB RAM
Cameras:  10.5MP rear, 2.1MP front
Battery:  2200 mAh
Storage:  16GB internal storage (no microSD slot)
Other:  NFC, 802.11a/b/g/n/ac WiFi
Some additional pictures:
Be sure to check out the official press renders for the device in both white and black that came out yesterday.
Via:  Android Police
Cheers Trevor!