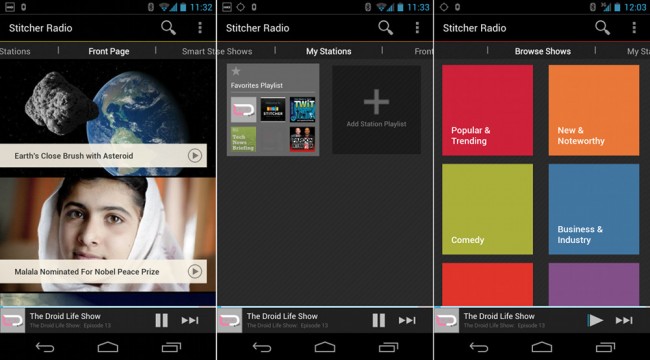 Stitcher, one of the most popular podcast services on the planet, gave its Android application a full makeover this morning. The app's new UI takes notes from some of the new Android design guidelines, with its use of a fully swipe-able column style browsing experience and the action bar.
The Stitcher team also improved content discovery, made browsing much easier, allows for notifications controls with Jelly Bean phones, and made the app incredibly fast and stable.
The Droid Life Show is also on Stitcher, so be sure to find us and subscribe. 
Here is the full list of changes:
Complete Interaction and Visual Redesign – Based on intensive user research, the latest
version of Stitcher is more intuitive than ever and expresses the visual design set forth by Google's
design guidelines. The app's core navigation methods now use Android's Action Bar, dropping the
learning curve for Android users in handling the app.

Improved Content Discovery – This update adds a standalone Smart Station, which serves
dynamic recommendations based on individual listening activity.

Better Browsing – Listeners can thumb through an infinite list of recommendations without
interrupting their current listening, for an uninterrupted browsing experience

Upgraded Performance and Stability – Stitcher for Android is reengineered using the latest
media APIs to best deliver a smooth listening experience, rebuilding the audio player from scratch.

Rich Notifications – Exclusive to Jelly Bean users, listeners can control playback, pausing and
tracking without unlocking their phones.
Listen to The Droid Life Show | Play Link