Creating tiers of phones is not a new concept in this industry. Separating out flagship phones into multiple models is actually the norm at this point, with many manufacturers moving beyond the 2-tier model and going with 3. Samsung just did it with the Galaxy S20 line-up, as we expected them to do, though this time it makes less sense than in previous years.
Earlier this week, Samsung introduced us to the Galaxy S20, Galaxy S20+, and Galaxy S20 Ultra. The entire line-up screams "We have everything!" including 5G and next-generation cameras and 120Hz displays and extra large batteries. But after looking closer at the specs sheet, I can't help but wonder what the point of the Galaxy S20+ is. Why would you buy it?
You have a starting price breakdown here that looks like this: Galaxy S20 ($999), Galaxy S20+ ($1,199), and Galaxy S20 Ultra ($1,399). What are you getting in the S20+ that's worth $200 more than the Galaxy S20?
Galaxy S20 vs. Galaxy S20+
Well, you get a bigger display that jumps from 6.2″ to 6.7″. Both are QHD+ and 120Hz, so they offer the same experience, it's just that one is 0.5″ smaller. In the camera for the S20+, you get an extra Time of Flight (ToF) sensor for depth sensing, which look, I'm not sure anyone really cares about nor does it really matter. You get a bigger battery at 4500mAh vs. 4000mAh. With the S20+ you can choose different storage sizes above 128GB, which you can't do on the S20. Of course, more storage means more money.
And finally, you get access to 5G mmW on the S20+, which this early Galaxy S20 does not have. The regular Galaxy S20 does have 5G (access to mid-band and low-band 5G), just not access to that high-band mmW frequency. I'm just going to be straight here – 5G mmW does not matter and it should not be a reason to buy the S20+ in 2020. 5G mmW is the hotspot 5G from Verizon and AT&T that covers a few blocks in a few major cities. It barely works through a window, is only really great with direct line-of-sight to a tower, and will probably overheat your phone. Unless you live and/or work in a section of a city that has great access to 5G mmW, don't make it a part of the purchase decision.
To recap, the S20+ gives you a display that is 0.5″ bigger, 500mAh of extra battery, a ToF sensor, and 5G mmW access. I'm not sure that's really worth an upgrade ($200 more) over the regular S20 knowing that the Galaxy S20 Ultra is similar, yet offers even more. And that's where the existence of the S20+ is so weird.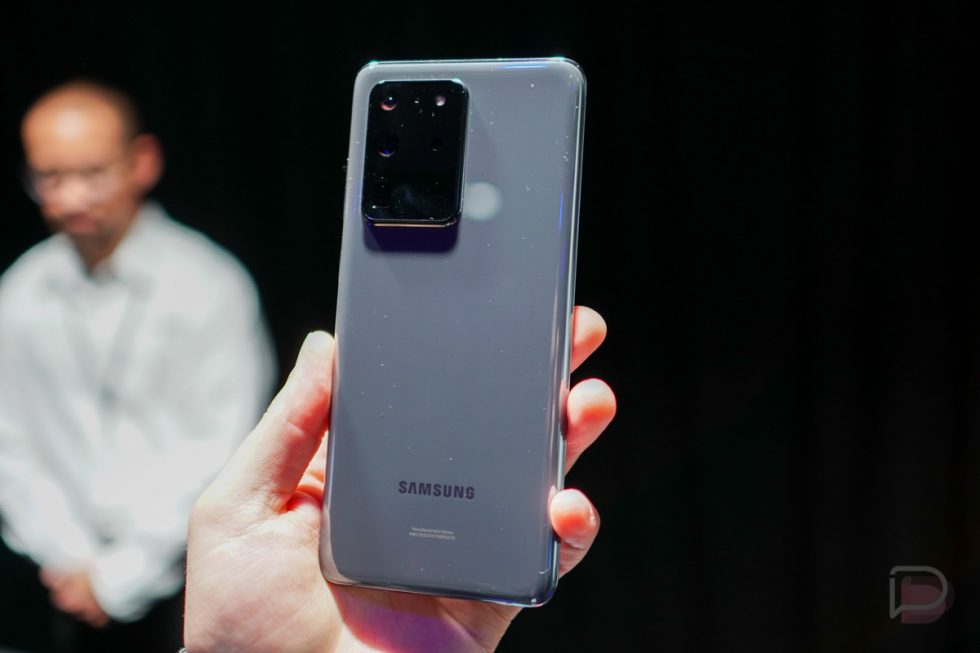 Just go S20 Ultra if you want bigger
Really, though, if you think a 6.2″ display is too small (you are crazy) and you want a bigger battery with a different camera setup and access to 5G mmW, upgrading from the S20 to the S20 Ultra is the play you should make.
The Ultra has a 6.9″ QHD+ 120Hz display (so it's close to the S20+), even larger 5000mAh battery and even faster 45W charging, 5G mmW support, optional increase in RAM to 16GB, and legitimate improvements to the cameras. Remember, the Ultra has the 108MP sensor and a 40MP selfie camera. I know that more megapixels don't always mean better quality, but Samsung is actually trying to improve the quality over the S20 and S20+ here. You get a freakin' 100x zoom!
Now, the price jump from the S20 to the S20 Ultra is $400, which is no joke. The jump from the S20+ to the S20 Ultra is $200. That's a lot of money. However, since so many of you buy phones on 2-year contracts and spread the payments out, we are looking at an extra $8/mo for the Ultra over the S20+ and you get everything I mentioned above. Why wouldn't you do that?
Choice is always good, except when the differences are this minimal
I try not to be one to complain about choices. More often than not, having more choices is a great thing. It's a lot of the reason why we love Android and aren't fans of Apple products. But with the Galaxy S20 line-up, I think it's clear that you either go Galaxy S20 or you get wild buy the top tier Galaxy S20 Ultra. That middle child, the Galaxy S20+, just doesn't make a lot of sense.