The Galaxy Note 10 and 10+ are in the wild now. We have our 10+ review up and there's no denying that it is a fantastic (also expensive) device. What if you are lucky enough to live in a 5G ready city, though? Would you be willing to instead choose the 5G model of the Note 10+ and part with nearly $1300 to give it a shot? Is it worth it? Is 5G accessible enough to make that decision?
To help answer these questions, Verizon invited us up to Providence, RI to test the Galaxy Note 10+ 5G in the "real world." The area around Brown University has one of Verizon's most advanced "5G Ultra Wideband Network's" or mmWave operating today. It is also the only one offering 5G upload speeds! Let's talk a bit about what we learned after hours and hours of testing.
No Way To Know
We all remember how branding-happy Verizon used to be with its phones. They would stick that huge 4G LTE Logo on anything (like home buttons), but that is no longer the case. Samsung (apparently) calls the shots now, so you won't find any branding difference on the Note 10+ 5G versus the regular Note 10+ itself. The only external difference from the non-5G model is the 5G logo on the box it comes in. There is a separate settings menus if you dig deep, but yeah, super stealthy.
With that said, this might be one of those times that I wouldn't have minded an extra logo, knowing I paid $1,300. Is showing off a 5G logo a thing? Maybe it should be!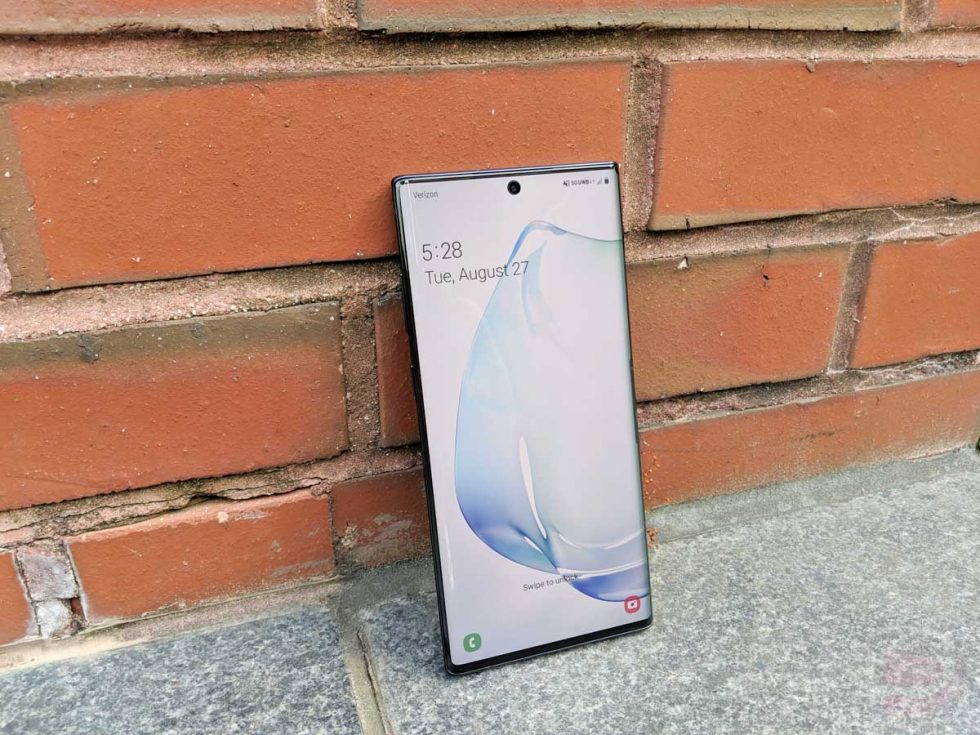 Testing… Testing… 123
After asking a few questions they gave me a device and let me roam free. Using the phone is just like the regular 10+ other than the 5GUWB logo that pops up when you are connected to a 5G node. Verizon made sure to highlight the areas where the 5G nodes were and I happened to find a few of my own. By no accident, the 5G node just outside of the meeting place was the fastest I found all day.
They had set us up with a few apps to test just how capable the network currently is. Speed Test, Netflix, Amazon Prime, and Samsung's App store. Turns out that if the server on the other end of the chain is not up to the task of delivering 5G speeds, you won't get them. All of the named apps happen to be on Amazon's cloud servers.
First up was Speed Test, of course, I hit just over 1800Mbps download and 130Mbps upload first shot. Pretty great. I asked about the 5G upload speeds being lower and they told me that it's not one to one yet because of software on their end. We will have to wait and see about that.
I went through the gamut of the other apps. They all downloaded content extremely fast. Having the ability to download a whole season of a show before a trip would be super clutch.
Where things got interesting was downloading PUBG from Samsung's app store. At 2GBs in size, it literally took 15 seconds, max! This was so astonishing, I had to run it multiple times. I must have downloaded it and uninstalled 10 or 15 times over the course of a few minutes and it was solid every time. That is until I felt the top of the phone getting crazy hot. I was greeted with a warning saying the phone was over 102 degrees F and to calm down. To its credit, the phone never slowed down.
Real World
After almost cooking the phone, I decided to see just how reliable 5G could be. Roaming around this college town, connections were actually not that hard to find. There are no huge buildings around and the nodes sit on top of polls like a crown, making it a bit easier for the signal to reach as far as possible. It was definitely better than the stories I have heard about Chicago and its 5G setup.
The crowns come in 2 flavors: a triple that sits on corners and a double that just points down side streets. Remember that mmWave needs "line of sight" in order to deliver the signal to you. It can bounce around some, like around building… kinda, but even a few leaves can bounce you back to 4G. That is just the nature of the high-frequency mmWave spectrum. You need these nodes at lease every few blocks to blanket an area. I did speed tests at every node I found but nothing reached the speeds of that first one, maybe around 1200Mbps average. Still, that's insanely fast and handles anything I throw at it.
When trying to use it as just another phone, it works great. You can have a full 5GUWB signal walking, even with your back to the node. Walk into a store with glass windows and it's OK, but enter a building and it's gone. It does switch ultra fast to 4G LTE in those situations so you don't miss a beat. It seems like the phone always keeps a constant 4G connection even when on 5G is up and running. That's smart, but it must take a hit on battery life.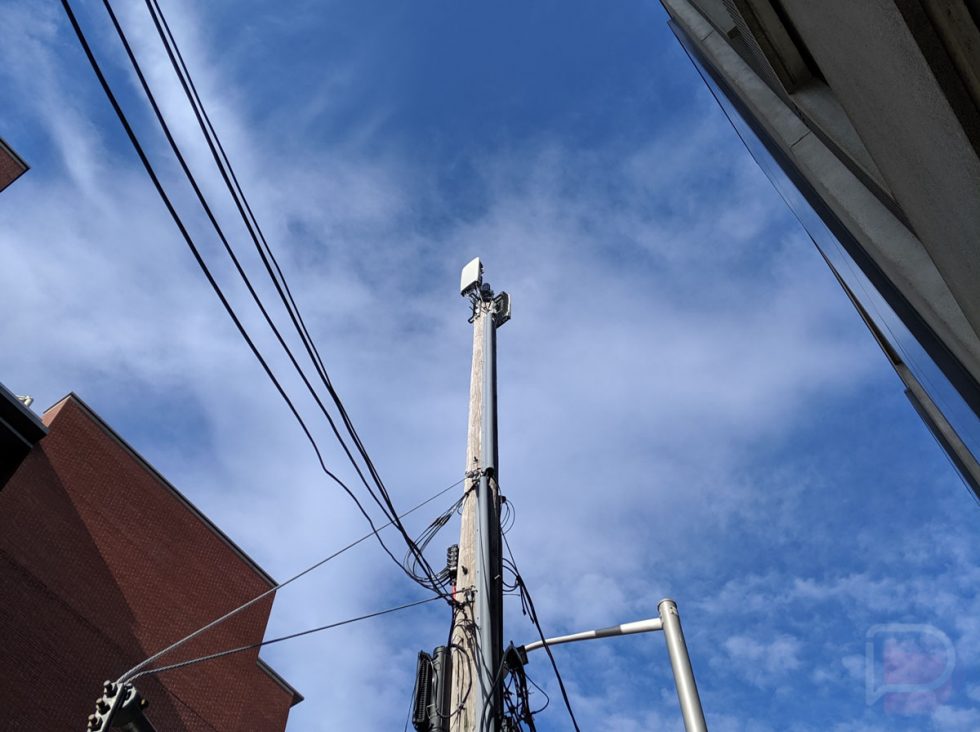 Conclusion
I used the Note 10+ 5G super hard for over 4 hours, with mixed real-world use and also hammering on it, like I did while downloading PubG over and over again. Coming into this I expected the phone to get hot and glitch out switching networks. I am happy to say that it worked just fine, maybe even better than anticipated. It never seems to get super hot other than that extreme example.
As for battery life, the battery in the Note 10+ 5G is the same 4300mAh as the regular model. I started testing at a bit under 100% and ended at 35%. That was with 5G at the ready, all of the time.
At $1299 the Galaxy Note 10+ 5G is a full $200 premium over the 10+. If you don't live in one of the areas with Verizon 5G right now, it does not make sense to fork out that extra cash. If you do, and you have the extra coin to spend, I did not really see a downside other than a lighter wallet.
Should you even consider 5G at this early stage? I think I documented the good and bad of Verizon's 5G mmW network here, so I'll leave that up to you.