These past few weeks since the full and official reveal of the Pixel 4 and Pixel 4 XL have been weird around here. For several years, whenever Google announces new phones, we tend to get, to put it plainly, excited. We like Google's cameras now, enjoy the playful styling of Pixel phone design, and most importantly, prefer their version of Android. The new Pixel phones are almost always the phones we fall back to when not reviewing another phone and often consider them in our "Phone of the Year" rankings. But with this year's Pixel 4 line, we've found ourselves hesitating to tell you to run out and buy either.
Our Pixel 4 review should not have left you considering a purchase of the phone. Our Pixel 4 XL review, which dropped this morning, wasn't much better, though it is the preferred of the two. And because of that, a number of you have asked an important question – if you shouldn't buy the Pixel 4, what should you buy?
As it turns out, I had to make this decision just last week. You see, my wife had an original blue Pixel and then switched to a black Pixel 2 the minute it came out. She passed on the Pixel 3 because she gets frustrated setting up new phones and was still mostly satisfied with the 2. But as the Pixel 4 launch approached, battery life on that Pixel 2 began to diminish and it became clear that she needed something new. I told her about the Pixel 4 and that it was coming in a coral-ish orange color. She was sold. We pre-ordered one for her the minute pre-orders opened.
But then as my testing of the regular Pixel 4 progressed and our review dropped, I told her that this wasn't going to be a phone she wanted. Battery life concerns were the biggest issue, because of her battery life issue with the Pixel 2, but the other issues (like not-really-on-90Hz, not-really-useful Motion Sense, lack of storage, lack of fingerprint reader, and no more original quality photo backups) really made it a phone to pass on for her.
I then I had to decide which phones she might like. I presented her with two: the OnePlus 7T and the Galaxy Note 10.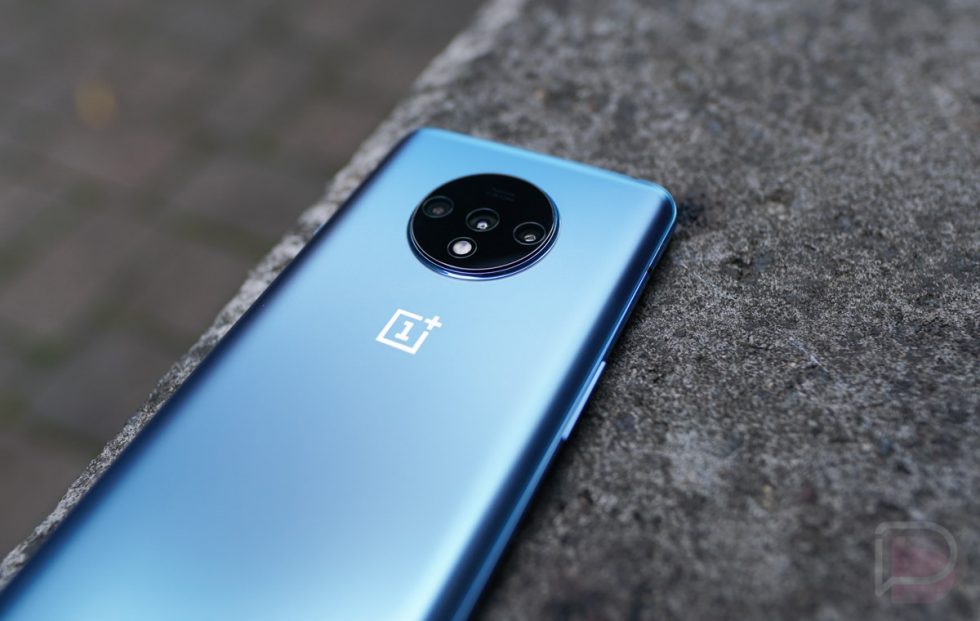 OnePlus 7T
I initially tried to sell her on the OnePlus 7T (review) because it had a very similar software experience to her Pixel phones. On top of that software experience I knew she would be familiar with, I told her about the added camera flexibility over Pixel phones (7T has standard, wide, and telephoto lenses), awesome battery life, a real 90Hz display, plenty of software updates, fingerprint reader, and good performance.
I also told her that if I wasn't using a Pixel phone, the 7T would probably be the phone for me.
She passed on it, I think because of the size and wasn't a fan of the blue or grey colors.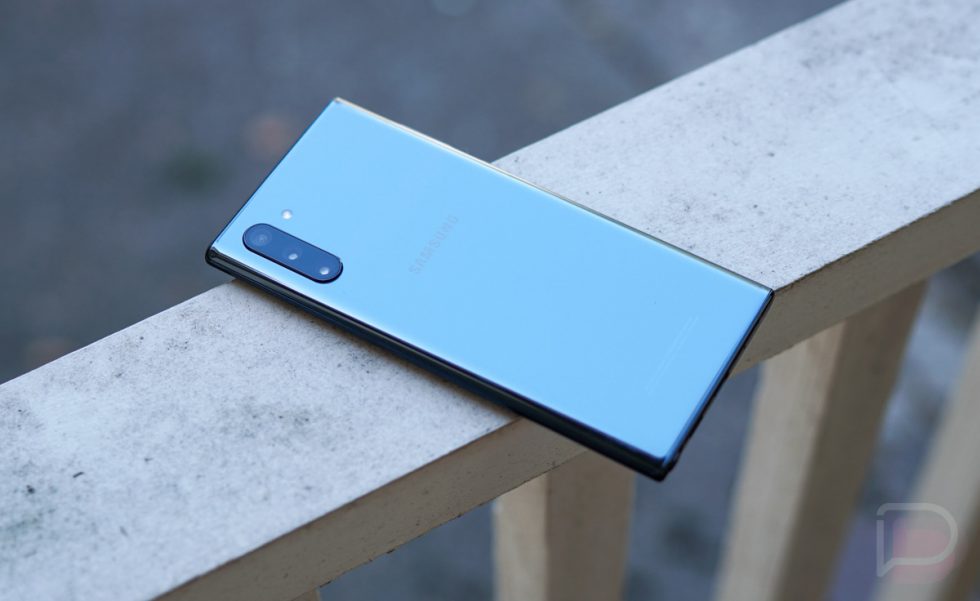 Galaxy Note 10
Because this is the only other phone listed here, yes, she chose the Galaxy Note 10.
When I grabbed the Galaxy Note 10 and handed it to her, she was surprisingly excited immediately. She was worried about using the software, knowing that it was different, but I assured her that Samsung's software no longer stinks and is actually quite good. (I also set it up with Nova and tried to Pixel-ize it as much as possible.)
From there, after she realized the size of it wasn't that much different form her Pixel 2 (Hello, zero bezel design!), we talked camera. You see, my wife is in the natural and organic beauty industry where she is quite active on Instagram and Facebook, sharing stories, taking pictures and video, and doing that whole social media song-and-dance I suck at.
With the Note 10's camera, she was super excited about the Live Focus video, with blurring of the background in real-time, like you get in portrait shots. She's already had someone ask how her recent Instagram videos look so good (it was Live Focus). The integration of Instagram in the camera app is another perk, plus she keeps telling me about camera modes she's finding that she apparently didn't have on her Pixel. But the feature that sealed the deal was the S Pen and her ability to take semi-remote shots of herself or products. It's basically the king feature for 1-person media operations.
Over the past week, she's had great battery life too. She also told me how impressed she was by the phone auto-connecting to her car without any setup, which I didn't know was a thing. I feel like such a newb.
She has complained a few times about the Note 10's obnoxious curved display, saying that it often doesn't recognize edge swipes or does things over there she doesn't want it to. She's complained about Gboard not working the same as it did on her Pixel too.
Overall, though, she's pretty damn happy with the Galaxy Note 10.
What about you?
If you were planning to buy the Pixel 4 or Pixel 4 XL, but have since been turned off and are looking elsewhere, these are probably the two phones I'd suggest you consider. The OnePlus 7T (or the 7 Pro which is discounted right now) will give you the closest experience to the Pixel line, only you'll get a lot more for your money. You could argue that regular camera stills aren't quite as good as Google's, but the added flexibility of the other lenses is a bonus. Also, the macro mode on the 7T is super fun.
With Samsung, if you are hesitating because of memories of their old, sh*tty software, consider giving them another try. I actually kind of like Samsung's One UI, but on top of that, Samsung kills it in the camera feature game. The Note 10 line (maybe even the regular S10 line too) is a fantastic set of phones that might surprise you.