We're four years into the Google experiment that is high-end Pixel phones. Google has given us two, once again, the Pixel 4 and Pixel 4 XL. They are the most advanced of any Pixel phone to date, though one could argue that they are also the most lacking.
There's a lot to unpack from that statement, and we'll do that now for the Pixel 4. You see, I've spent the past week with only the Pixel 4, so we'll be talking specifically about it here. If you want our Pixel 4 XL review, stay tuned, as it'll be up shortly once we've put together thoughts about it on its own.
This is our Pixel 4 review.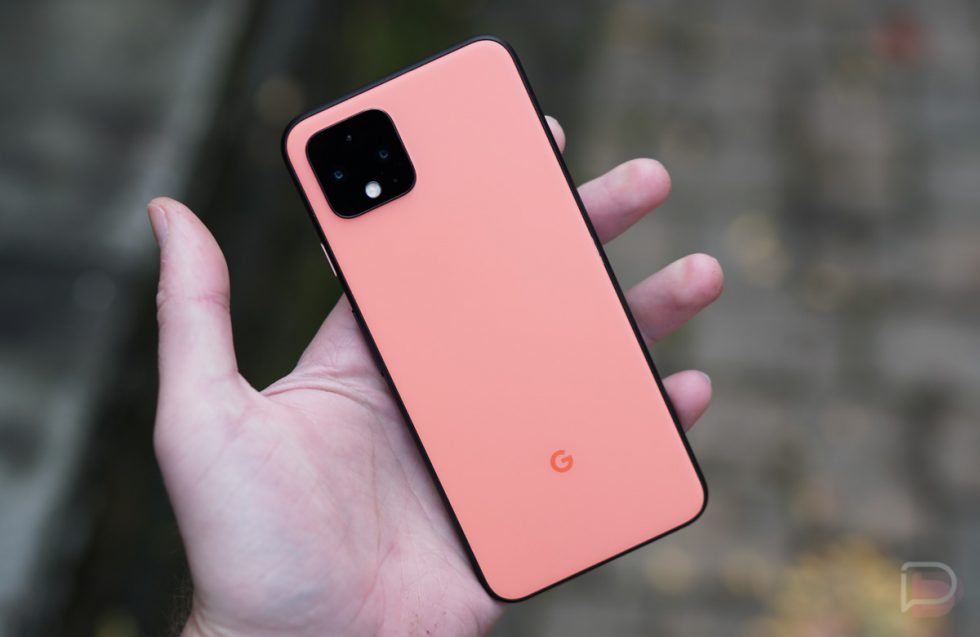 The Good
---
Camera
There are two areas that Google phones always excel in, camera and software. Both are excellent once again on the Pixel 4, so let's kick this off by diving into each. First up, it's camera time.
For the first time in a Pixel phone, we have a dual camera setup on the back of the Pixel 4. The setup includes a 12.2MP (f/1.7) standard shooter alongside a 16MP (f/2.4) telephoto lens. There's no wide-angle camera, which is unfortunate, because so many others are including them in their phones. With that said, Google is using its Super Res Zoom technology with that telephoto camera to help you take super crisp long-distance shots.
From a software standpoint, Google improved a number of areas this year. For one, there is now a Live HDR+ feed in the viewfinder to give you a preview of your HDR+ shot before you ever take it. I'm not sure I can properly describe how significant of an improvement this is – there's no more guessing and hoping and praying when taking a photo.
On top of that, Google added sliders to give you control over exposure and shadows, Night Sight is so good now that it can take pictures of the stars, and there are handy new tools like framing hints and social share shortcuts. The camera is super fast to pull a focus, lock that focus even as objects move, and maybe even quicker to snap multiple photos. For the most part, the camera app is solid.
With that said, Google continues to leave out a manual or pro mode, video maxes out at 4K/30fps, and there are less overall controls than so many other phones. I think Google wants to nail the basics better than anyone, and they may, but I can't fault people for being frustrated at missing items that have become standard.
As for results, I really, really like this camera. Good contrast, as usual from Google's processing, dynamic range is still sort of unmatched, the flexibility of it to adapt to any situation gives you a lot of confidence while shooting, and the final pictures are probably going to be better than your friends'.
I shared a bunch of photos shot on Pixel 4 in a post earlier this week from a trip I took to Hood River. The gallery includes indoor and outdoor shots, landscapes and portraits, a couple of Night Sight shots, and some zooms. It gives a decent view of the range of the cameras on the Pixel 4. You'll find some of those samples below along with the full-resolution gallery right here.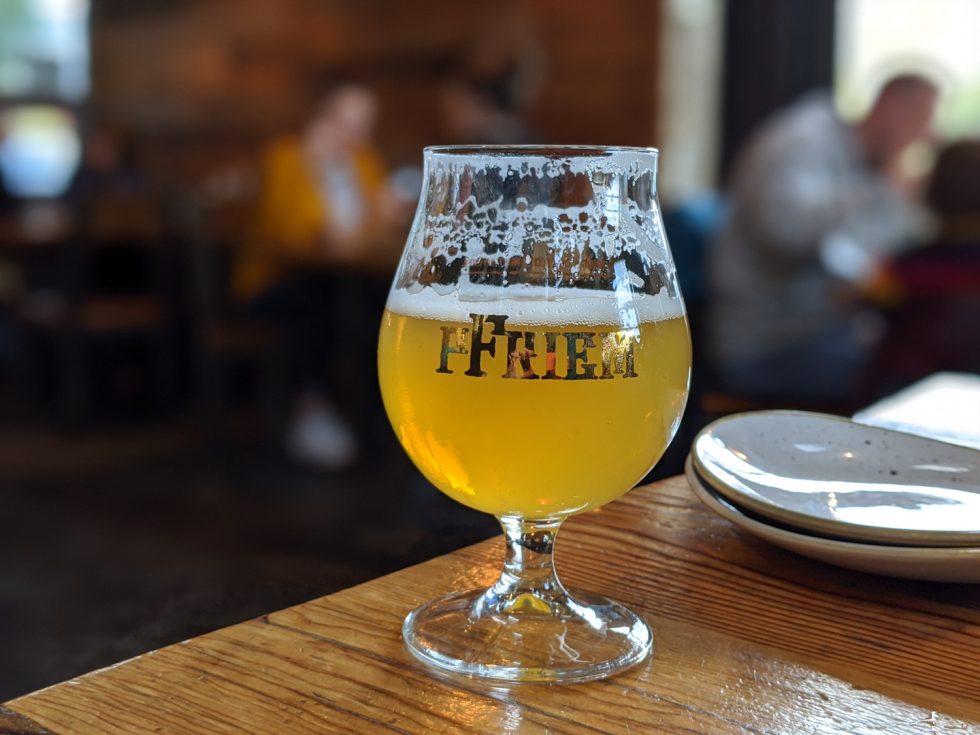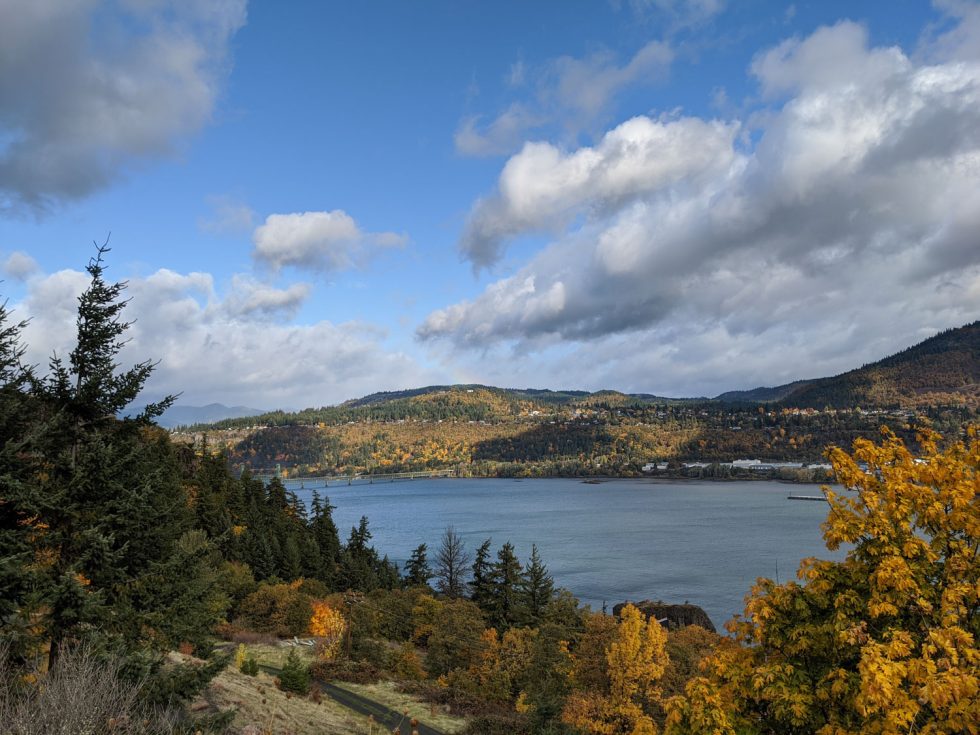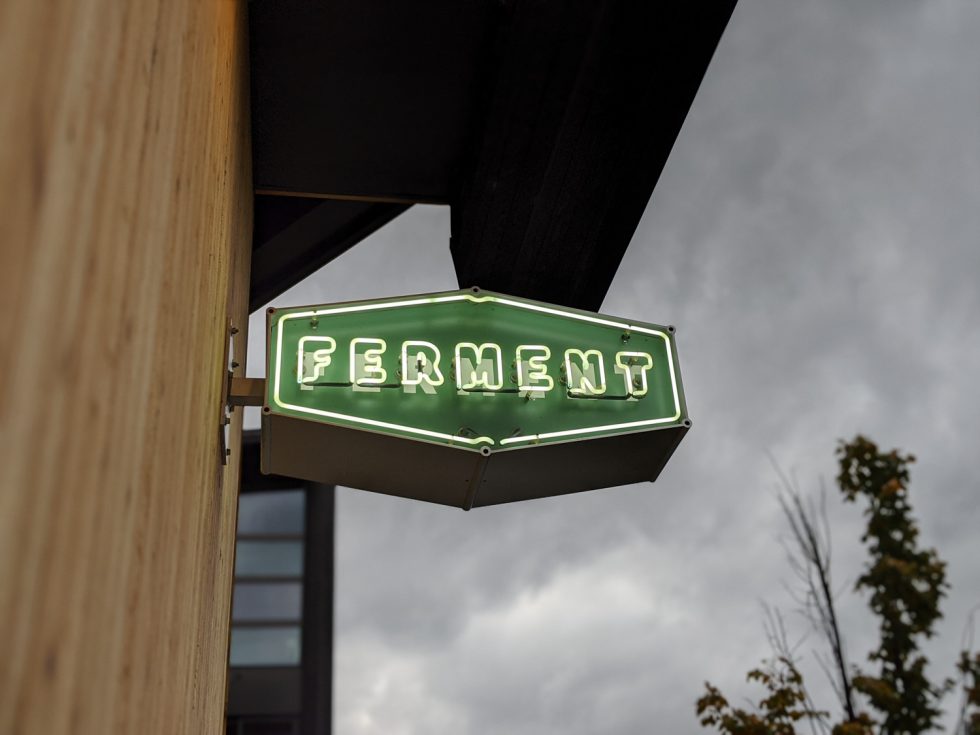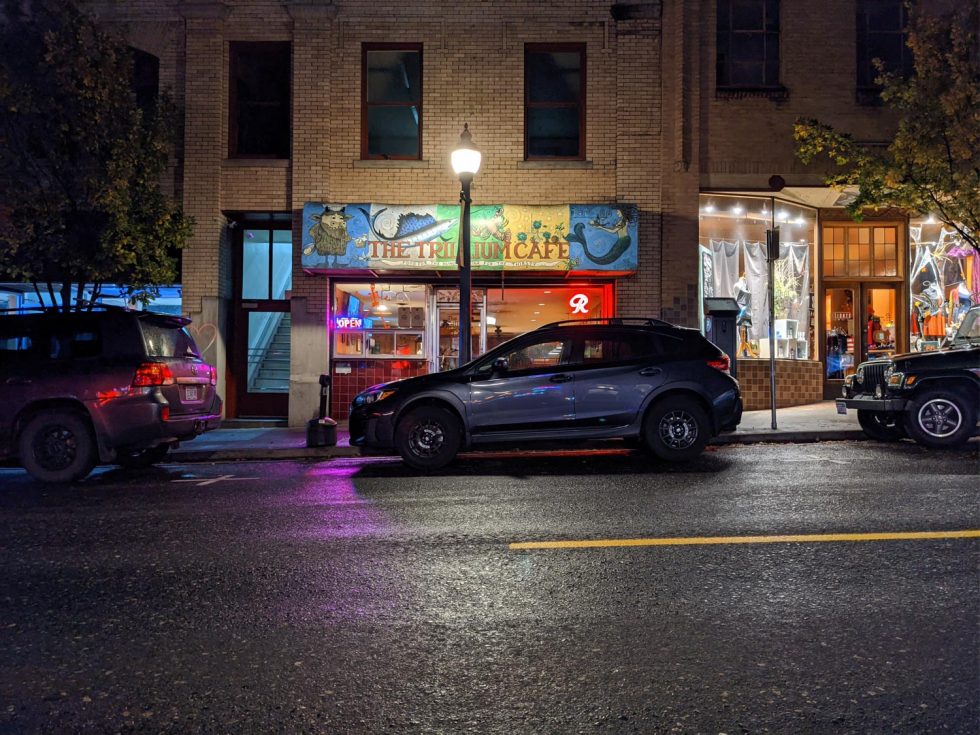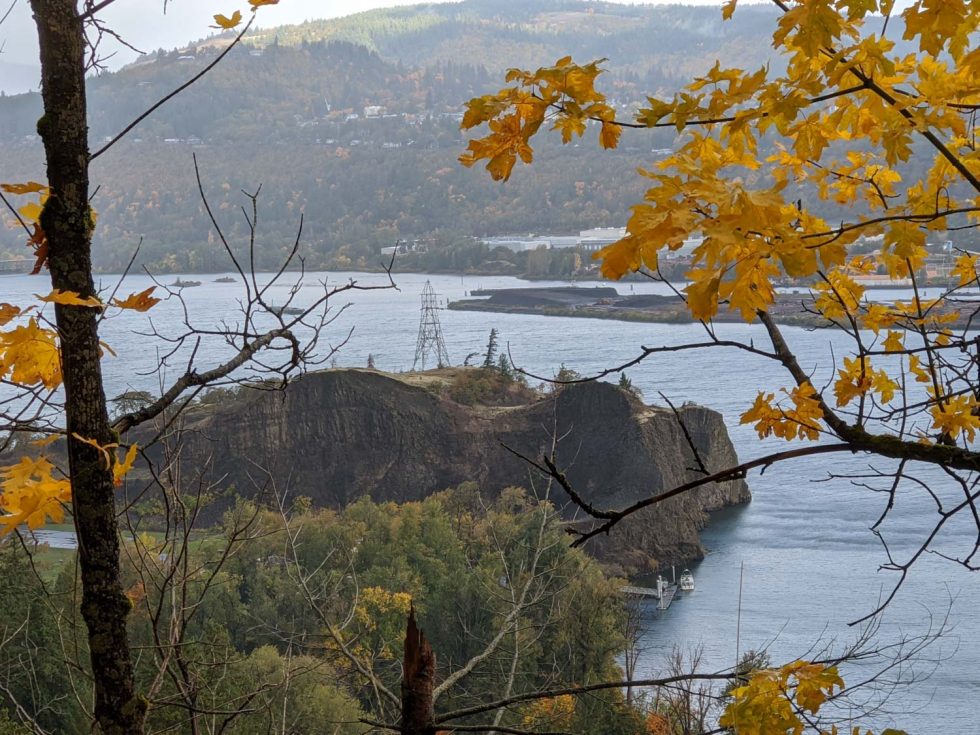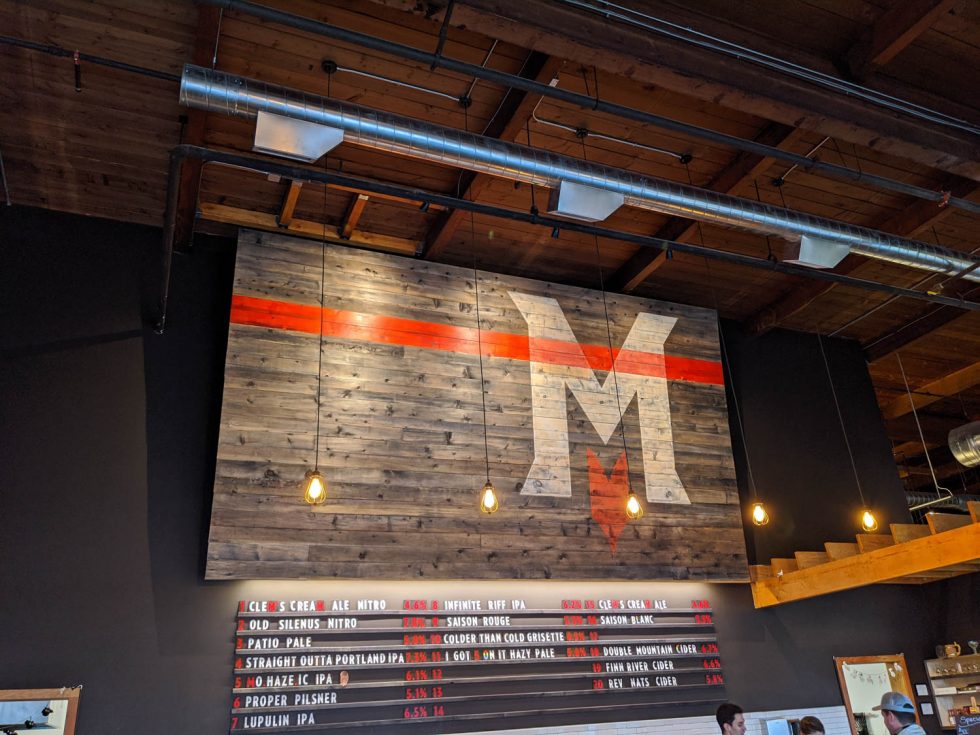 Software
When it comes to software, Google's version of Android is still probably my preferred. I know that I'll always have the newest version of Android if I own a Pixel phone, plus I know it'll have the most up-to-date security patches. Google's Pixel 4, like all other Pixel phones, will get at least 3 years of updates. If you care about a clean Android experience that's current, the Pixel 4 is the phone that will give you that.
But Google no longer just ships stock, bare bones Android as it once did on Nexus phones. Instead, we have this Pixel experience that's starting to rival the feature-rich skins from Samsung and OnePlus. Well, it's more OnePlus than Samsung bloat, but you've got some fun stuff to work with here.
Google has added a system-wide dark theme and is letting most apps go dark at this point, plus there's a new customization area where you can change icons and fonts and colors. You have a night light that helps ease eye strain, Digital Wellbeing to help you unplug, and a bunch of gestures. You can switch between a traditional 3-button navigation setup or go full gestures from Android 10, you can launch Google Assistant in a variety of ways, twist the phone to flip over to the selfie camera, and grab live captions of any video that's playing on your phone. You can run dual SIM cards at a time and view important information while your phone sits idle on a desk, thanks to an always-on display.
And because this is Google's hardware and their software, performance has been good. Google has really tightened up animations and provided these immersive transitions as you go from one app or screen to another. The hiccups and lack of holding apps in memory for long periods of time from the Pixel 3 are gone.
Google's Android skin has really matured in a good way.
Hardware and Design
I'm pretty sure I heavily criticized the design of the Pixel 4 in early leaks. I can now say that I've fully switched and sort of like it. I'm weak like that sometimes! That forehead might be somewhat annoying to look at, since there's no front balance, but the overall set of textures and colors is pretty great.
In a way, the design is best described as the embodiment of Google's camera algorithm: ramp up the contrast, bring forth colors, and make a statement.
The Pixel 4 is a smallish size with a mostly full-display front that your hands will have no issues using. There's a juiciness or roundness to the sides of the Pixel 4 that help you hold it, feel less slippery than other phones, and like it was made with your hand in mind.
Where this hardware and design shine is in the white and orange versions, because they are the most elegant soft-touch matte glass you'll ever set your fingers on. They resist fingerprints and bring an excellent contrast with the matte black rail surrounding the phone. They even work nicely with that square camera housing, because it weirdly completes this color-blocked looked that Google is going for. This might be the most unique of Google's Pixel phones to date.
I don't love that forehead, which Google included because it houses cameras and sensors and radar, but after using it for a while, I really don't notice it much. I'd love to have a Pixel 4 that looked more like the Galaxy Note 10, we just didn't get that. In the end, if you want to be offended by the forehead, you probably will be. For me, I'm mostly just happy they didn't throw in another Pixel 3 XL notch.
The Pixel 4 is a playful premium, rather than something as serious as Samsung's unapologetically metal and glossy glass designs. I like it.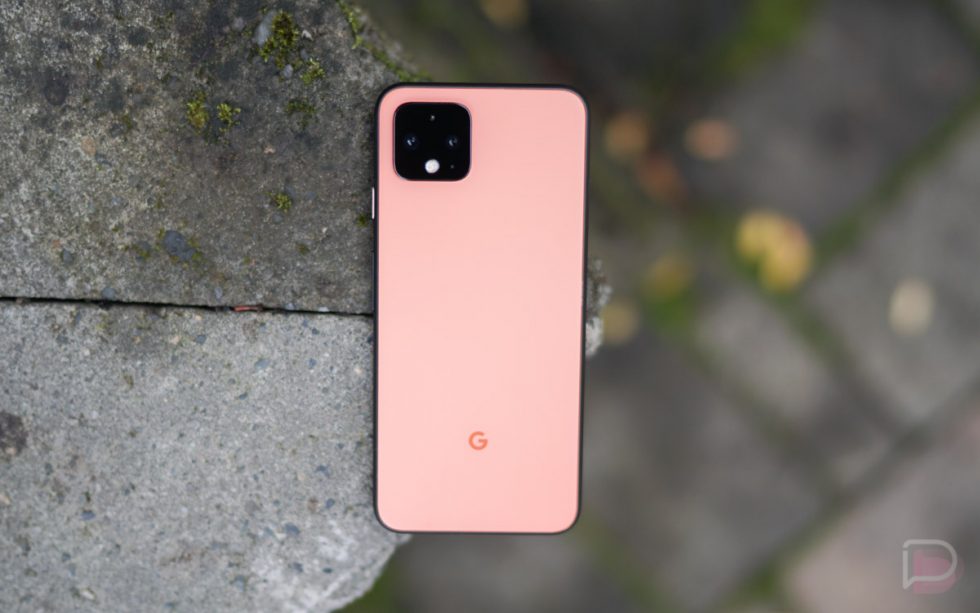 Availability
For the first time in Pixel history, Google's Pixel line-up is at all major carriers. You can buy a Pixel 4 from Verizon, T-Mobile, AT&T, Sprint, and a bunch of smaller, prepaid sellers. Most are carrying both storage options (64GB and 128GB), all three colors, and both the 4 and 4 XL. You will also find unlocked models from the Google Store, Best Buy, B&H Photo, and Amazon. This is the easiest Pixel phone in history to get.
Somewhere-in-the-Middle
---
Display
The display on the Pixel 4 and Pixel 4 XL was supposed to be a big, big deal. Not only were they another batch of improved OLEDs, they were the first from Google to hit 90Hz in the refresh rate department. Google is calling this "Smooth Display" and it was going to make for a smooth experience you can currently only really get on OnePlus phones or high-end gaming phones. Unfortunately, we've hit a bit of a snag there and the chances of you ever seeing 90Hz vs. the old 60Hz standard are pretty slim. I've got other issues too.
On the 90Hz front, this could change down the road (and Google says it will), but as of today, we know that Google has put some pretty harsh limitations on when 90Hz shows (probably to help with the already-bad battery life). When your brightness is set to 75% or above, you'll likely get the 90Hz smooth experience. You should get it when your surroundings are incredibly bright too. However, if you are in a darker situation and/or drop brightness below 75%, the displays on the Pixel 4 and 4 XL drop back to 60Hz and it is noticeable.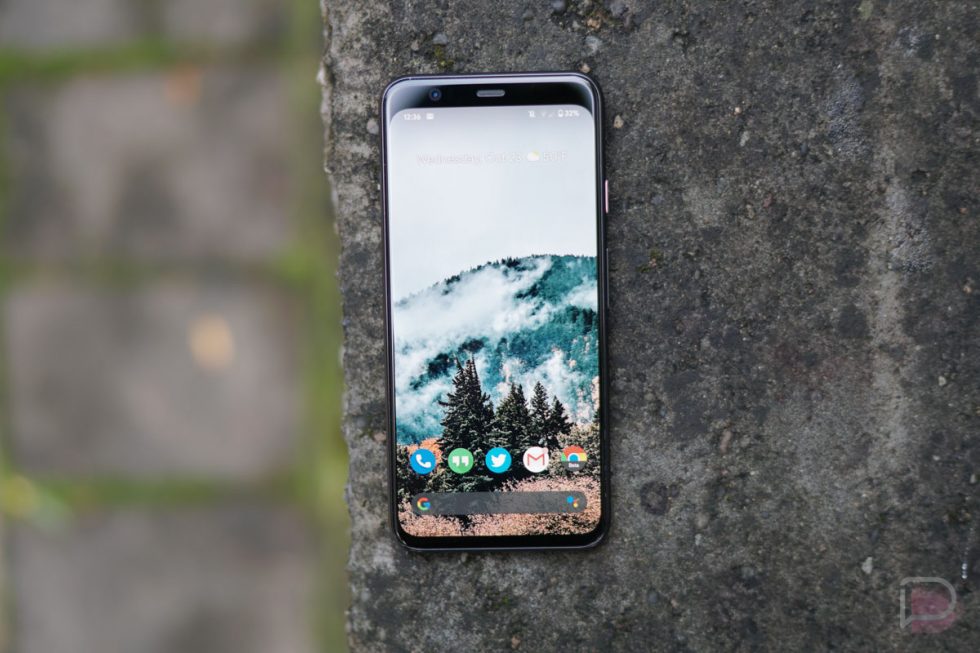 Since 90Hz was supposed to be a flagship feature of the Pixel 4 line, this is unfortunate news and takes away from what could have been a game-changer for Google. For comparison, the OnePlus 7T also has a 90Hz display and it never turns off unless you tell it. That's the way this should be.
That's not all I have to complain about, though. The 5.7″ full HD display here does not get bright enough at all. I'm not one who typically complains about brightness, but this phone is so obviously dimmer than competitors' that you can't help but notice. Want to use it outside in daylight? Not going to be fun. Want a brightness boost while watching a movie? Don't expect great results. At full brightness and indoors, this phone doesn't even get bright enough to bother my eyes. Think about that.
Now, viewing angles and colors and sensitivity are all great here. You get 3 different color profiles to tune the device to your liking and there's an Ambient EQ setting that tries to adjust the display based on light levels. If it weren't for the low brightness and wonky 90Hz that Google seems to have purposely limited, I'd probably like this display. As of today, I don't.
Specs
Google's Pixel phones have never really been about specs, but this year something feels different in a bad way. We finally got an upgrade in RAM (to 6GB), but everyone else in the industry is doing more (8GB). The storage stayed at 64GB and 128GB at a time where we're seeing 128GB as the minimum, plus Google continues to hate microSD slots. The batteries, specifically on the Pixel 4 (2800mAh), are small. The camera setup, which now is dual for the first time from Google, is missing the ultra-wide lens that has become quite popular this year. There's no WiFi 6, fast charging is slower here than on other phones, and of course, no headphone jack.
I appreciate the two sizes of phone frames and displays, and I like that Google tried to go 90Hz. Introducing Motion Sense, a radar chip, and advanced facial recognition is at least a newish thing too. But for whatever reason, in 2019, the entire list of this all on paper is so lacking to me.
Am I sick of Google not matching competitors while charging similar or higher prices? Maybe, yeah.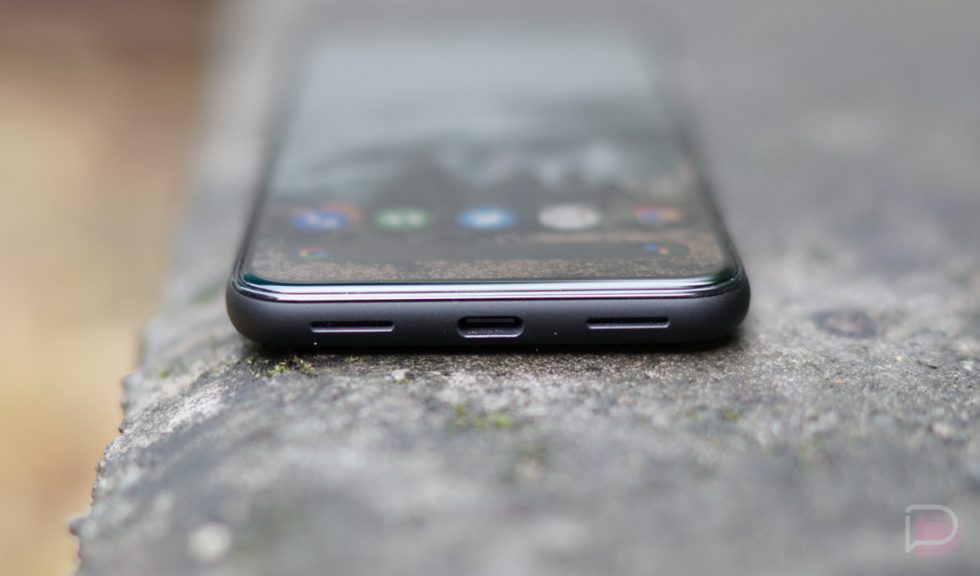 Motion Sense
One of the big new innovations that Google introduced with the Pixel 4 is called Motion Sense. It's a radar chip that uses movement and environmental monitoring to perform actions. We saw this at an early stage during a couple of Google I/O presentations and it blew our minds. Now that it has supposedly matured and shrunken down to a size that could be implemented within the forehead of a smartphone, we were hoping for exciting ideas to come out of the Pixel 4. Unfortunately, that hasn't happened yet.
For those not familiar, Motion Sense is the release name of Project Soli. Soli, in the past, was shown to be capable of fine controls over anything from adjusting volume by pinching fingers together to navigation around a software UI without ever touching it (here are some other ideas). On the Pixel 4, we get none of that and instead have a gesture to change songs when music is playing, another that helps silence alarms or incoming calls, and the ability of the phone to sense when you are reaching for it or near it.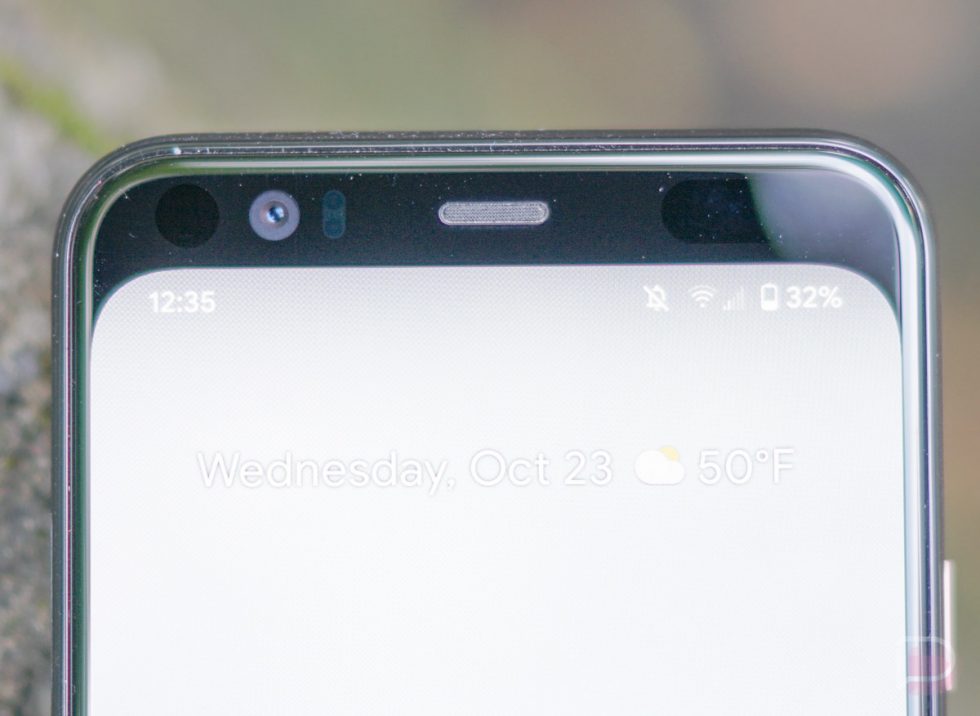 The reaching-for-it part is handy because it works in tandem with the face unlock by waking the Pixel 4's screen to prepare it to then scan your face. It's also kind of neat to watch it recognize that you have walked away from your phone and then turn the display off. But the music switching and silencing stuff isn't necessarily new or game-changing because others have done it without radar chips. They also seem like the bare minimum idea for a technology as cool as Soli is.
After forcing myself to try and use it to change songs or respond to alarms, I eventually turned Motion Sense off on my Pixel 4 unit. Because battery life is so bad, I felt like it might be worth eliminating a radar chip that is always scanning things to try and squeeze another couple of hours out of the phone. That's how much value I found in Motion Sense over the past week.
Face Unlock
I've been a skeptic of face unlock systems as the only option for convenient security since the day Apple dropped fingerprint readers completely. I knew a time would come where some fool would follow their lead and it just so happens that that fool was Google. Thankfully, the face unlock system on the Pixel 4 is pretty good.
Using an advanced system that includes a couple of IR cameras, flood illuminator, and a dot projector, the Pixel 4 scans your face from various angles to let you quickly unlock it. Coupled with that Motion Sense I just talked about, you can go from having your phone on a desk to in-hand and unlocked with a simple lift. For the most part, it's worked well enough that I don't have that many complaints about it. If anything, I'm surprised by how well it works, particularly in the dark, where the phone can scan my face even when it's dark enough that I can't even see my own hand. That's pretty neat!
Now, there are a couple of things I'm not happy about. For one, as I just mentioned, there's no fingerprint reader, so your only option for biometric security is face unlock. Additionally, Google built face unlock to be able to unlock when you don't have your eyes open. So someone could take your phone and unlock it while you sleep or are…dead. That's a problem! Google says they'll fix this down the road, but it could be months before that happens.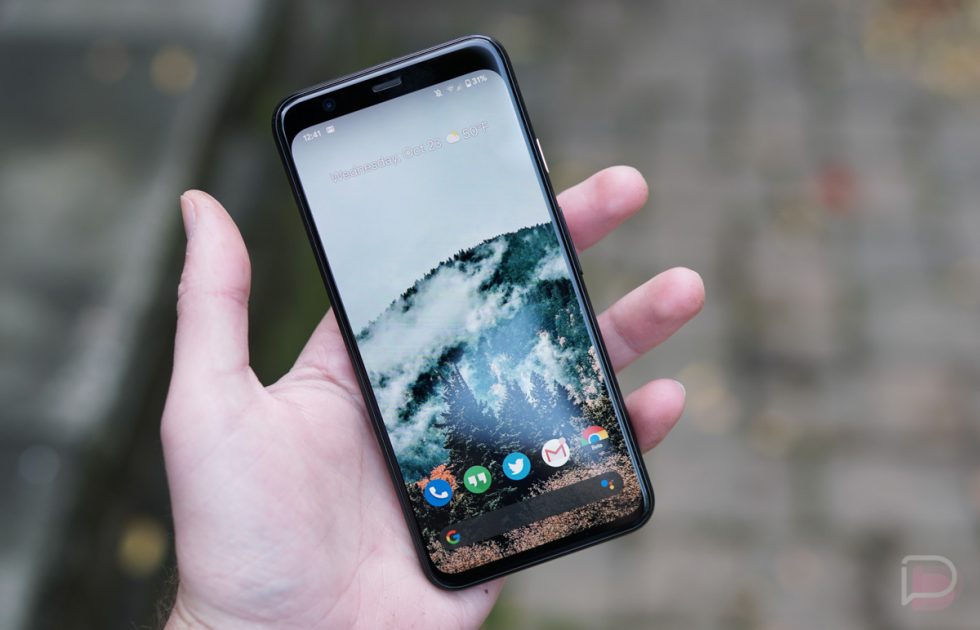 The Not-so-Good
---
Battery Life
As I shared in an earlier post before finalizing this review, battery life on the regular, smaller Pixel 4 has not been great. At just 2800mAh, it has not held up well during my full week+ of testing. This is the first time in a while that I can recall having actual battery anxiety and it has not been enjoyable.
To recap what I already said, most of my phones typically come off the charger between 6AM and 7AM and go back on when I got to bed at 11PM or so. With the Pixel 4, I've had to look for a charger in the late afternoon almost every day. I had days that got me to 7PM, but I'm not sure I went a single day past 8PM without needing some juice. Because of these short cycles, you end up constantly looking at percentage, seeing which apps might be using battery, and wonder if you should charge at any moment because there's a chance you won't be near a charger in a few hours. Battery anxiety is hell.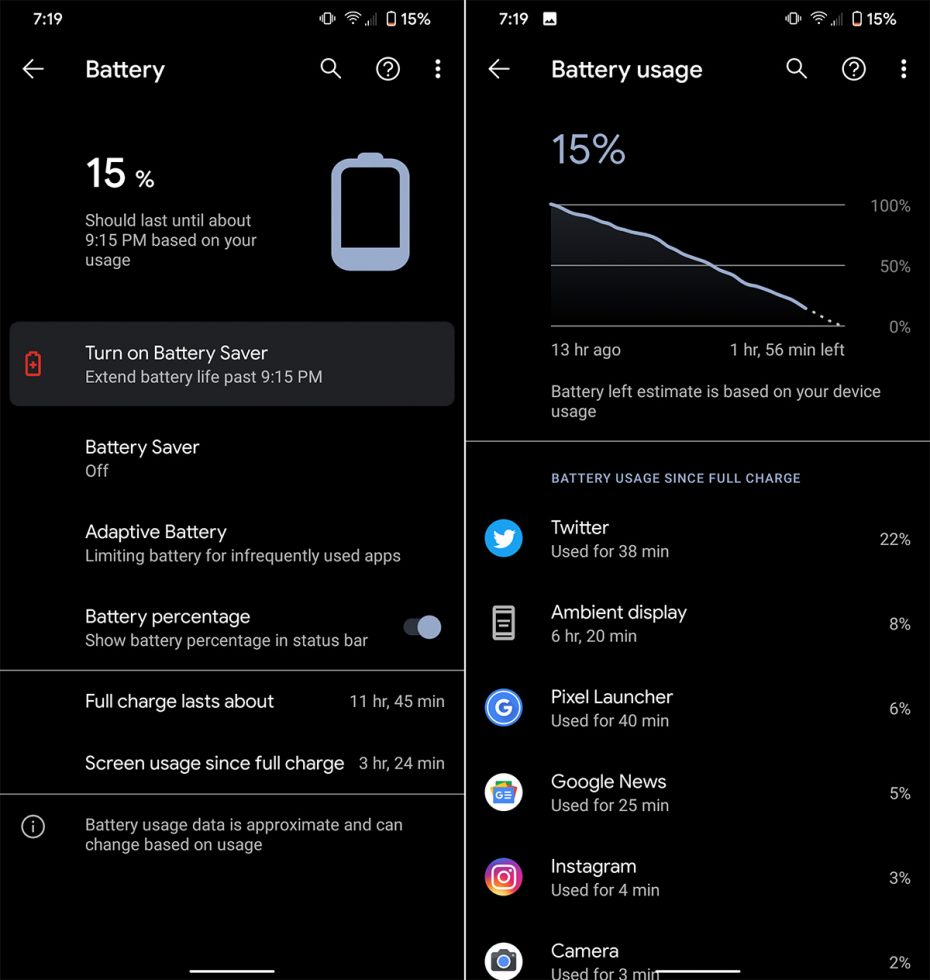 On a related note, I found charging times to be extremely slow when compared to other phones and the Pixel 4 often struggling to reach 100%. There's wireless charging too, but 10W wireless charging is not quick.
We don't know the exact reason for this horrible battery life, but the combination of the small battery, 90Hz display I referenced above, and Google's poor track record with all of its phones, none of this is all that surprising. It is saddening, though, as this phone becomes impossible to recommend to most people.
All the Missing Things
One of the big stories of the Pixel 4 has to do with all of the stuff that Google took away or failed to include. Not that Google has always been a company to throw all the bells and whistles at anything, but with the Pixel 4, they sure seem to have shaved off a lot of important items.
Fingerprint reader: This phone does not have a fingerprint reader, which means your only option for lockscreen security outside of the standard pattern/password/PIN options, is Face Unlock. While the Face Unlock here is pretty solid, fingerprint readers are so convenient to have at most times since they often don't require that you pick up or look at your phone to unlock it.
Unlimited Original quality photo backups: With the launch of the first few Pixels, Google was giving Pixel users an exclusive benefit that let them upload an unlimited number of pictures to Google Photos at "original" or full-resolution quality. That's a heck of a perk for those not interested in paying Google for Google One storage. With the Pixel 4, Google removed that perk and is instead hyping the unlimited storage of "High quality," which to be clear, is not unique. Every single phone that has Google Photos gets unlimited "High quality" image uploads.
Headphones or dongle: Last year's Pixel 3 was the first from Google to come with USB-C headphones in the box. They were great inexpensive in-box earbuds, but Google removed them this year with the Pixel 4. And not only that, they didn't even include a USB-C dongle for you to use with your own headphones. Why is that a big deal? They are assuming you either already own all of the audio goods you need or are hoping you'll turn around and buy some. With purchase of the Pixel 4, Google has said that they are encouraging users to buy their own audio accessories by gifting them $100 gift cards or credit with Pixel 4 purchases, but that's not a promo that will last very long. It's just another cut by Google.
No new Assistant with GSuite accounts: This missing thing is a bit more specific, but it could potentially affect a lot of you. As of today, if you are a GSuite user (formerly Google Apps), you can't use the new Google Assistant. In other words, the super fast Assistant that lets you fire off multiple commands in a row without a hiccup, that can't be used if you even have a GSuite account on your phone. Google could fix this at some point, but they have always been weird like this with GSuite users, only this is a new extreme because you can't even have a GSuite account at all. Not good.
Price
No, I don't think the Pixel 4 is priced fairly. The Pixel 4 starts at $799 and you only get 64GB storage without a SD card slot, 6GB RAM, no wide-angle camera, a tiny battery, no audio accessories, and no fingerprint reader. At a time where people are hanging onto phones for longer and longer periods of time (more than 2 years), that's not enough storage, it might not be enough RAM, there's not as much flexibility in the camera as others have, and that battery is never going to cut it.
We're getting phones from everyone else at similar (or sometimes lower) prices and they all feature more than Google's Pixel 4. Sure, you get the promise of fast updates and the Google software experience we love, but is that worth the price for all these cuts and half-baked features? Eh.
Video
---
First 10 Things to Do
Gallery
---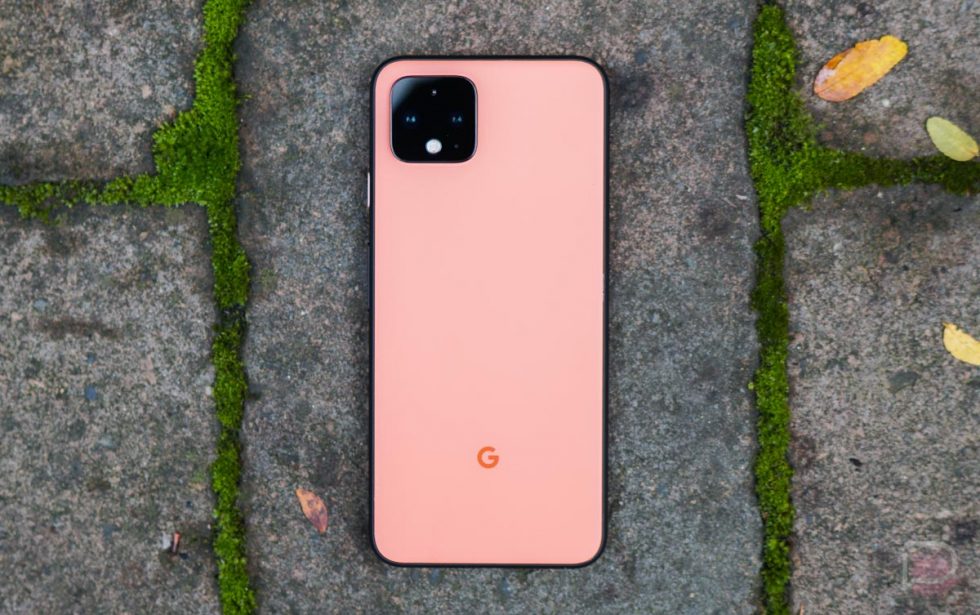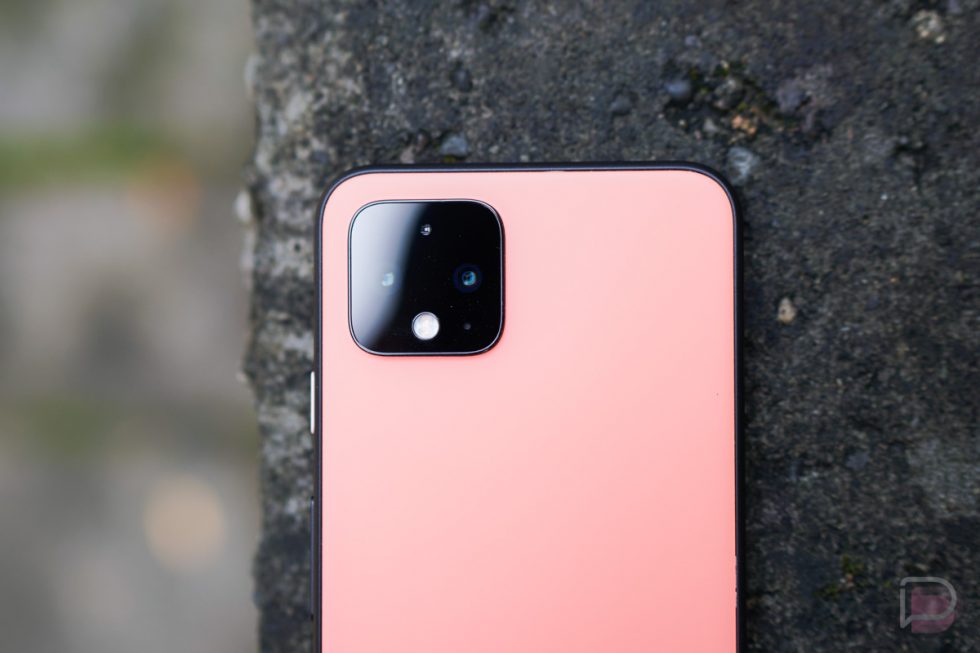 The Verdict
---
Ummm, I don't think anyone should buy the regular Pixel 4. There are too many red flags and I'm concerned that this just isn't a phone that will last you two years. Since it starts at $800, my suggestion would be to pass.
Battery life might be the most important part of a smartphone experience and this phone fails there. There are questions surrounding the 90Hz display experience now, I'm worried that 64GB storage is not going to be enough over a 2-year period, and Google cut some of the important perks and benefits that we expect from not just Pixel phones, but Android phones in general. I don't see any major benefits to Motion Sense, there's no fingerprint reader, and there are other phones out there (like those from OnePlus) that can be had that offer more for hundreds of dollars less.
Yes, the camera is excellent. Yes, the software support is the best. But if those are the most important things to you, then buy the Pixel 4 XL, not this.