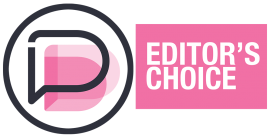 OnePlus has taken a somewhat confusing approach to its phone releases for 2019. We had the OnePlus 7 Pro arrive in the US earlier as their top-tier, new phone for the year, but they decided against delivering the OnePlus 7 to us, which arrived alongside the Pro in other countries. Instead, OnePlus continued selling the OnePlus 6T here, only to now replace it with the OnePlus 7T that was just announced.
Confusion over that decision aside, we have had a OnePlus 7T in house for the better part of the past week. That's been just enough time to put some thoughts down on whether or not this might be the phone to consider for not just OnePlus 6T owners, but 7 Pro owners too. After all, OnePlus added a number of significant improvements with the 7T, all of which we'll talk about now.
This is our OnePlus 7T review.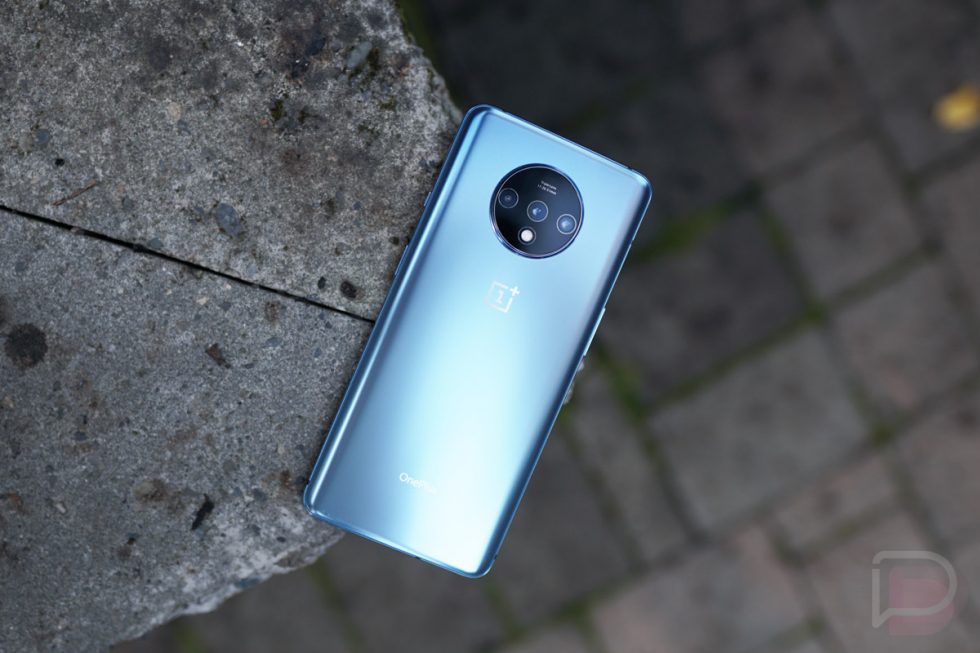 The Good
---
Display
The 90Hz display is back! After releasing the OnePlus 7 Pro with a 90Hz refresh rate and bringing an ultra-smooth viewing experience to the masses, OnePlus is doing its best to bring that same premium screen experience to its newest phone, the OnePlus 7T. Oh, friends, it is glorious.
With a 90Hz refresh rate, the 6.55″ display on the 7T is such a joy to use. That bump to 90Hz from 60Hz means everything on this phone just looks better as you browse around. While not quite the jump to 120Hz like we have seen on phones like the Razer Phone line, you will notice the difference in this phone when compared to whatever phone you might be coming from, assuming it's not a OnePlus 7 Pro.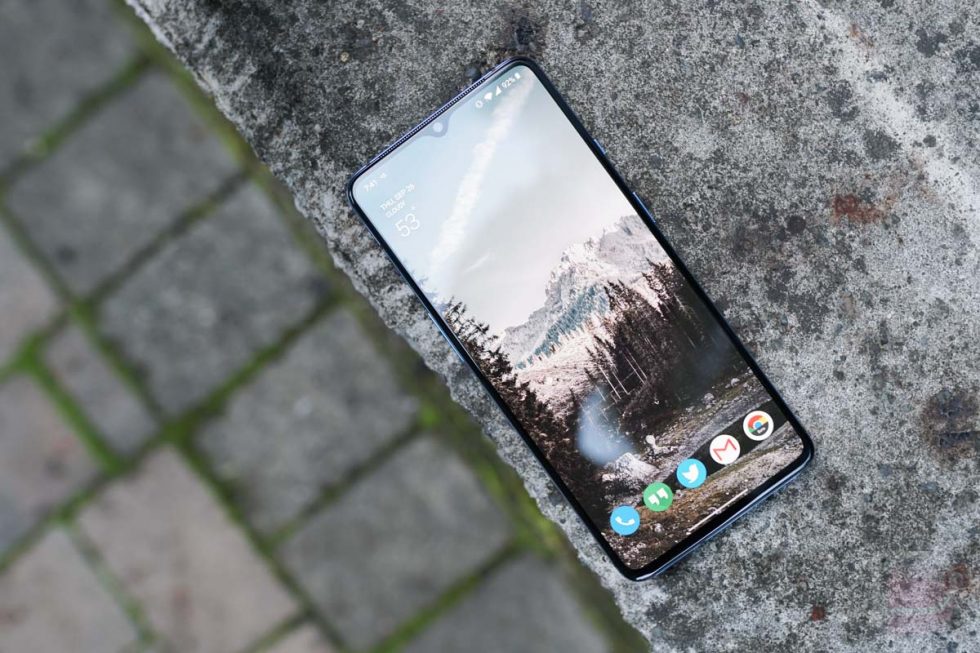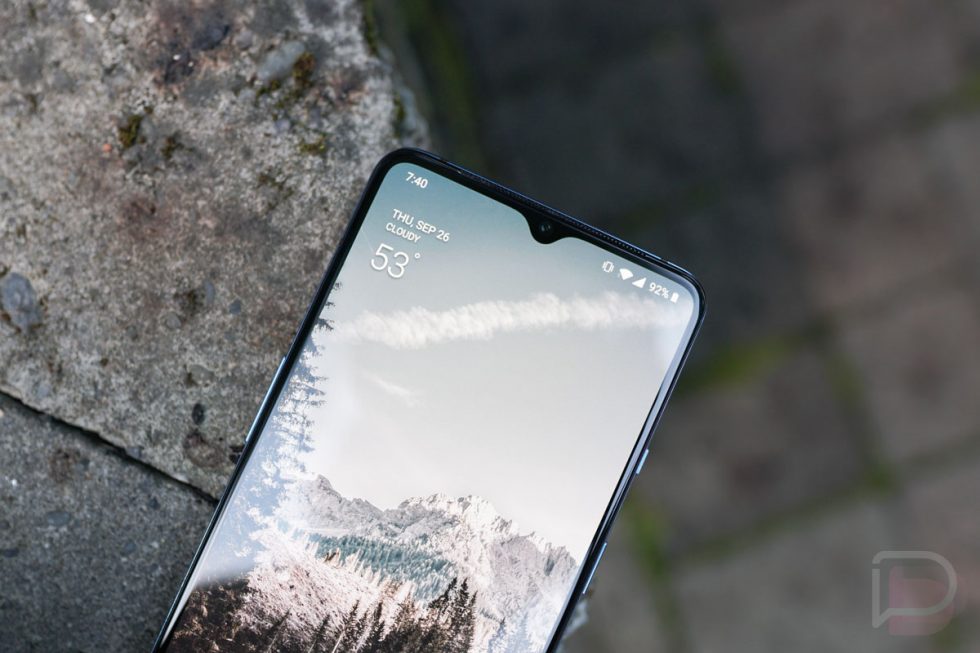 At 90Hz, you are getting a speed bump in how quickly the display can refresh the contents you see, thus the added smoothness when doing just about anything. I can tell you that I didn't initially appreciate the difference when I reviewed the OnePlus 7 Pro, but am not sure I want to live without it after using this 7T for the past several days. Thankfully, other companies are coming around to the tech, like Google.
Smoothness aside, the 7T features a 20:9 aspect ratio and full HD resolution (2400×1080) in a "Fluid" AMOLED panel. That is a drop in resolution from the 7 Pro, which featured OnePlus' first quad HD screen, but at 1080p, I'm not sure you'll be disappointed in this display.
OnePlus was able to ramp up the brightness on this panel to 1,000 nits and included a luminescent material that can block 40% of blue light. That means you get a better experience when outdoors in sunlight and also when it's dark and you need the content on your display to not burn your eyes out. I talk a lot in reviews about the importance in having a wide range between those two items and OnePlus nails it here.
This new OnePlus 7T also includes three color profiles (Vivid, Natural, and Advanced) to help you find your preferred color experience, as well as Reading and Night modes. The use of an AMOLED really helps bring the most out of all of those modes and options.
If you are looking for a display experience that gives you almost everything and then some, the OnePlus 7T is that.
Battery Life
After using the OnePlus 7 Pro earlier this year and giving it middle-of-the-road marks on battery, I was worried that the OnePlus 7T might suffer from similar battery mediocrity, thanks to the 90Hz display. I'm happy to report here that my worries have not been realized.
The OnePlus 7T and its 3800mAh battery easily powered me through full days with juice to spare. As you'll see from the screenshots here, I rarely needed to find a charger within the same day I took the phone off one. For me, most days I went to bed with 30-40% battery remaining, woke up and continued using the phone until I dropped that percentage into the teens and decided it was time to fill up.
My typical days include heavy Twitter, Chrome, and Instagram usage with 3-5 hours of screen-on time. That usage could increase if my kid gets ahold of it too. Never once did I worry that I might run out of battery in the entire week since first powering this phone on.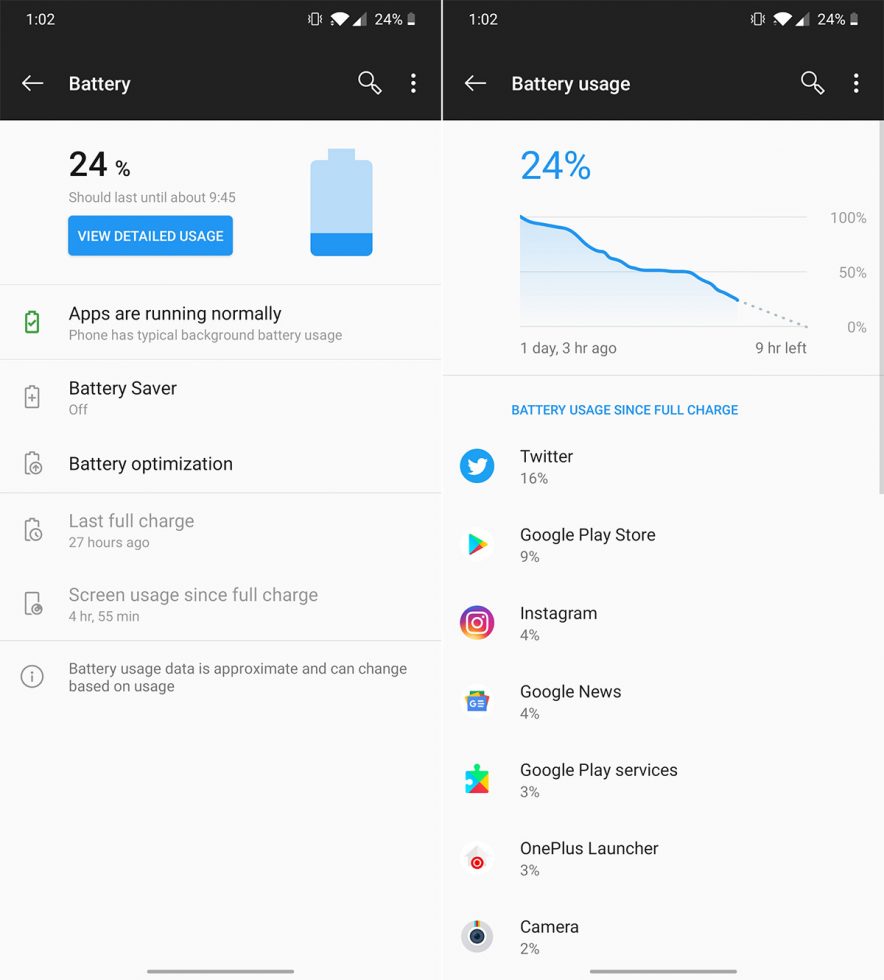 On top of the excellent battery life, OnePlus included an upgraded Warp Charge experience they are calling Warp Charge 30T. Yes, that's an improved charging experience over the OnePlus 7 Pro's Warp Charge 30, which debuted not even a year ago. With 30T, you get a 23% improvement in charging speeds over Warp Charge 30 and can grab 70% of a charge in 30 mins.
I can tell you that charging this phone with the included charger is a wild experience. Most phones these days have fast charging, but OnePlus phones always impress me with how quickly they charge and manage to stay cool. We're talking about tossing your phone on the charger for 20 mins, getting over 50% of your battery back, and not burning your hand when you pick it back up.
Oh, I should also point out that the OnePlus 7 Pro charger will produce 30T charging on the 7T. The 7T has internal improvements that let it charge faster, so if you own a 7 Pro and buy a 7T, you'll have two chargers capable of the improved speeds.
There's no wireless charging once again, though, so keep that in mind. I know that a number of you are big wireless charging fans, but OnePlus has said time and time again they think a wired experience is better and faster. I tend to agree with that for the most part. However, the rest of the industry is doing the wireless charging thing, so it'd be nice if OnePlus would at least consider it and give the people one less thing to complain about.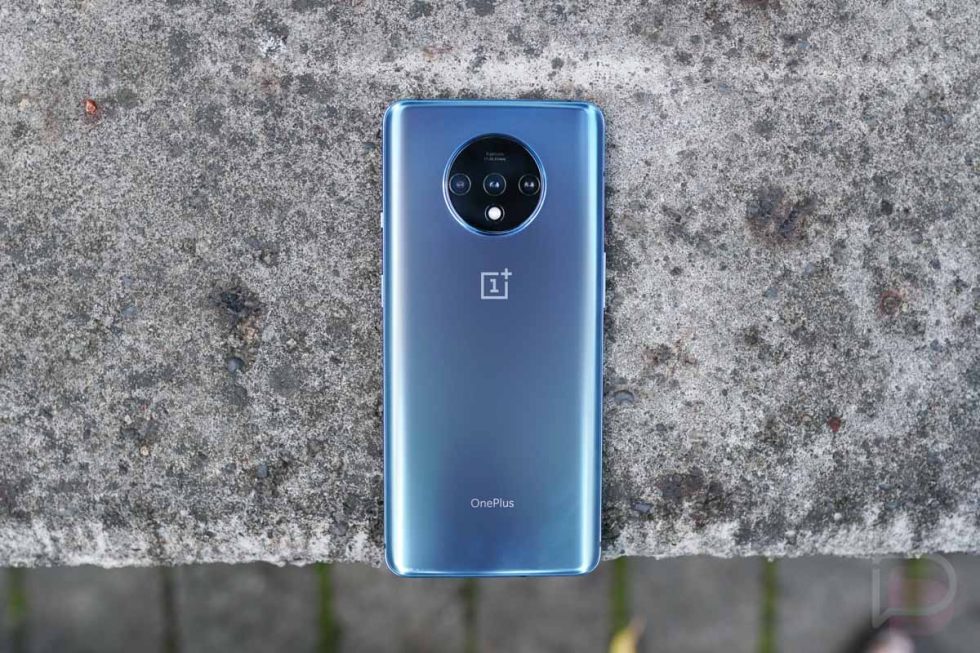 Specs
The OnePlus 7T is a spec'd out beast like almost every OnePlus phone before it. OnePlus, for the most part, tries to live up to their "Never Settle" slogan by tossing in every high-end feature available to smartphones. That's the case again here with the same set of missing options OnePlus won't give in to.
On the good side of things, you've got that big 6.55″ AMOLED display that we talked extensively about above. Additionally, you'll find the newest Snapdragon processor (the 855+), 8GB RAM, 128GB UFS 3.0 storage, 3800mAh battery, Bluetooth 5.0, in-display fingerprint reader, USB-C port, stereo speakers, and a triple camera system.
For missing parts, there is no microSD slot, wireless charging, or headphone jack. You could also knock the phone for having a full HD display resolution instead of quad HD. Are those missing things dealbreakers? I certainly don't think so, but completely understand if those are must-haves to you. Just keep in mind that this phone comes in at a price that is hundreds of dollars less than the competition.
Software
I don't want to sound like I'm fanboying here, but OnePlus' software team deserves a raise. Google released Android 10 at the beginning of September and OnePlus has now released a phone with the Android 10 update (7T) and managed to update another two (OnePlus 7 and 7 Pro). That's pretty incredible when you consider that outside of Google and Essential, I can't name another phone maker who has even flashed signs of Android 10 arriving to their own phones.
But that's not all. OnePlus updated OxygenOS to version 10 with Android 10 and included a number of significant changes that further enhance their already-great software experience. OnePlus says there are 370+ optimizations in OxygenOS, which is whatever, I just know that the enhancements do add value.
As we've said time and time again, OnePlus takes Google's lean and clean Android experience and then adds on top with meaningful features. That's the case again with the OnePlus 7T, where you get a familiar overall look from Google's Android, only now there are improvements.
You get a new "Customization" section that lets you tweak colors, icon shapes, wallpapers, clock styles, and more. You get multiple display modes, options over navigation gestures, Dolby Atmos controls, fine-tuned vibration controls over ringtones and notifications, quick gestures to launch tasks when the screen is off, a way to hide unwanted statusbar icons, face unlock, Reading and Night modes, Game Mode to help you stay focused on crushing bad guys, better screenshot tools, and a way to schedule reboots.
We've looked at most of these features throughout numerous videos (like this one), so I don't want to dive into them again here. Just know that the software experience keeps getting better.
On an even more important note, OnePlus is really good at updates now. I said this above, but it's a big, big, big, big deal that this phone is running Android 10 out of the box and that OnePlus is already pushing Android 10 updates to other phones. That will lead to more security patches, a super quick update to Android R when it arrives next year, and updates for years to come. After being one of the sketchiest when it came to Android updates in the past, OnePlus is basically the best in Android.
Price
At $599, the OnePlus 7T is far beyond the early OnePlus days where you'd get a phone that competed with the best in the industry for $300-$400. Still, when matched up to the phones Samsung and Google are offering, you are saving hundreds of dollars and not really giving up much. In some cases, you are getting more than what those companies are offering.
For example, this is a $600 phone that features a 90Hz display, which dramatically improves the overall experience. Neither Samsung or Google currently sell phones (Pixel 4 is expected to have 90Hz) with that kind of refresh rate, yet their phones run from $650 to $1,000 and beyond. OnePlus has also included ridiculously fast charging and what is arguably the best software experience in the Android game, again, at prices below their competitors.
And I am fully aware that OnePlus is leaving out things like SD slots and wireless charging, but are those worth paying an extra $200-400 for? Eh, that's tough.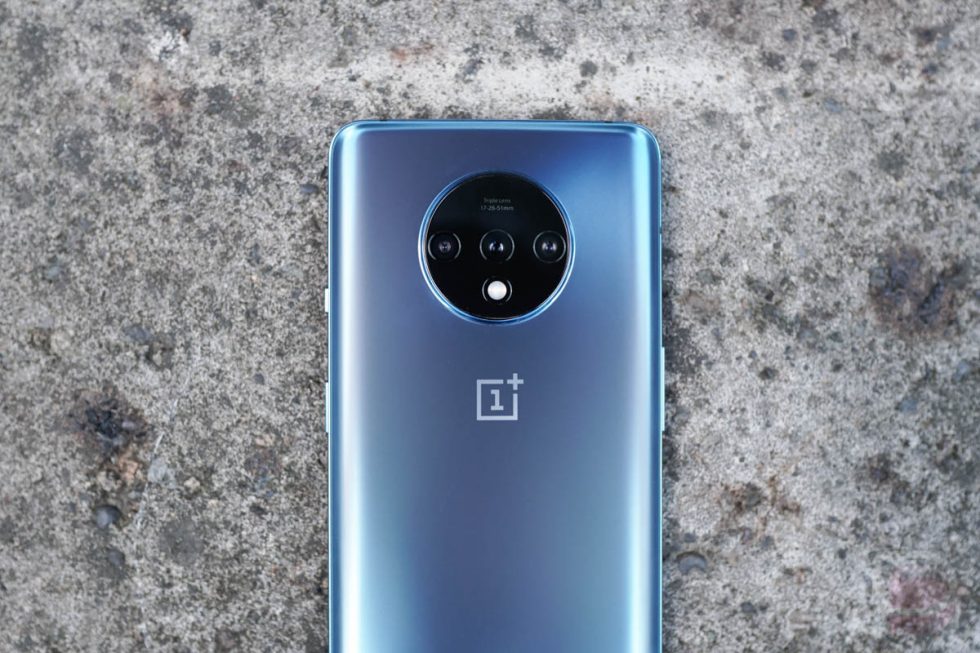 Camera
The camera department has always been the department that OnePlus takes the most criticism in. As much as they try and improve the camera system with each new OnePlus phone through software or additional lenses, they have never quite been able to match the output from Google or Samsung's phones. That may still be the case with the OnePlus 7T, but so far I've been really happy with the results. And not only that, there's a new macro mode I've been loving that no one else is really doing.
The camera setup here is a 48MP standard shooter at f/1.6. The shots from it our pixel-binned down to 12MP shots using a similar quad-pixel technique that almost everyone uses today. You also have a 12MP telephoto lens and a 16MP ultra wide angle lens, both at f/2.2. There's optical and electronic image stabilization in the main camera, 4K video shooting at up to 60fps, and slow motion capture at a variety frame rates (up to 960fps in 720p in an upcoming software update).
The software experience lets you quickly toggle between all three cameras, shoot in Portrait or Nightscape modes, and take panoramas or time-lapses. The camera app will try and correct weird distortions from the ultra wide lens, give you long exposure shots when on a tripod, and tweak all the settings in Pro mode. Oh yeah, and there's that sweet new Macro mode that let's you shoot close-ups of objects between 2.5-8cm.
Here are some macro examples, because macros are hella fun.
As far as as regular camera usage, I was mostly satisfied by performance and the pictures it took. The camera is quick to open and switch between lenses. Snapping multiple shots in a row was faster than my experience with the Note 10, though not the fastest.
Most of the shots I took were in good outdoor lighting, with a few indoor shots sprinkled in. I was impressed by the way the camera was able to expose darker areas while keeping the rest of the shot together, probably thanks to HDR. For example, blue skies remained brilliantly blue with the sun in front of the camera, while shadows cleared right up, in what might have been a difficult shot to process in earlier years before our mobile cameras got so good. I felt like the camera was pretty versatile in the various lighting situations I threw at it.
Portrait shots found edges better than I recall from other OnePlus phones, the bokeh was softer, and final processing looked much more natural than I'm used to. I get the feeling that OnePlus is getting better with camera software.
Now, night photography might still be a bit shaky or at least not as good as Google's. I took a a bunch of indoor shots that turned out fine, but when I tested Nightscape with Google's Night Sight in an extremely dark situation, the results weren't great at all.
Nightscape (7T) vs. Night Sight (Pixel 3)
Anyways, here are a bunch of shots I took with the OnePlus 7T. Let me know what you think!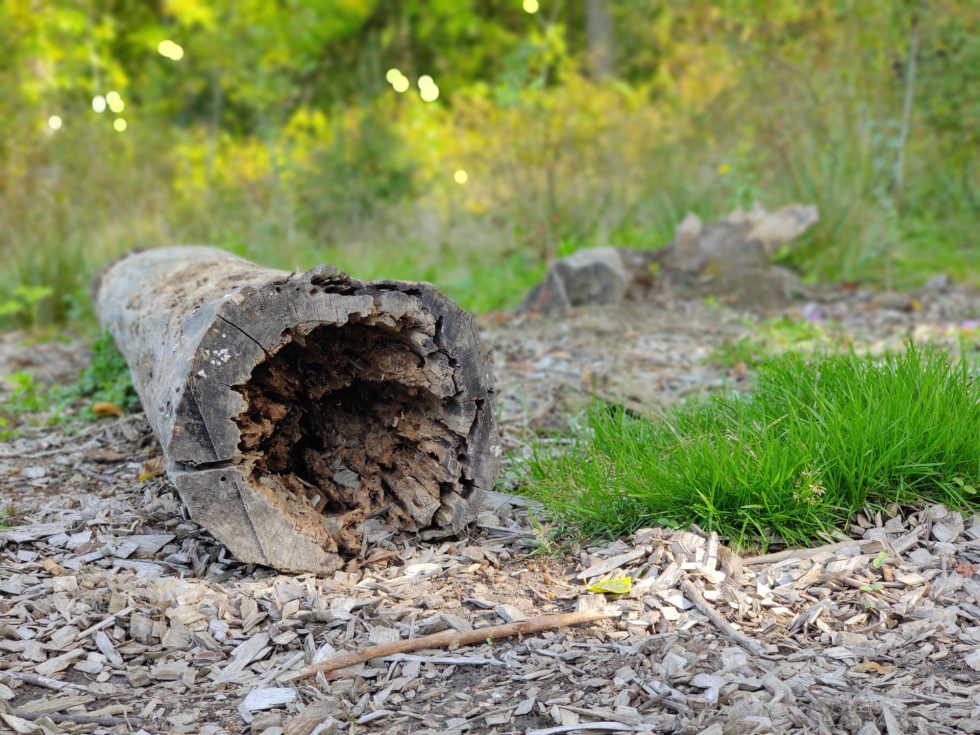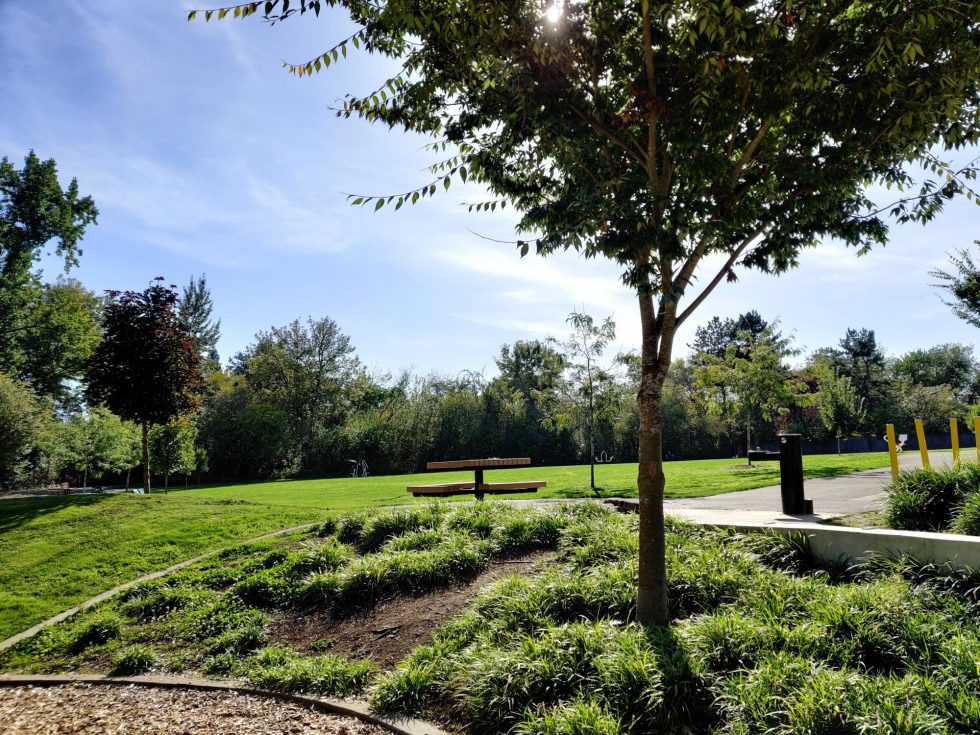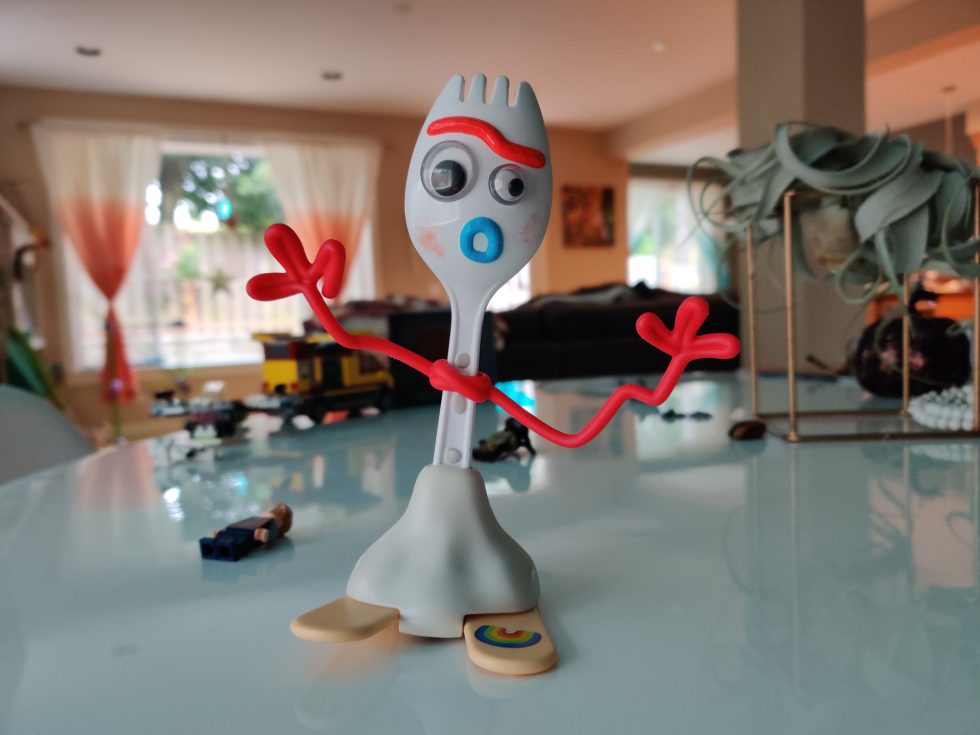 Somewhere-in-the-Middle
---
Design
When I reviewed the OnePlus 7 Pro, I made it clear that I wasn't a fan of the size and weight of the phone, as well as its curved display. Even with its edge-to-edge display design, the phone was massive and not that fun to use at all times unless you had both hands free. With the OnePlus 7T, OnePlus has improved a couple of those areas, but this phone is still ridiculously large. That camera housing isn't the prettiest either.
The OnePlus 7T features an all-glass and metal design, just like the rest of OnePlus' phones from recent years. You get a curved backside that helps its large size settle into your hand and an all-display front with baby teardrop notch that houses the front-facing camera. The display is flat, with no obnoxious curves on its edges, so the accidental palm touches from the 7 Pro are nowhere to be found.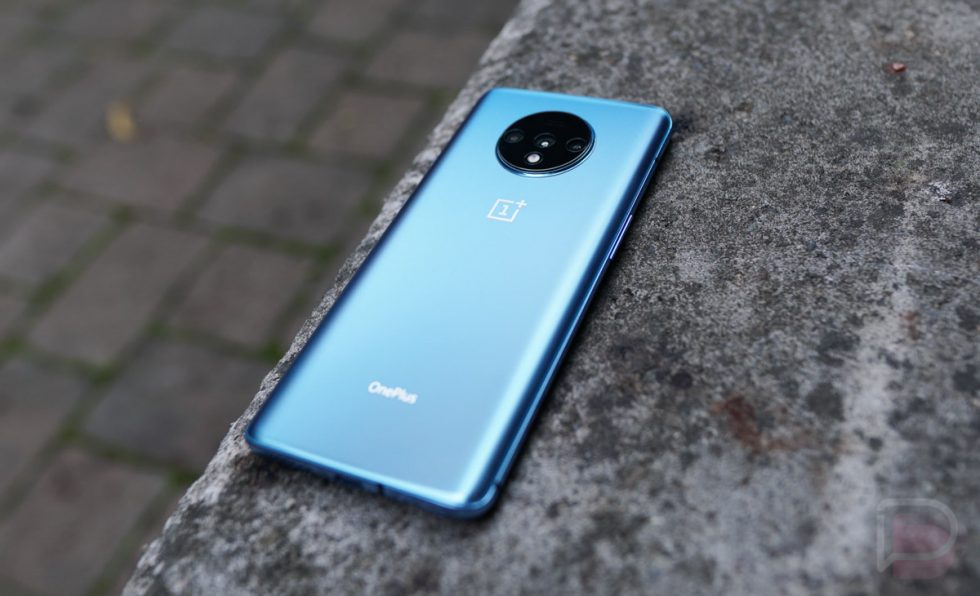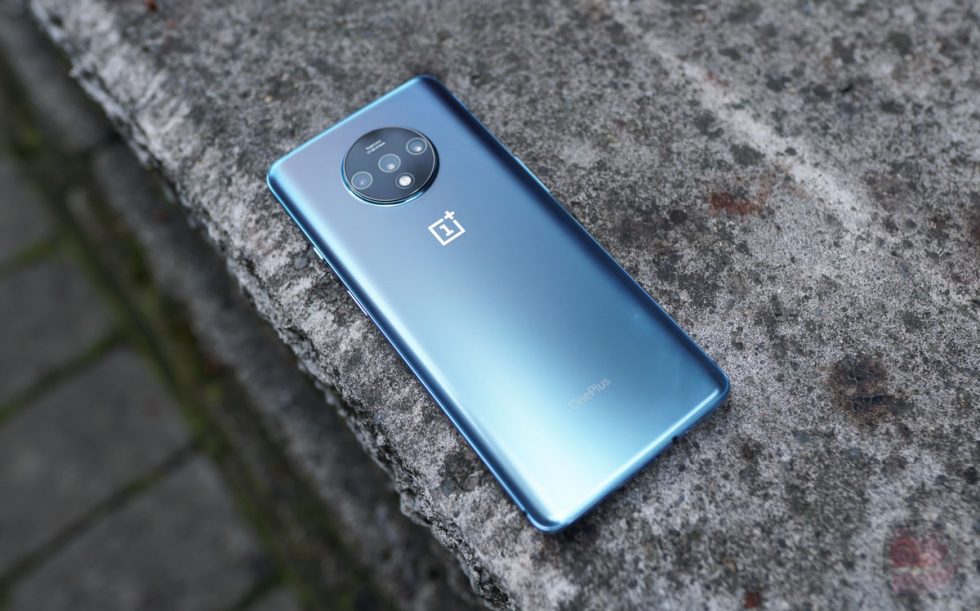 There is a familiar silhouette and shape to this phone that most OnePlus phone owners will be at ease with. The blue and silver color schemes, with this new matte glass finish, are quite pretty to look at and feel great to the touch. This is very much a OnePlus design.
That camera housing, with the large circular black area around the three cameras and flash, is an interesting design choice. After having the phone around for a while, I can't say that I get angry or disgusted while looking at it, but I don't know that I could ever consider it to be tasteful. Sure, we have seen these circular camera setups before, and I get that with so many sensors in a phone, design might dip in order to cram it all in there. It's just…weird. The OnePlus 7 Pro houses almost the exact same cameras, yet it does so in a simpler, less obnoxiously circular way.
Overall, I'm OK with what OnePlus has done with the 7T design, just understand that this is still very much a 2-handed phone for the most part. At 6.55″ in the display, it's going to be tough to use this with one hand. Thankfully, the weight has dropped significantly here (190g vs. 206g in the 7 Pro), leading to less hand fatigue and frustrations.
Look, if you like larger phones and the styling that OnePlus produces, I think you'll like the OnePlus 7T. As you can tell, I have mixed feelings about it, but I'm also a smaller-phone lover.
Availability
If you'd like to buy a OnePlus 7T, you don't necessarily have a number of options. I don't know that I'd consider the OnePlus 7T a hard-to-get phone, but you have only two choices. You can buy the 7T directly from OnePlus at their own online store and then use it on (almost) any carrier or you can head over to T-Mobile.
Obviously, the partnership with T-Mobile has been a big move for OnePlus in terms of visibility and availability in the US, we'd just love to see them sell phones at other carriers. The US is still very much powered by carriers and OnePlus is potentially missing out on sharing their excellent Android experience with millions of people. My guess is that they are working on expanding in this area.
When the OnePlus 7T goes on sale October 18, you'll be able to find it for $599 at the OnePlus store with quick shipping. If you want to walk into a retailer to get one in hand before buying, T-Mobile stores nationwide should have them in both Glacier Blue and Frosted Silver. T-Mobile should give you more monthly payment options too.
Fingerprint Reader
The in-display fingerprint reader has returned in the OnePlus 7T, marking this as the 3rd from OnePlus with this newer technology. With each new phone, OnePlus says they've improved the algorithm to better scan your fingers and add improved security. I might be ready to admit that they have indeed improved the experience on this phone over their previous releases.
As you probably know from our 6T and 7 Pro reviews, as well as countless other reviews of in-display fingerprint readers, this is not my favorite technology at the moment. In-display readers, while cool as a concept and also as a way to help improve overall phone design, have not lived up to the hype because they are often slow and fail to read 'prints far too regularly.
With the fingerprint reader on the 7T, I found a lot less slowness and far fewer misreads than I have in the past. I don't know if that's luck on my part, better finger placement from me, or if OnePlus really has figured something out, but this reader didn't piss me off as much as those from the past.
It's still optical, so it'll light up a dark room when it needs to scan. It also isn't perfect and requires precise placement in order to work every time. It's not bad, though – not bad at all.
Other Notes
---
In the box: The unboxing experience, which you'll see below, includes the phone, Warp 30T charger, clear TPU case, SIM ejection tool, and your typical guides. There is no USB-C to 3.5mm headphone adapter in the box.
Face unlock: As much as in-display fingerprint readers frustrate me, OnePlus has eased some of the stress of them by including one of the fastest face unlocks you'll find. I don't know how secure theirs is, but if you have it set to unlock when it sees your face, it might do so well before you'll even fully cover the fingerprint reader. It's super fast.
Alert slider: The alert slider is once again on the OnePlus 7T, giving you super quick switching between volume, vibration, or complete silence. Why hasn't anyone else in Android copied this yet?
Video
---
Unboxing
First 10 Things to Do
Gallery
---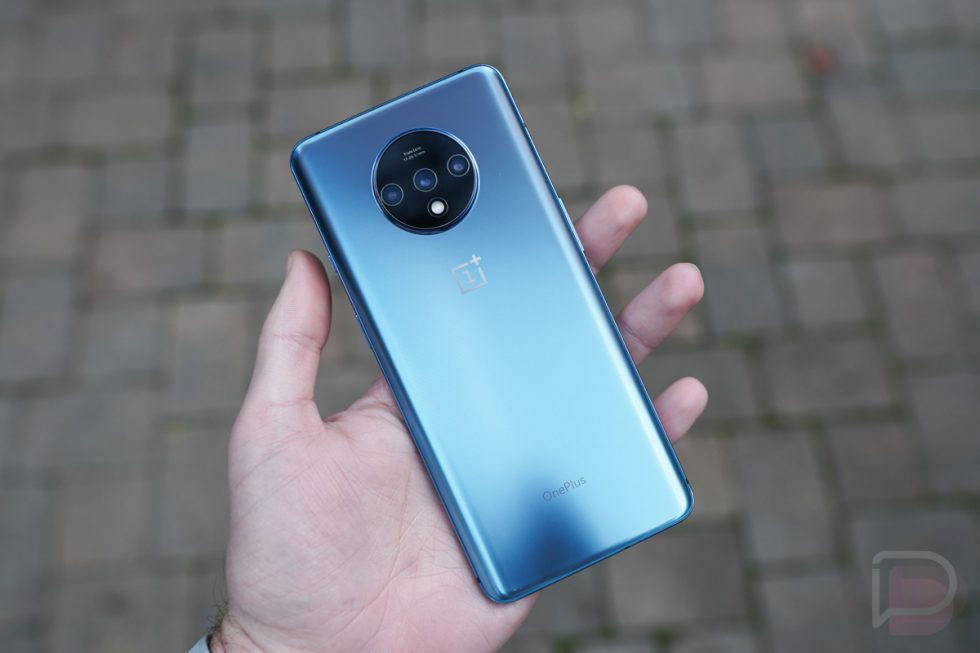 The Verdict
---
The OnePlus 7T is another excellent phone from OnePlus that keeps the price within reason and still manages to push or advance the smartphone feature race. You get an excellent display with 90Hz refresh rate, solid camera with new macro mode, impressive battery life, one of the best software experiences in the business, and a unique design that's put together in a premium package.
October 18 seems like a long way to wait before you can buy one, but the 7T is one of a few phones you should target as your next. The wait will be worth it.