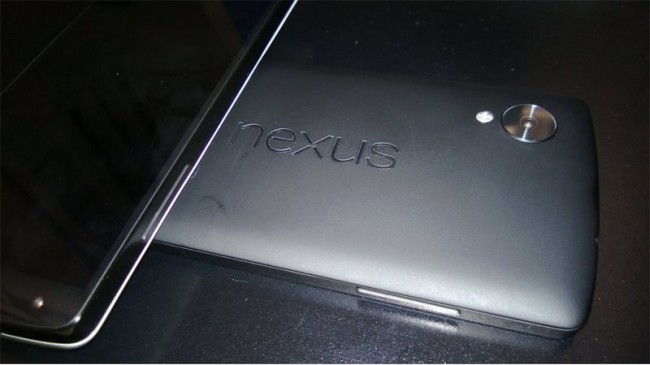 A member of MacRumors forums (of all places) under the name weespeed posted the picture above this afternoon, which he claims is of the new LG Nexus 5. The forum poster mentioned that he was able to hold the device, that it is smaller than the G2, and feels a lot like the Nexus 7. He also mentioned that the display is just "Ok" and not as good as the Galaxy Note 3's, but that it did have small bezels.
The phone looks a heck of a lot like the device we have seen in a Googler's hands, at the FCC, and at a high-school party, so it could very well be the newest picture to date. Unlike the FCC screw-up, though, we are seeing the return of the vertical "Nexus" logo that mimics the logo of the Nexus 7.
A leak from this weekend gave us the following specs to expect in the device:
Display:  5-inch Full HD display, 442 ppi (potentially 4.97-inch)
Processor:  2.3GHz Qualcomm Snadragon 800
RAM:  2GB
Internal Storage:  16GB (could be another model too, this is what was in the log)
Camera (rear):  8MP (no idea if it has OIS like the LG G2 camera)
Camera (front):  1.2MP
Sensors:  accelerometer, magnetometer, gyroscope, proximity, light, barometer, orientation
Battery:  2300mAh (via FCC) and wireless charging
Other:  LTE, NFC
Model:  LG-D820
What do you guys think? And what is the device laying on top of the Nexus 5? Is that another Nexus 5?
Via:  MacRumors
Cheers Wayne!