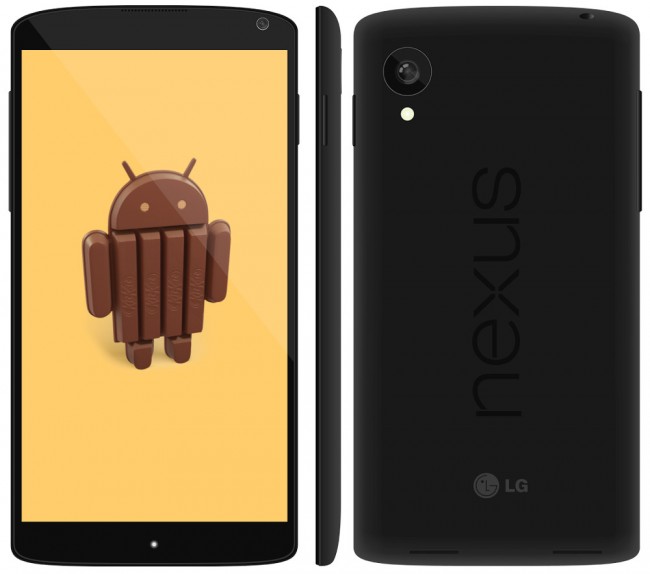 Of course, as I'm on a plane back from New York, the LG Nexus 5 floodgates open with fury thanks to an FCC filing that outed more details than I think Google would have liked them to. So now that I'm all caught up on everything, it's time for a recap, since there seems to be some confusion, especially around whether or not this bad boy will work on Verizon. This is what we're pretty sure we know thus far. 
First, a huge thanks to @epicrivas for the render at the top of the post. While that's not official, we know that the device does look similar, thanks to a quickly pulled Google Kit Kat unveiling video. For now, this is about as clean as it gets in terms of a look at the new Nexus. While it may be another mega-black slab, it does look minimal and sexy. Mmhmm.
Ok, so we first reported that the codename for the device was going to be "hammerhead" last week. That report is now confirmed to have been spot on, as the FCC filing revealed the name in a software build that also referenced the name Key Lime Pie. Key Lime Pie was likely an early build of Android 4.4 before the name change to Kit Kat, so don't look into that much. If anything, it just proves that the move to Kit Kat was fairly recent and that KLP was in line to be the name for some time.
Sources of ours had previously indicated that this launch would be more of a new "Nexus 4″ than a Nexus 5. But with a 5" display, that could obviously change.
We know that the model number is D820. For reference, the LG G2, which is said to be the base for this new Nexus, carries model number D802. Seems like a natural step in model number progression.
Specs:
Qualcomm Snapdragon 800 (M8974A)
4.96″ display
2300mAh battery
NFC
Wireless charging
802.11a/b/g/n/ac WiFi
Bluetooth 4.0
In terms of connectivity (the important stuff to Verizon customers), we are looking at a GSM/CDMA device that can also connect to a variety of LTE bands. Unfortunately, this does not look like a Verizon-compatible device, as much as we all hope that it will be, the chances are pretty slim. The FCC filing shows GSM and WCDMA, meaning it should work fine on both T-Mobile and AT&T in terms of 3G. Verizon, as you know, runs its 3G network on CDMA, which is also present here in bands 0, 1, and 10. Now, the tests show CDMA frequencies in the 800MHz and 1900MHz ranges, but those could be for Sprint. Verizon does run its CDMA network in those ranges, so yes, there is a bit of hope.
In terms of LTE, we're looking at bands 2, 4, 5, 17, 25, 26, and 41. Notice anything missing? That would be band 13, the LTE frequency that Verizon currently runs its entire LTE network on. Now, you will notice a band 4 in there, which will eventually host Verizon's AWS LTE spectrum, and should rollout later this year. Problem is, Verizon only plans to launch 5,000 sites with AWS connectivity by the end of the year, which is not exactly covering much of the country. So even if Verizon decides to allow the new Nexus access to its CDMA network, the phone wouldn't even have full LTE coverage throughout the country. Can you really envision a situation where Verizon, who is as anal as it gets about experience on its network, is going to allow a phone to barely work on only a portion of its network?
I hate to squash dreams, but no band 13 is not a good sign. Remember, with CDMA, Verizon gets to decide who connects to their network – this could be a case where they said, "No thanks, and please don't use our LTE either."
"But what if it's an LTE-only device?" you ask? Could be, but again, Verizon is only deploying 5,000 AWS sites by the end of this year. They will continue to rollout more next year of course, and will also include the AWS frequency in phones by the end of the year, I just don't think this Nexus is making the cut. After all, it's still a phone that needs to make calls, something it wouldn't be able to do if it couldn't also connect to Verizon's CDMA network.
The phone will work just fine on Sprint (bands 25 and 26), T-Mobile (band 4), and AT&T (band 17) LTE networks.
Exciting stuff (if you aren't a Verizon customer). We are hearing from sources that late October could be the big reveal.
Update:  The FCC screwed up and posted a handful of pictures of the device to an LG G2 filing. While the device pictured is clearly an early prototype, it gives us a clear shot of what we can expect in terms of styling for the next Nexus.