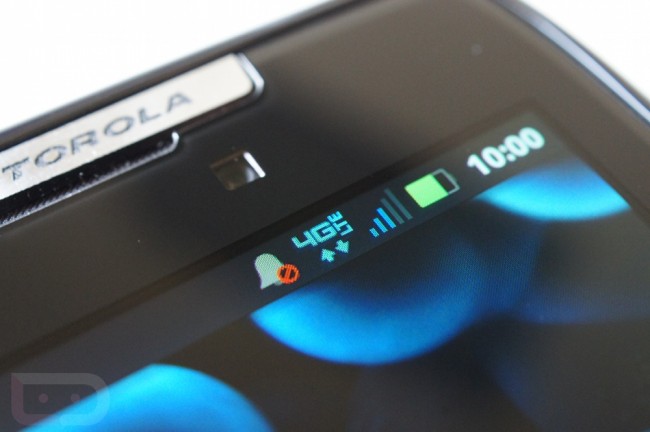 A year ago today, Verizon started the initial deployment of their 4G LTE network across the U.S. Over night, they had turned on 39 markets, giving over 110 million Americans access to lighting fast download speeds that no other carrier could offer. It marked the beginning to their ultimate goal of covering the entire U.S. by the end of 2013. On December 15, Verizon will offer 4G LTE service to 190 markets and more than 200 million people. Quite the feat in just one year's time, I'd say.
Enough of that though – we noticed a couple of interesting bullet points under an "LTE Facts" section in the press release that accompanied this LTE news. The first is a bullet that reads "Two hot new Xyboard DROID tablets from Motorola coming out this month." Why is that interesting? Well, neither Verizon nor Motorola have announced these two devices or made them official on any level here in the States. Sure, we saw the CNET folks get their hands on them for a couple of minutes, but the rest of the world has no clue they even exist. OK, that's not fair – you all know they exist because we saw official accessories arrive for them in stores last week, along with a potential release date of December 12.
The second bullet that caught our eye was the one mentioning "One anxiously awaited GALAXY Nexus smartphone running Android 4.0 Ice Cream Sandwich, from Samsung, coming soon." It's not a release date or anything, but you can tell that Verizon is starting to understand the importance of this phone. Calling it an "anxiously awaited" phone gives off the impression that your voice is being heard. Here's to hoping that this has finally been signed off on and will be in all of our hands by the end of the week.
Press release after the break.  
Happy 1st Anniversary, Verizon Wireless 4G LTE! 

Alabama, Arkansas, California . . . West Virginia, Wisconsin . . . and all over. On Dec. 15, more than 200 million Americans will be able to experience the blazingly fast speed and reliability of our 4G LTEnetwork.

And today, on Dec. 5, we're celebrating big time because it's the one-year anniversary of our initial deployment of 4G LTE. We started in 38 major markets, plus a 39th – West Lafayette, Indiana – the home ofPurdue University. Our friends at Purdue were incredibly anxious to begin developing uses for 4G LTE on campus and we made sure they had the resources to keep their technology mojo humming.

Network Reach

Those initial 39 markets weren't all small, of course. They were places like metro New York City, San Francisco, Chicagoland and Atlanta. And on that first day, we covered more than 110 million people with 4G LTE: a very strong showing.

This is what leadership is about. Some of our competitors in the marketplace talk about 4G LTE a lot. What they're planning, when they might have services in lots of cities, when they might get an abundance of 4G LTE smartphones and other devices so users can actually, well, use the network.

On Dec. 15, Verizon Wireless will be in 190 markets, covering more than 200 million people, with numerous different devices. Which means you have a great selection of smartphones, tablets, mobile hotspots and USB modems to access the network.

We build and maintain the best wireless networks in the world. That's why Popular Science and PCWorld have both recently acknowledged our 4G LTE network as one of the great technological developments of 2011.

Hats off to the Verizon Wireless network engineers who are building 4G LTE from the ground up. Cheers to our major network infrastructure partners at Alcatel-Lucent, Ericsson and Cisco.

It's time to blow out the candle and know that "Year 2" will be twice as bright.

Verizon Wireless 4G LTE Facts

200 million Americans covered with 4G LTE (as of Dec. 15)
190 Markets covered (as of Dec. 15)
16 Devices currently available, including eight smartphones
Two hot new Xyboard DROID tablets from Motorola coming out this month
One anxiously awaited GALAXY Nexus smartphone running Android™ 4.0 Ice Cream Sandwich, from Samsung, coming soon

4G LTE Devices

Smartphones: HTC Rezound™, DROID RAZR™ by Motorola,Samsung Stratosphere™, Pantech Breakout™, DROID BIONIC™ by Motorola, Revolution™ by LG, DROID Charge by Samsung and ThunderBolt™ by HTC
Tablets: Samsung Galaxy Tab™ 10.1 with 4G LTE and Motorola XOOM™
Notebooks and Netbooks: HP® Pavilion dm1-3010nrEntertainment PC and Compaq™ Mini CQ10-688nr with built-in 4G LTE
Hotspots: Verizon Wireless 4G LTE Mobile Hotspot MiFi™ 4510L and Samsung 4G LTE Mobile Hotspot SCH-LC11
Modems: Verizon Wireless 4G LTE USB Modem 551L andPantech UML290 USB modem
______________________
Some of our best videos.