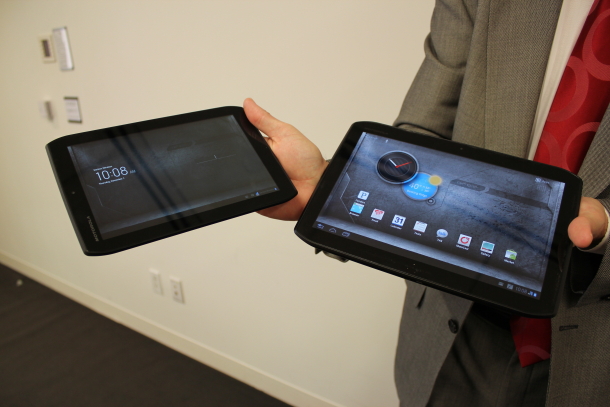 Verizon is prepping two new 4G LTE tablets for the month of December, an 8-inch and 10.1-inch device both to succeed the Motorola Xoom. CNET recently received some hands-on time with both devices and have confirmed that they will be marketed as the DROID XyBoard. However, both will be known as the Motorola Xoom 2 overseas.
As we have previously seen, both tablets share the same design cues as the DROID RAZR. Rather than the typical rounded edges of other tablets, the XyBoard features oddly sharp corners.
Both devices have a 1.2GHZ dual-core processor, 1GB of RAM, 4G LTE connectivity and run Android 3.x Honeycomb. Each device also has a 5-megapixel rear-camera and a 1.3-megapixel front-facing one. The XyBoard is thinner than the original Xoom and features Cornings Gorilla Glass. The 10-inch Xyboard includes a stylus for business orientated users, while the smaller device is considered more media-centric with a 2.1 virtual surround sound system – subwoofer included.
There has been no official word on pricing, however we previously reported that models will start at $429. It is disappointing to see that these two flagship tablets are running last years dual-core technology and operating systems, where is the quad-core and Ice Cream Sandwich?
Via: CNET