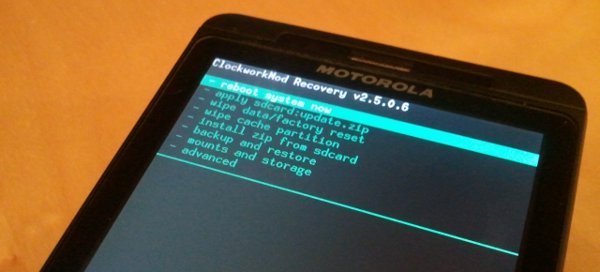 We're starting to see quite a few themes, skins and ROMs for the Droid X and wanted to make sure you were covered in case you get the itch to test one out.  One of the most important steps before attempting anything major like this on your device, is to make sure you have a full nandroid backup to save you if something were to go wrong.  A nandroid backup is essentially a giant snapshot of your phone, stored on your SD Card that should be created each time you switch ROMs, themes or try anything which could potentially change a system file.  Plus, they are good to have especially when you flash a new theme and realize how damn ugly it is.  You can easily restore your backup and enjoy your previous settings.
So let's do this! Full instructions after the jump.  
*Warning* – Rooting your phone voids the warranty meaning you can not take it back should something happen.  Rooting, flashing custom ROMs and creating backups is also risky and can do permanent damage to your phone, so you might need that warranty.  Basically, don't do this unless you understand the risk.  Droid Life will not be held responsible for your mistakes.
1.  Your DX needs to be rooted.  (2.1 instructions here, 2.2 instructions here.)
2.  You need to download and run Koush's Droid X Bootstrap and open it.
3.  Tap "Bootstrap Recovery."
4.  If you get "Success!" tap OK and hit "Reboot Recovery."
5.  Your phone will boot into Clockwork Recovery allowing you to create a backup.
6.  Using your volume up/down keys, scroll down to "backup and restore" and press the camera button.
7.  With "backup" highlighted, simply press your camera button and the backup will begin.
8.  Once it finishes, highlight "reboot system now" and press the camera button to reboot.
9.  You have just created your first nandroid backup!
*Tip* – Should you ever need to restore to this backup, simply boot into recovery like you just did, scroll down to "backup and restore" and this time highlight "restore" instead of "backup."
You are now ready and should feel safe enough to flash Birdman's FLyX or some of the various themes floating around in our forums.
Any questions?