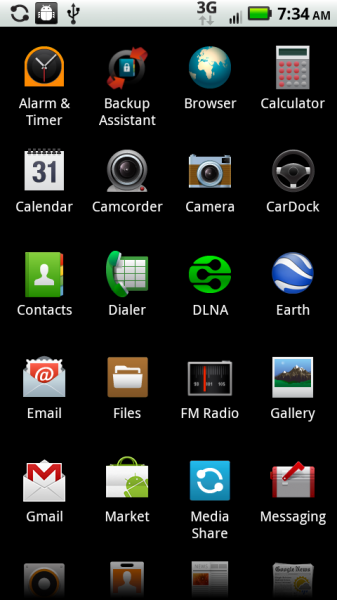 One of our favorite devs/hackers/awesome people, Birdman, just dropped the first Droid X ROM onto our laps and it's officially time to get our DX paws a little filthy.  Anyone with us?
His FlyX ROM (ROM Details here.) is only in "RC1 status", but is available to anyone with a 2.2 rooted Droid X to try out via ROM Manager if they are willing to take the risk.  Obviously we are willing to take that risk!
*Warning 1* – If you root, hack, install a custom ROM onto your phone you are voiding the warranty.  If you choose to do this you accept all risk.  Risks would include permanently damaging your device to the point where it will no longer work.  Again, you accept all risk.

*Warning 2* – READ EVERY SINGLE NOTE.  If you don't meet all of the criteria, do not attempt this.
Instructions:
*Note 1* – YOU HAVE TO BE RUNNING THE LEAKED 2.2.  (Instructions here.)

*Note 2* – YOU HAVE TO BE ROOTED.  (Instructions here.)

*Note 3* – YOU HAVE TO HAVE THE DROID X BOOSTRAP INSTALLED.  (Info here.)
1.  Once you have all of the above taken care of you are ready to start.
2.  Download and install ROM Manager from the Market.
3.  If you haven't already, tap the top button to "Flash Clockwork Recovery."
4.  Once that finishes, choose "Download ROM."
5.  Choose Birdman's FlyX.
6.  Choose the only option which is FlyX 0.1 RC1.
7.  The ROM will now download.
8.  When it finishes you will be prompted to backup and wipe data/cache.  Check BOTH boxes.
*Note 4* – Seriously, check BOTH boxes.  You need a backup in case something goes wrong and Birdman is highly recommending that you wipe data and cache.
9.  You phone will now reboot, create a backup and flash the FlyX ROM.
10.  Once it finishes, it will reboot and you will now be running Birdman's FlyX.
*Note 5* – The first boot will take some time.  Be patient.

*Note 6* – After your phone boots for the first time, if you are really patient, it will likely re-download all of your previously installed apps.  Sign into your Gmail account and watch the sync icon appear and work for a long time depending on the number of apps you had.
11.  Enjoy life without bloatware!
Let us know if you run into any issues.  There are likely to be some seeing as this is the first ROM available, so understand that.  We'll work through them together by holding hands and singing campfire songs.
Cheers everyone who sent this in!