Google announced this morning that it will kill off its Inbox email app in March of 2019. I've already had a full meltdown over it, so now it's time to prepare for the sh*tty world of Gmail that is almost upon us, the brilliant-minded Inbox users of the world.
To do that, we need to make sure Google knows what we want from Gmail. Because even as Gmail has adopted many of Inbox's features and Google thinks this guide will help with the transition (lol), there are a whole bunch of things it could still take on. Inbox is still a far superior email app to Gmail, even if some bros on Twitter tried it once four years ago, couldn't wrap their little brains around its brilliance, and went back to Gmail.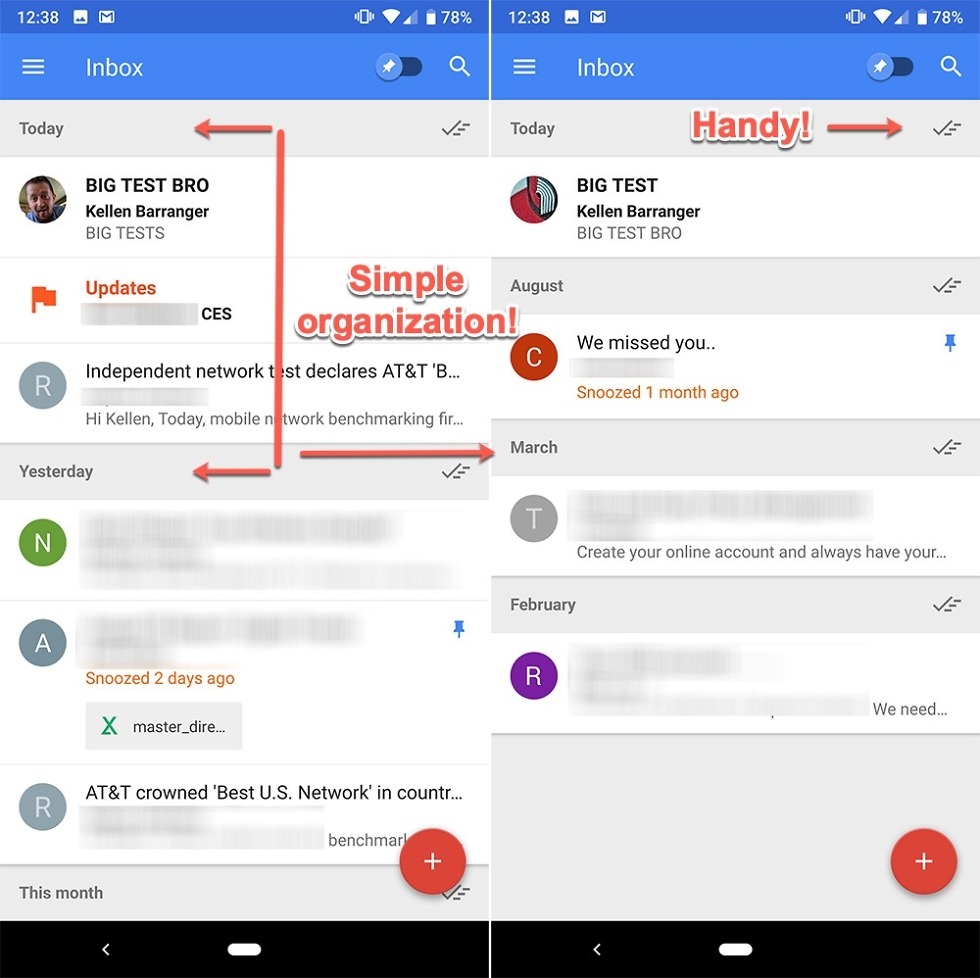 Date Sorting and Separation
First up, can we get some day-date separation in the inbox already, Gmail? There are few things worse than opening up your email app and find little organization outside of a chronological order with no spacing, or whatever the f*ck "Priority" inbox is. I don't want AI in my inbox to try and tell me what it thinks is important – I just want proper sorting that my eyes can adjust to. A simple separation of emails by the day that could even break down to the week or month, like in Inbox, would be great.
And look, I can acknowledge that some may want to sort by unread or "Priority" (lol x2), but an option that could add some date sorting would be much appreciated.
You know what would also be awesome? Mass archive buttons like you can see above to the top right of each date section. Sometimes I wake up to a bunch of spam in the morning and a single tap can wipe out an entire batch of emails. Or maybe I'm finally done looking at emails that are 3 months old and want to rid my life of them with a single touch. Inbox does that.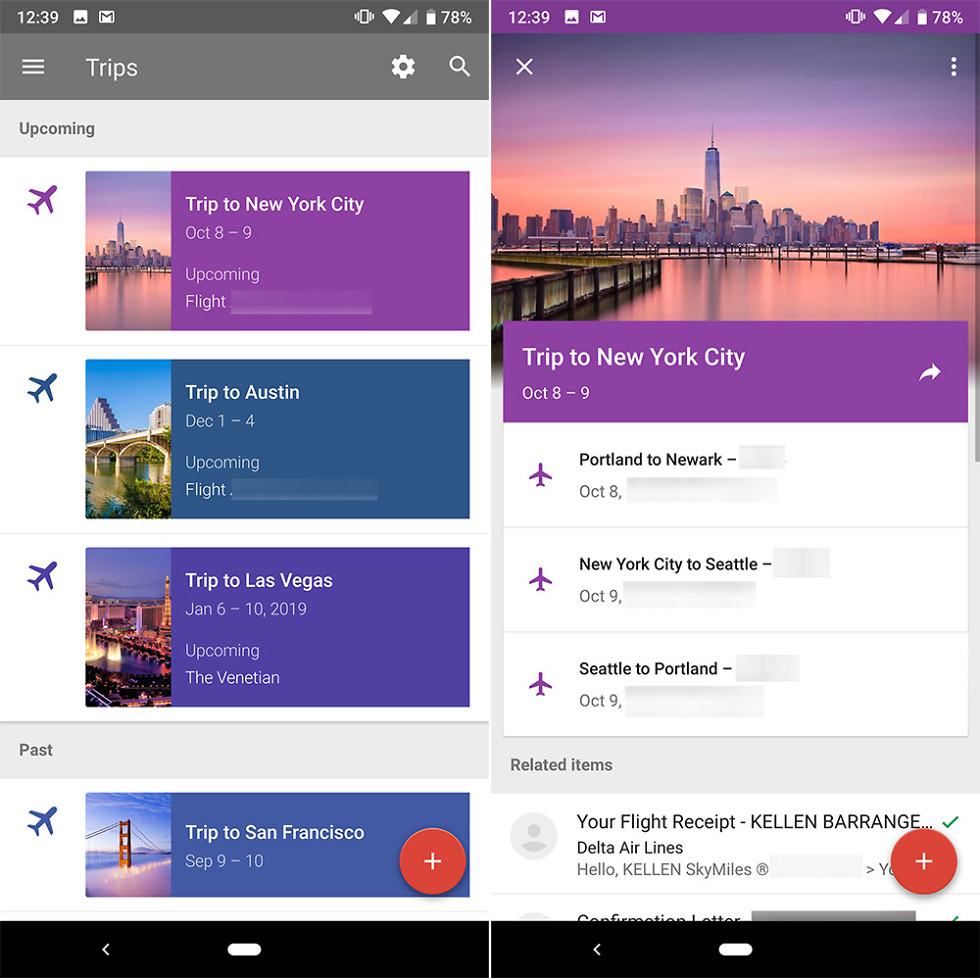 Built-in trip bundles, not a separate Trips app
One of Inbox's best features is its trip bundling. Long before Google created its Trips app, Inbox did much of that within Inbox. As emails flow into your inbox that are related to a potential trip, Inbox smartly bundles them together. It lets you manually add others to the bundle too, which are always handy to have as you prepare for a flight, hotel stay, or some other type of rental or reservation. I use these trip bundles all of the damn time, as you can see from the screenshots above.
Now, I know that Google has a Trips app. But this is built in to Inbox, so I don't need to ever use Trips. I'd much rather use the simpleness of Inbox's trip bundling that deal with learning another Google app or having to install another one. One app is almost always better than multiple.

Snooze in notifications
I know that Gmail is new to this whole snoozing thing, but we really do need a snooze button in Gmail notifications. I'm a snooze beast and imagine this will arrive before March 2019, though there are no guarantees of that happening. Please make it happen.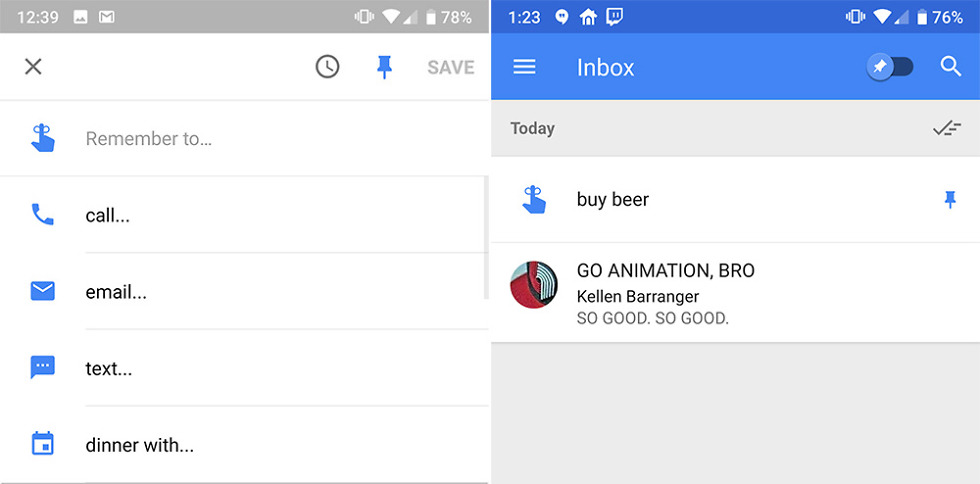 Built-in reminders are nice
Inbox also has a built-in reminder feature that lets you create reminders from within your email inbox. Rather than asking Google Assistant to do it or typing one out somewhere else, you could just do it there. But also, should you use voice to do it, those reminders would show up in Inbox! It's awesome.
You could add that function to Gmail, Google.
Gestures are fun
Like this one, where you have an email open and then swipe it back down to close it. No back button tapping. It's nice. Bring these to Gmail, Google.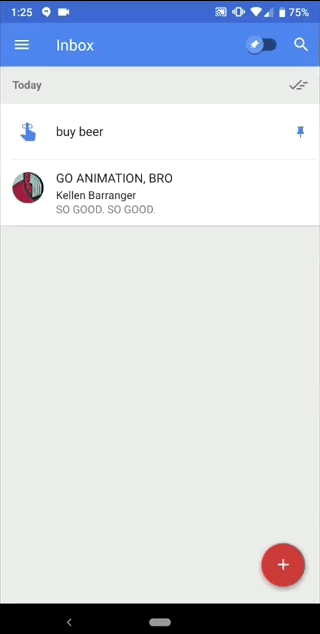 Oh and blue is better than red. Bring blue to Gmail, Google. You won't, but I can always dream.