During Google I/O, Google pushed an update to Inbox that introduced the always-useful "undo send" button. While "undo send" stole headlines because it is a feature that you will all one day appreciate, another new feature was overlooked by many that may be equally important for those who travel frequently. That feature is called Trip Bundles, and Google took a minute yesterday during WWDC to talk in greater depth about what it is and how it can work for you. 
With Trip Bundles, Google tries to intelligently bundle together any information in your inbox that is related to an upcoming trip. This could be flight, car rental, restaurant, and/or hotel information. You likely receive multiple emails related to each one, so in a Trip Bundle, you'll find that information bundled together with overviews of each, so that you can quickly pull important information from it.
In a bundle, as you can see from this bundle (below) that was created for my trip to San Francisco for Google I/O, Google presents to you a card with a list of all of the reservations you have related to your trip. For me, it has my flight to and from San Francisco, plus hotel and dinner reservation info. I can tap on each item to see an expanded view. In the flight card, I get departure time, terminal and gate info, how long the flight will last, and even my confirmation number. It will even update automatically if I receive a notification that the flight has changed or is delayed. That way, as I check in to my flight or make my way through security, I know exactly what I need to know at all times without having to dig through my inbox.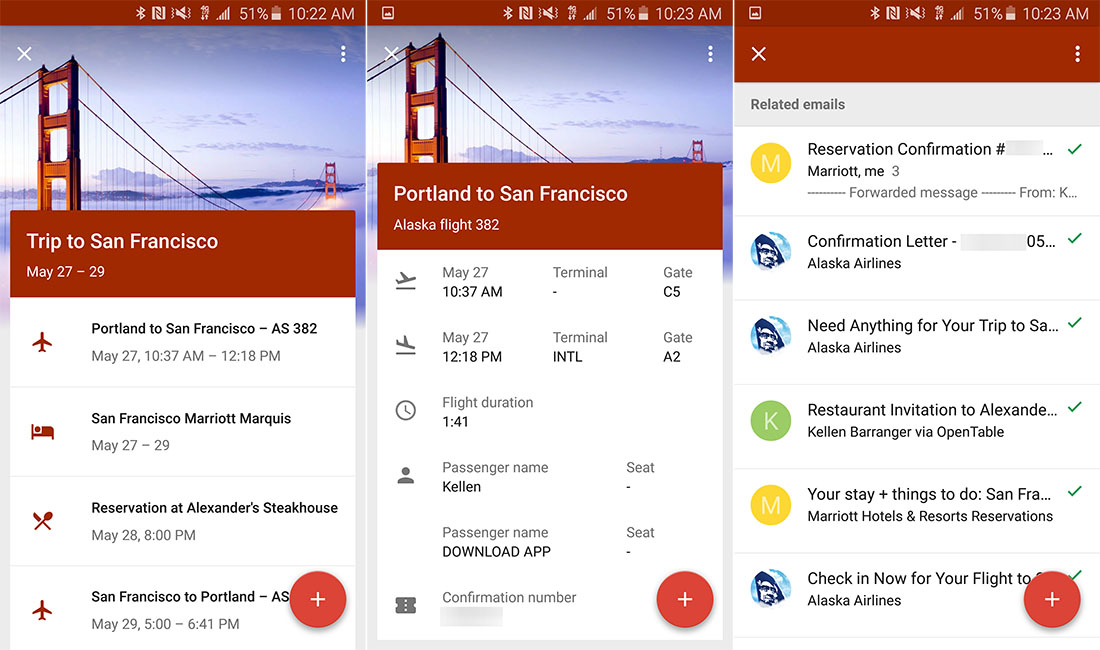 Below the overview card, you will see all "related emails" listed in case you still need to find a specific email. Inbox is also smart enough to know to show you the most up-to-date info as it rolls in.
Trip Bundles can be accessed in the slideout menu under "Trips."