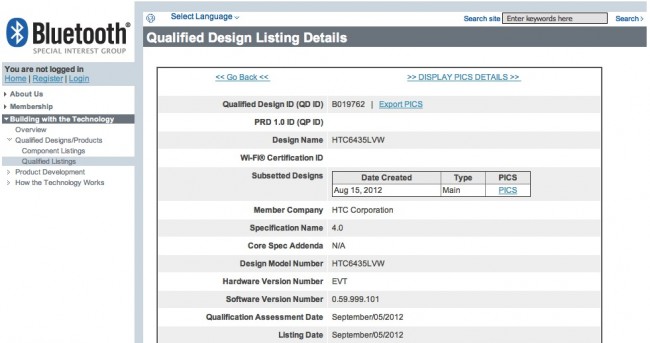 HTC's 1080p phone, codenamed "dlx," cruised through Bluetooth SIG this week while on its way to grabbing every certification it needs to before being announced. Not much else can be established from this listing, but it does help confirm that the phone is still real and headed to Verizon. The "VW" at the end of the model number HTC6435LVW gives us that clue.
At this point, the big question remains, "Will HTC unveil this on September 19 in NYC?" They have an event planned, but have been short on details. Will it be the device that Mr. Blurry Cam took 3 shots of this weekend? Will we get everything that was included in that early benchmark that we discovered – 1080p resolution, 5″ display, quad-core Snapdragon S4 processor, and 4G LTE?
For me, this is the device of 2012 that I am most looking forward to. Well, until some new Nexus details start leaking out, that is.
Via:  Bluetooth SIG
Cheers Anonymous!