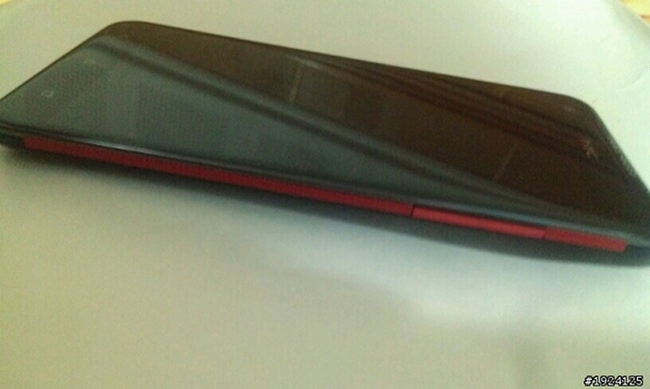 Care to take a guess as to what this phone is? It popped up over at Chinese forum Phone HK, and appears to be an HTC device with the red accents that Verizon loves to use. That's speculation of course, but we do know that Big Red and HTC have teamed up to produce a phone with a 1080p full HD display codenamed "dlx." Is this it? 
Very few details were included with the post of these pictures, however, we can gather a couple of details if we look closely. First, those do not appear to be on-screen navigation keys. That sort of leads us off of it being the 1080p phone since that had a resolution (1794×1080 that hinted at missing pixels from on-screen navigation keys. Well, as a commenter pointed out, unless the benchmark was done and that nasty black bar with the menu appeared on screen and is to blame for the odd resolution. We are seeing HTC and Beats logos though, along with a rear placed FCC-type sticker that hints at a non-removable battery. The red accents, again, give off the impression that this could be a Verizon device, but the EVO line has also had its share of red over the years. The rest, is a complete mystery.
Aside from speculation, I think it's safe to say that this is a beautiful device. I'm diggin' the red panels on the side, accents throughout, and the form factor. It's looks similar to the One X, but maybe even flatter.
Thoughts?