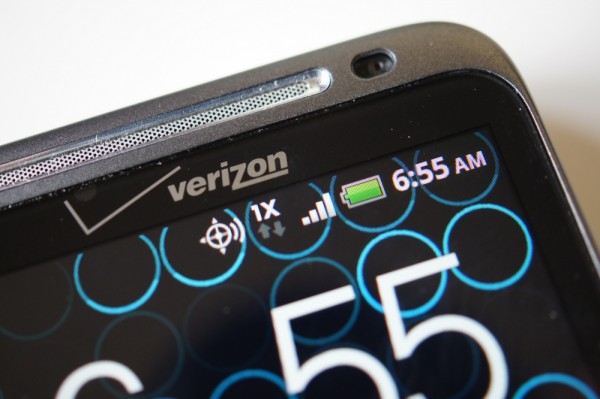 Verizon's brand new 4G LTE network is and has been down across the nation for a number of hours now starting at some point late last night.  Yep, anyone with a Thunderbolt will be running on 1x until they fire this thing back up, even if you are in a non-LTE city.  And toggling your LTE on/off isn't going to help you either.  Time to pull out the OG?
Verizon has acknowledged the problem: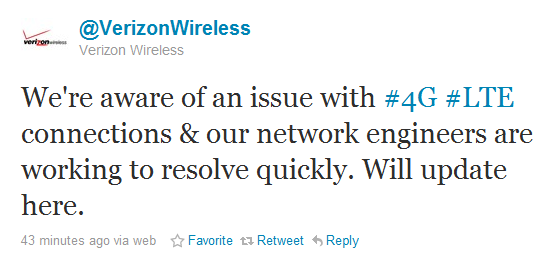 Possible fix to get you back on "old" 3G while they work out issues: (spursrchamps2007)
Dial ##778# and hit send

* A pop-up window named EPST will show up giving you 2 choices: View Mode and Edit Mode. Pick: Edit Mode.
* Enter the Password: 000000
* Go down to Modem Settings and pick "Rev A"
* You'll want to choose enable and click OK, hit the menu button and then press "Commit Modifications."
* Restart your phone and you should see 3G is working

To switch back to 3G/4G, follow same instructions but choose eHRPD.
Update 7:51AM:  We're hearing reports that Chicago may be fine as well as the Lehigh Valley, PA.
Update 9:02AM:  Verizon with a minor update, although it doesn't tell us much other than the network is still down for HTC Thunderbolts.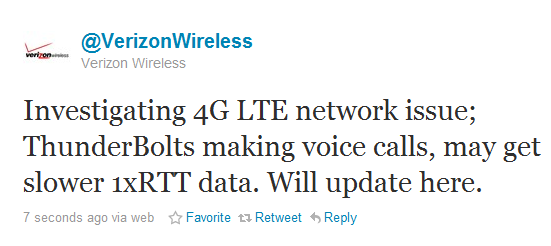 Update 1:47PM:  Another update.  We're still down in a lot of areas, but at least they have figured out the problem and are starting to bring people back up: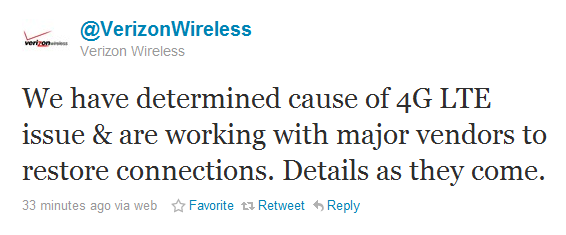 Update 8:32PM:  We just heard from 3 separate sources that the DROID Charge has been delayed due to this network outage.  It looks like we all may be without 4G LTE for a little big longer.
Update 7:36AM (4/28):  We've just received word from Verizon that 4G LTE is back up nationally.  Unfortunately eHRPD is not up though, and that means no soft hand-offs between 3G and 4G.
Stay here as we'll continue to keep you updated…
Cheers Edward, Adam and everyone else!