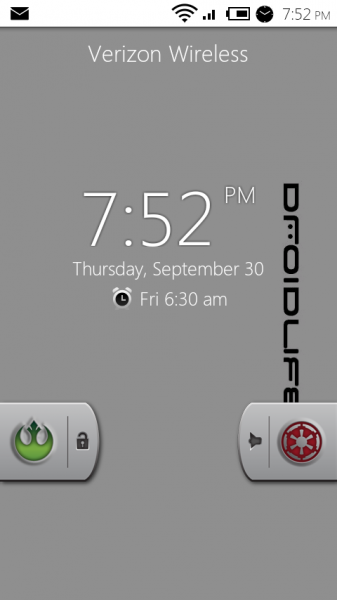 The R2-D2Droid 2 lock screen has been pulled from the phone's system dump and is flashable to both the Droid X and Droid 2 as a MetaMorph theme.  The process is pretty simple, but at this time is only available to rooted users.  I've included this in the instructions, but PLEASE MAKE A BACKUP.  Any time you are tweaking framework on a phone, you need to have a backup ready to rock in case something goes wrong.
Download:  lockr2d2.zip (alt link)
*Warning* – There is risk involved when flashing custom ROMs, themes or rooting your device.  You accept all responsibility should something happen to your phone during this process.  You've been warned.
Instructions:
1.  You have to be rooted.  (Instructions)
2.  You need to bootstrap the recovery using Koush's Droid 2 or Droid X Bootstrap.
3.  Boot into recovery using the Bootstrap and MAKE A BACKUP.
(backup and restore>backup)
4.  Download and install MetaMorph from the market.
5.  On your SD card, create a folder called AndroidThemes.
6.  Download the lockr2d2.zip from above and unzip into your AndroidThemes folder.
7.  Open MetaMorph, allow it to perform checks and give it superuser access when prompted.
8.  Choose "Pick existing theme" and then tap the "lockr2d2.xml" file.
9.  Tap on "SubTheme:  framework-res.apk" and apply it.
10.  Your phone will load the new framework and will more than likely reboot.
11.  When it reboots, you should have your new Star Wars lock screen!
Via:  Droid Pirate
Cheers Elliott!