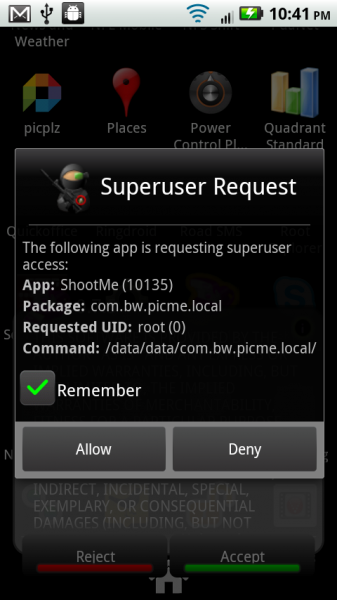 Since so many of you are curious about having a rooted device, then you'll be pleased to know that the Droid 2 rooting method works flawlessly on the official update for the Droid X.  In even better news, the crew at XDA Forums have created a semi-1-click method so that you no longer have to use a series of adb commands.  You will still have to install the Android SDK, but that's nothing right?
ALL CREDIT TO DARKONION AT XDA FORUMS FOR THIS!
Instructions:
Download: DoRootForWindows.zip
1.  Extract and Update Android SDK package to your computer.  (Our instructions here.)
2.  Next, extract the files from the DORoot zip file to the tools folder of Android SDK.
(Take them out of the folder they came zipped in and place in tools.)

Ex:  C:\android-sdk-windows\tools
3.  Install Motorola Drivers:  (32-bit or 64-bit)
4.  Enable USB Debugging on your phone and plug it into your PC.  (Settings>Applications>Development)
5.  Double-click and run doroot.bat
6.  Let it run.
7.  It will let you know if it has finished completely.
8.  Reboot your phone and you are rooted!
If these instructions don't seem all that clear, follow the step-by-step guide which includes adb commands.  Our instructional post can be found here.
Enjoy your newly rooted official 2.2 Droid X!