Google has made it more clear than ever for 2023 that they sell a single "Pro" phone, another non-Pro phone that is still good and only a step below being a flagship, and then a budget phone in their ongoing A-series line of devices. While they have had Pro and non-Pro phones before the Pixel 8 Pro and Pixel 8, this is the year they decided to fully sell that idea.
Now, we've talked about this at length already by pointing out all of the differences between the Pixel 8 series phones and also by sharing our thoughts on which you should buy. With those two write-ups in mind, it's time to dive deeper in after almost two weeks of testing. Do we still think the Pixel 8 Pro is the phone to buy this year from Google? Well, yeah we do, but there's still quite a bit to get into here.
This is our Pixel 8 Pro review.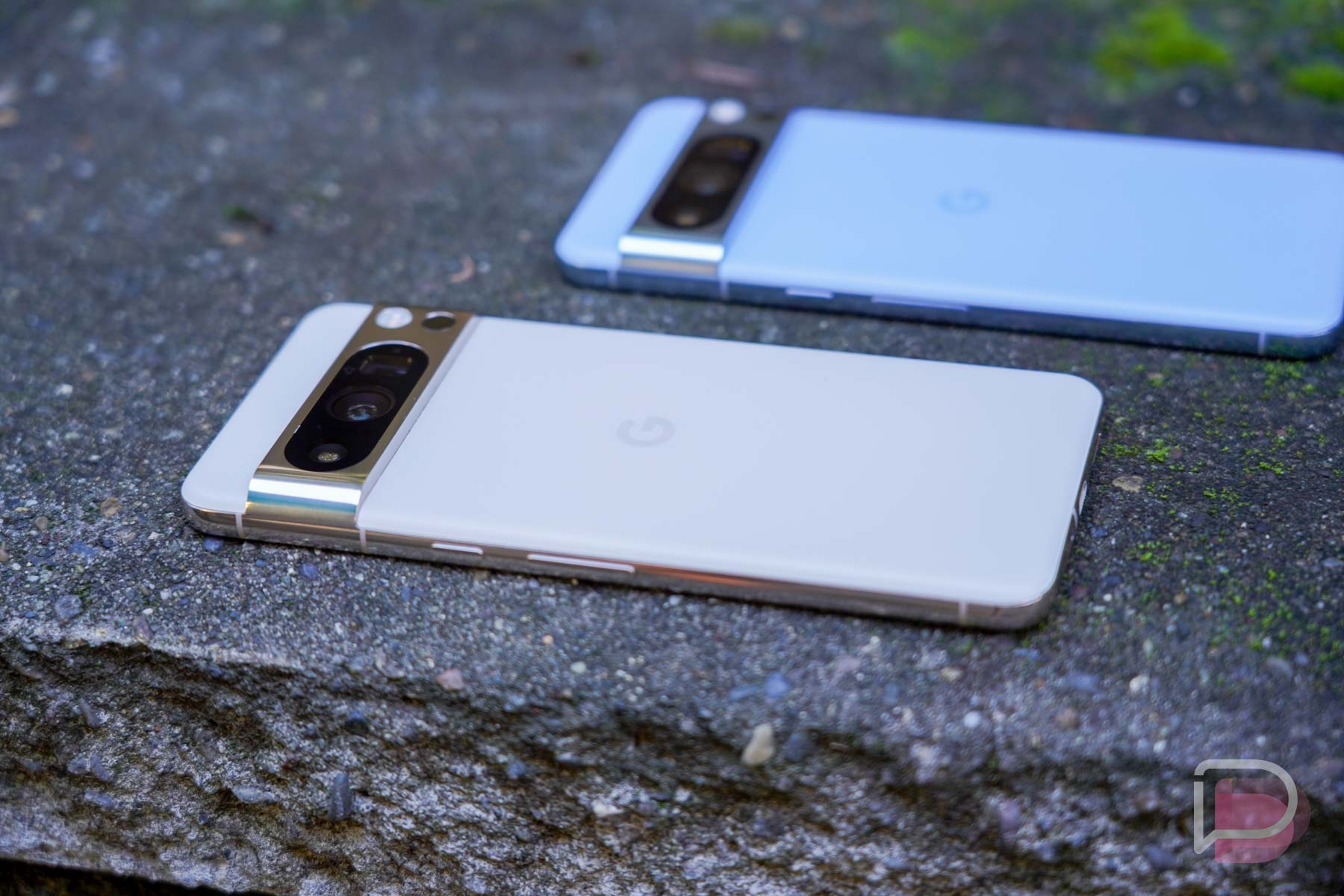 What do I like about the Pixel 8 Pro?
Display. I like to consider myself one of the earliest in the game to call out curved displays for being bad, so when we first learned that Google was going fully-flat on the Pixel 8 Pro, I might have poured several celebratory beers. This thing is flat. It is beautiful to look at and use. It is fast. It is amazing.
The 6.7″ LTPO OLED display that Google used here has a refresh rate from 1Hz to 120Hz (so it's super smooth and efficient), is protected by Gorilla Glass Victus 2, and weighs in with a resolution of 1344×2992. Google calls it their Super Actua display, which really just seems like a goofy marketing term because Google hasn't truly defined what the hell that means. It might mean that it gets ridiculously bright, because at 2,400nits, this thing is indeed bright (especially outdoors). It's also plenty colorful and properly tuned, holds viewing angles, and is very, very responsive to the touch. I have zero complaints here and would argue that this display is as good as any used by Samsung's best phones.
Oh, and again, it's flat. The flat display brings none of the issues a curved display would, so you can use the system navigation gestures without issue, not stare at annoying glares where the display bends, and fit cases or screen protectors properly on it. I truly hope that Samsung and OnePlus take note from the Pixel 8 Pro, that you can build a wonderful flagship phone without curving its display.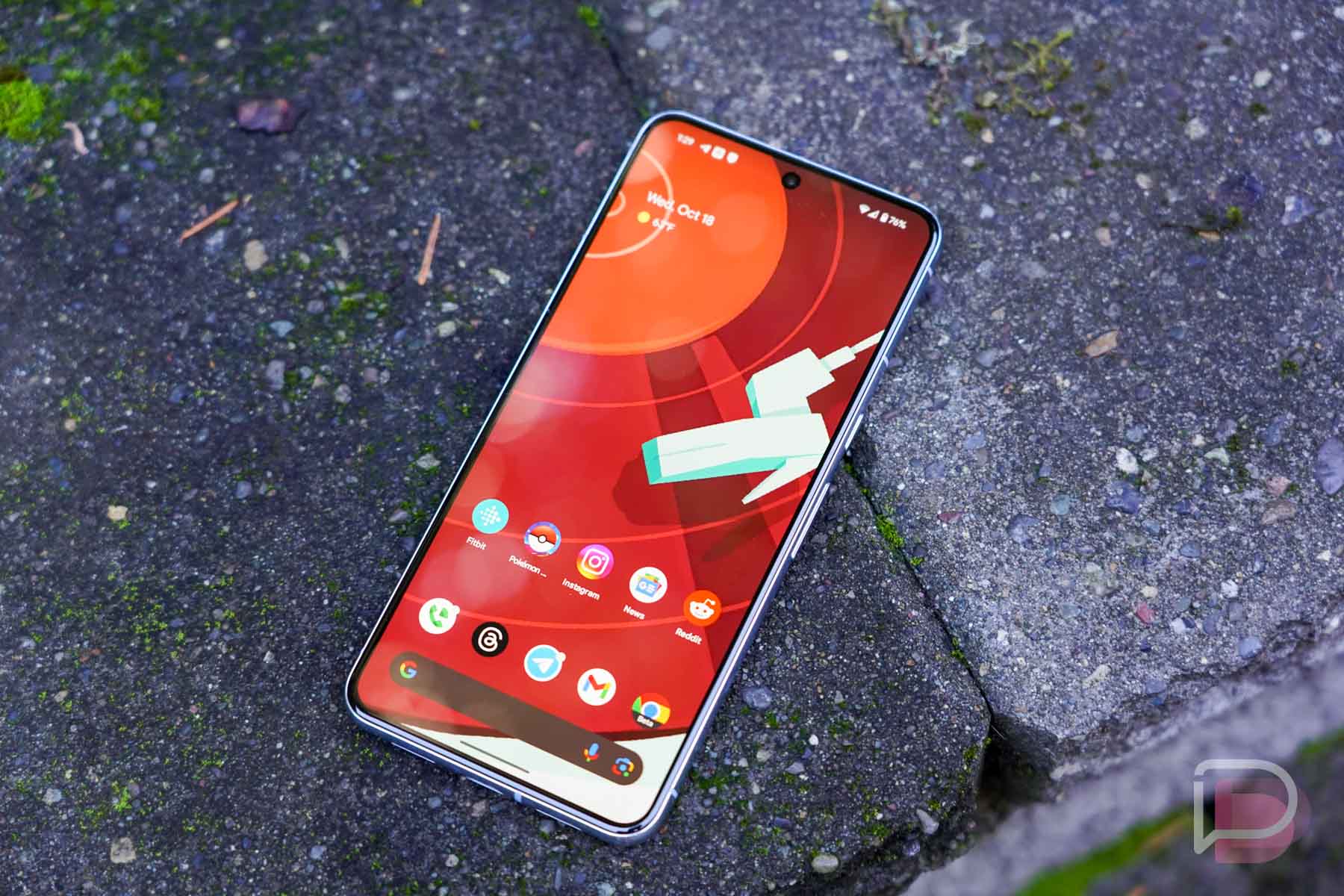 Design. There are times that I can't decide if I like Google's Pixel design language or not, but I think there is no denying that the Pixel 8 Pro is the best looking of this recent era with the camera bar. Google flattened the display, added a matte appearance to the back and put the cameras all into a single lens cover, while launching in three lovely colorways and adding a subtle color hint to each version's polished frame. It's so very Google and shows a maturity we don't often attribute to Google hardware.
The back has a subtle curve that helps it sit in your hand comfortably, because it is a large phone. The buttons are super-duper clicky, there's good balance to the phone as you hold it (even with the large camera up top), and it somehow doesn't feel that heavy. If I had complaints, it would be in the polished frame that certainly needs to be wiped clean on occasion. The matte glass on the back is also semi-slippery, although the slipperiness varies from phone to phone in my experience. The Porcelain, which I tested for most of this review, is very slippery to my hand. The Bay (blue) version I bought for my own personal use isn't as slick. Tim says his Obsidian (matte black) 8 Pro feels like the blue version. I also had my wife do a blind slipperiness test of Bay vs. Porcelain and she said Bay was more slippery, so who knows. Ignore everything I just said there, but know that the matte isn't necessarily a texture – it's just the finish under the glass.
Google has kept with this style for the Pixel for 3 years now and I kind of hope they keep it going. It is becoming an iconic Google design, even if only because it's different than everyone else's phones, with the corner-set camera housing. You know a Google Pixel when you see it and that's a good thing.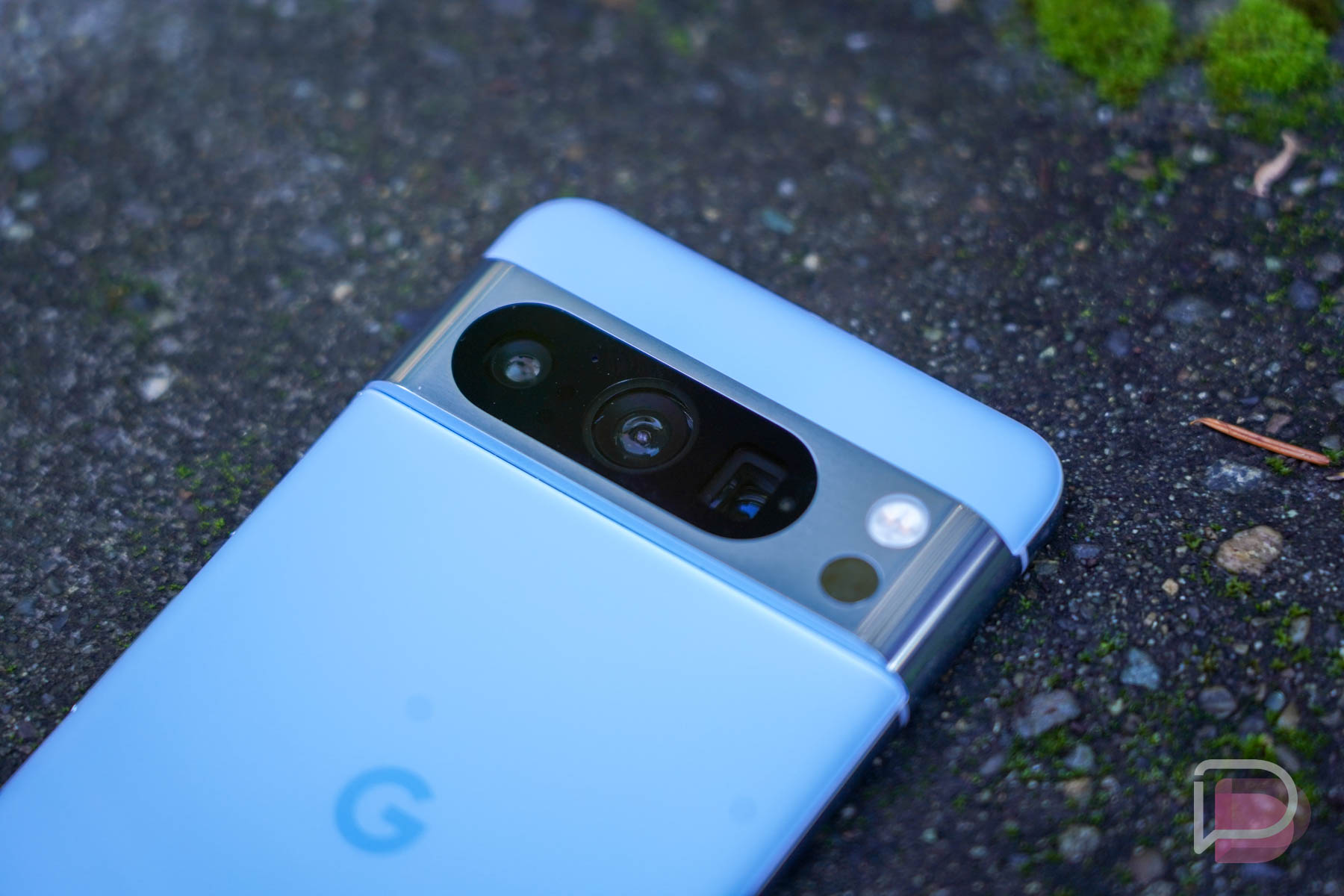 Camera. The Pixel 8 Pro has what Google refers to as "fully upgraded cameras and never-before-seen editing." Those "upgraded" cameras include a new 50MP main sensor, new 48MP ultra-wide sensor, and a 48MP telephoto lens. We have all of the tech in these, like OIS and EIS, wide field of views, and large aperture up to f/1.68 in that main camera. It's a proper flagship camera that is now paired with manual or pro controls, much-improved camera app, and several new editing tools that might turn real photos into something not-so-real.
When you open the camera, it's fast enough to load, but feels extra quick to focus and get you ready for that first shot. And when you decide it is time to take a picture from your life, this camera can do it at any time. If you snap all of the food and beer pictures, like I do, it'll do so with incredible bokeh and depth, and help your subjects be the star of their show. It's good at landscape shots, thanks to the three lenses and several focal length options. It's killer at night or when indoors in odd lighting, like when you go to snap a picture at the back of your dirty desk in almost darkness of a Jigglypuff toy that wants to sing you to sleep before finding a Sharpie. It's good at snapping pics of people and pets and almost anything else you can think of.
It produces contrasty images that are rarely overexposed, but that do get punchy more often than not. The Google image style is here as it always is, but it's a style that looks appealing to most eyes and surely transfers well to the social media worlds that dominate human life. It's macro mode is awesome, I still believe Google's Portrait mode is the best, there's an option for high-resolution images, and even the new manual/pro controls are so readily available that I considered messing with them. This camera is excellent in all the ways you need it to be.
Below, I've added a bunch of samples that have been resized for this post, but you can find them all and more in full resolution at this Google Photos album.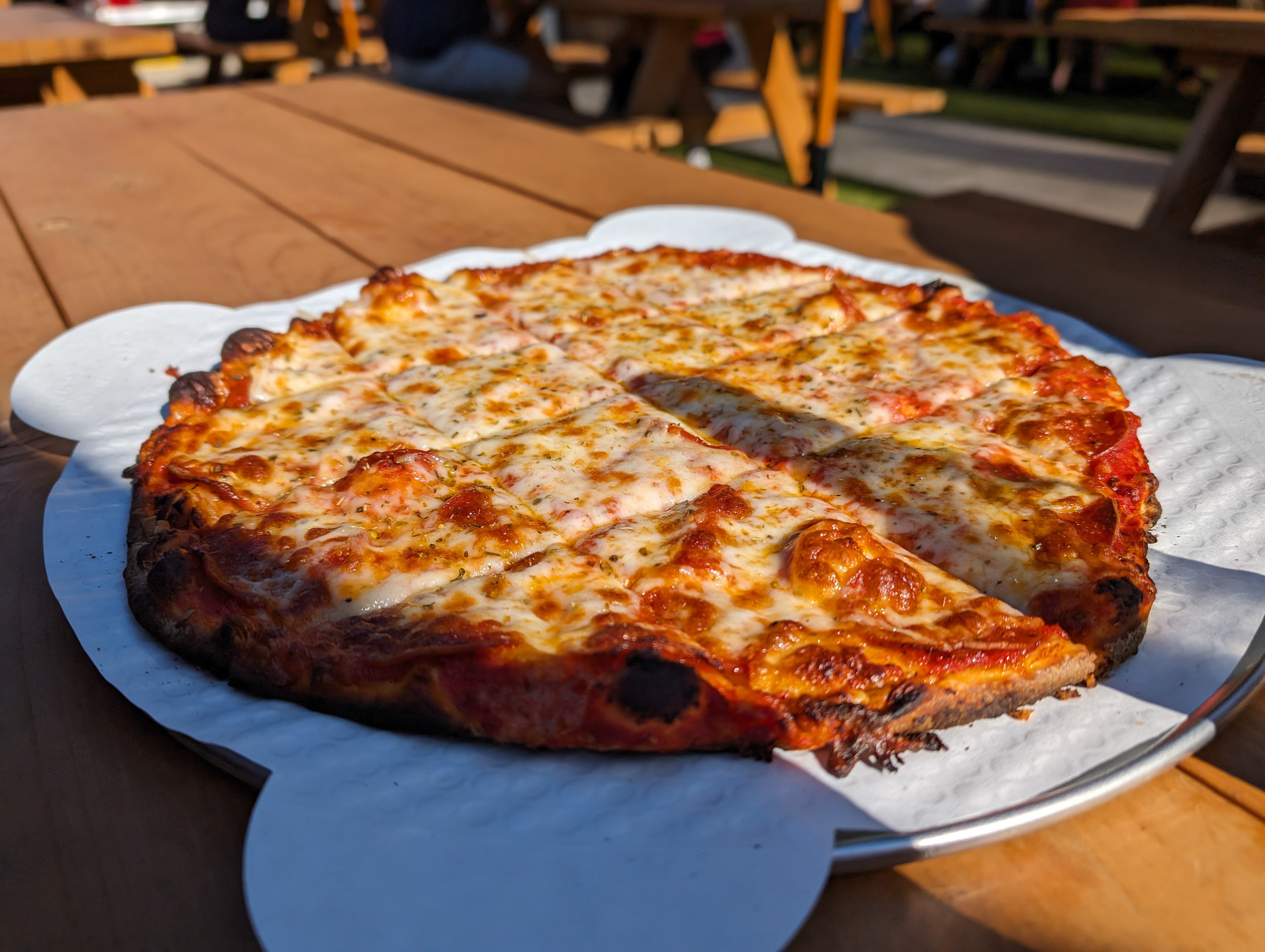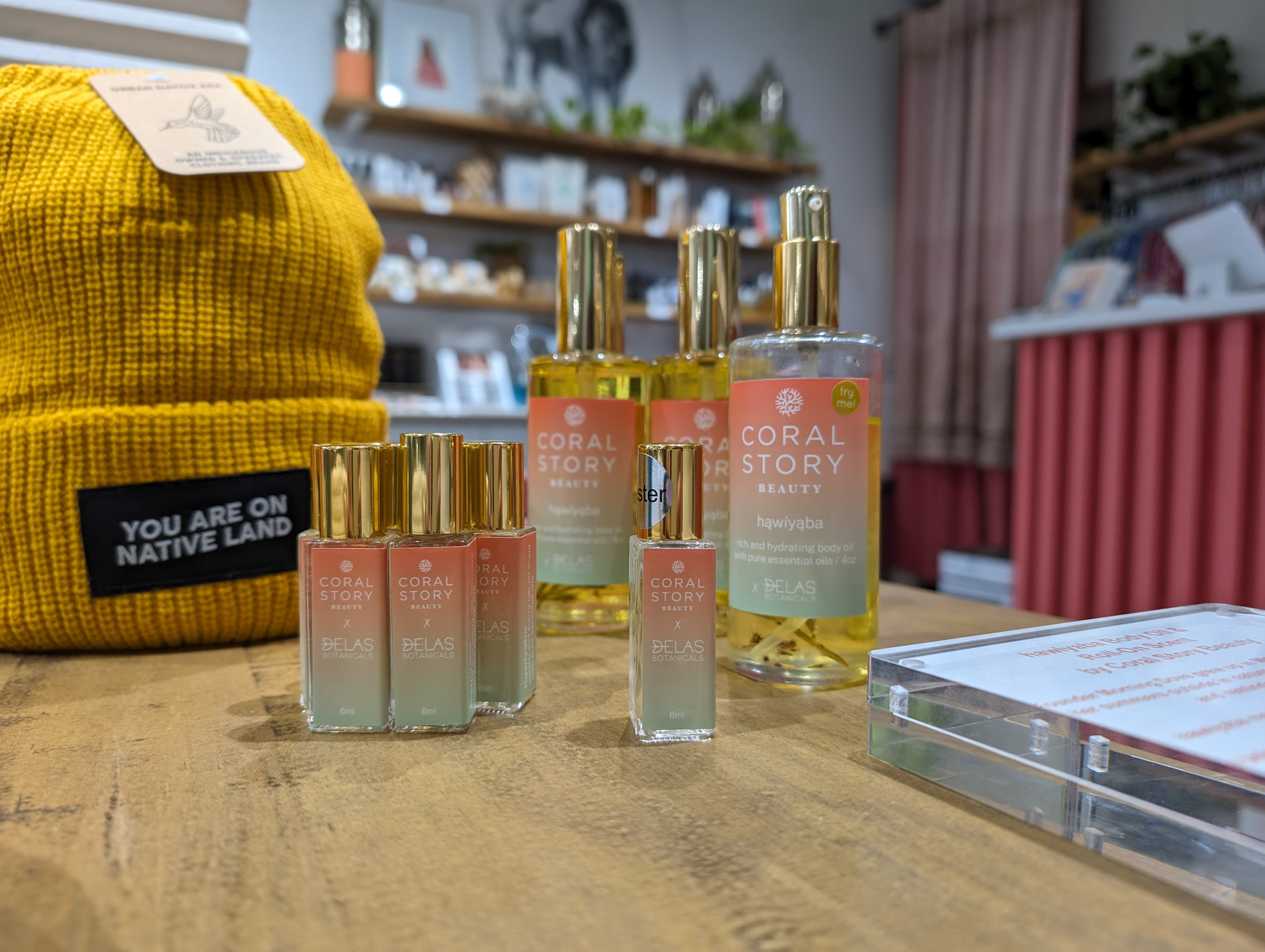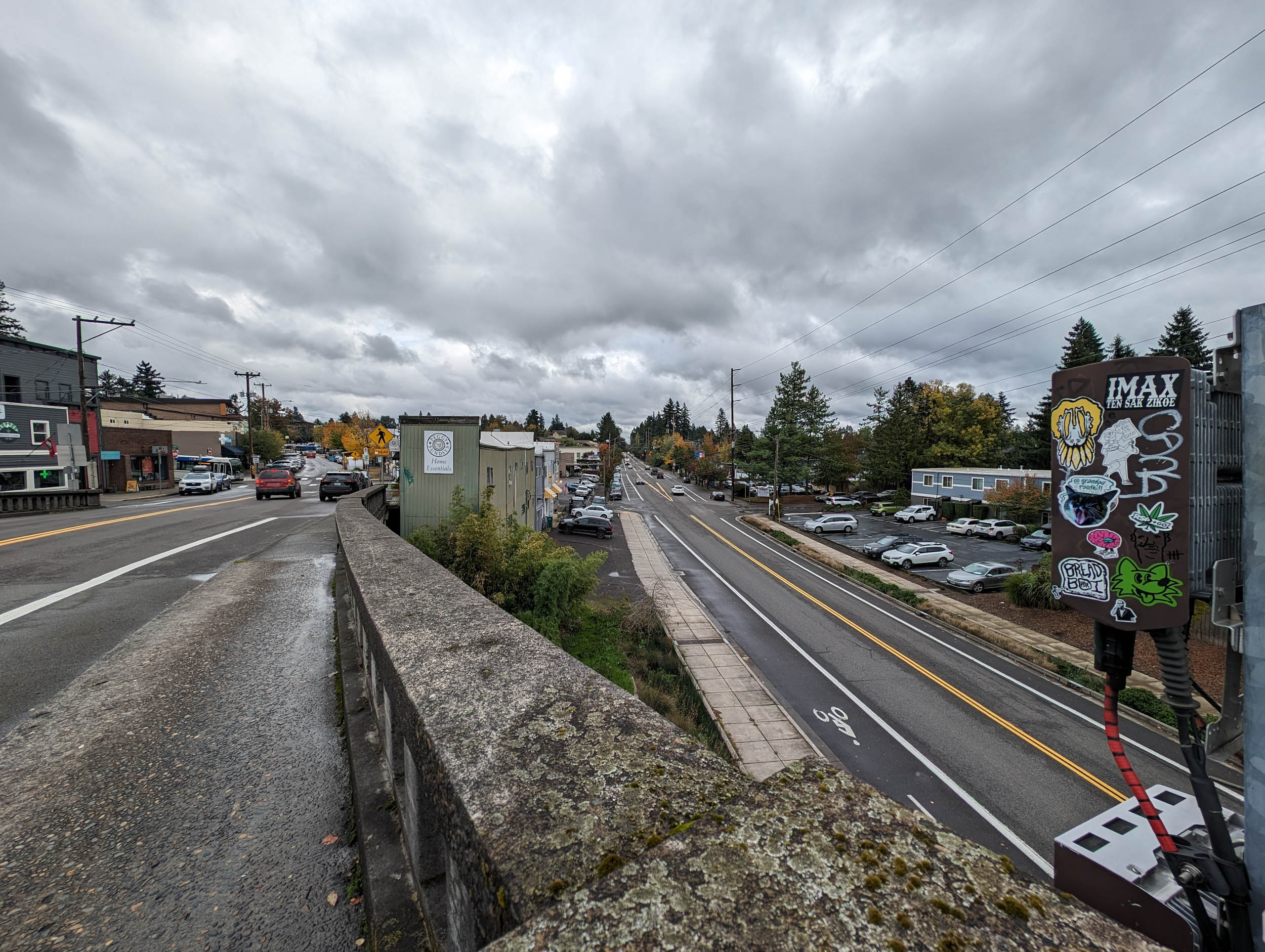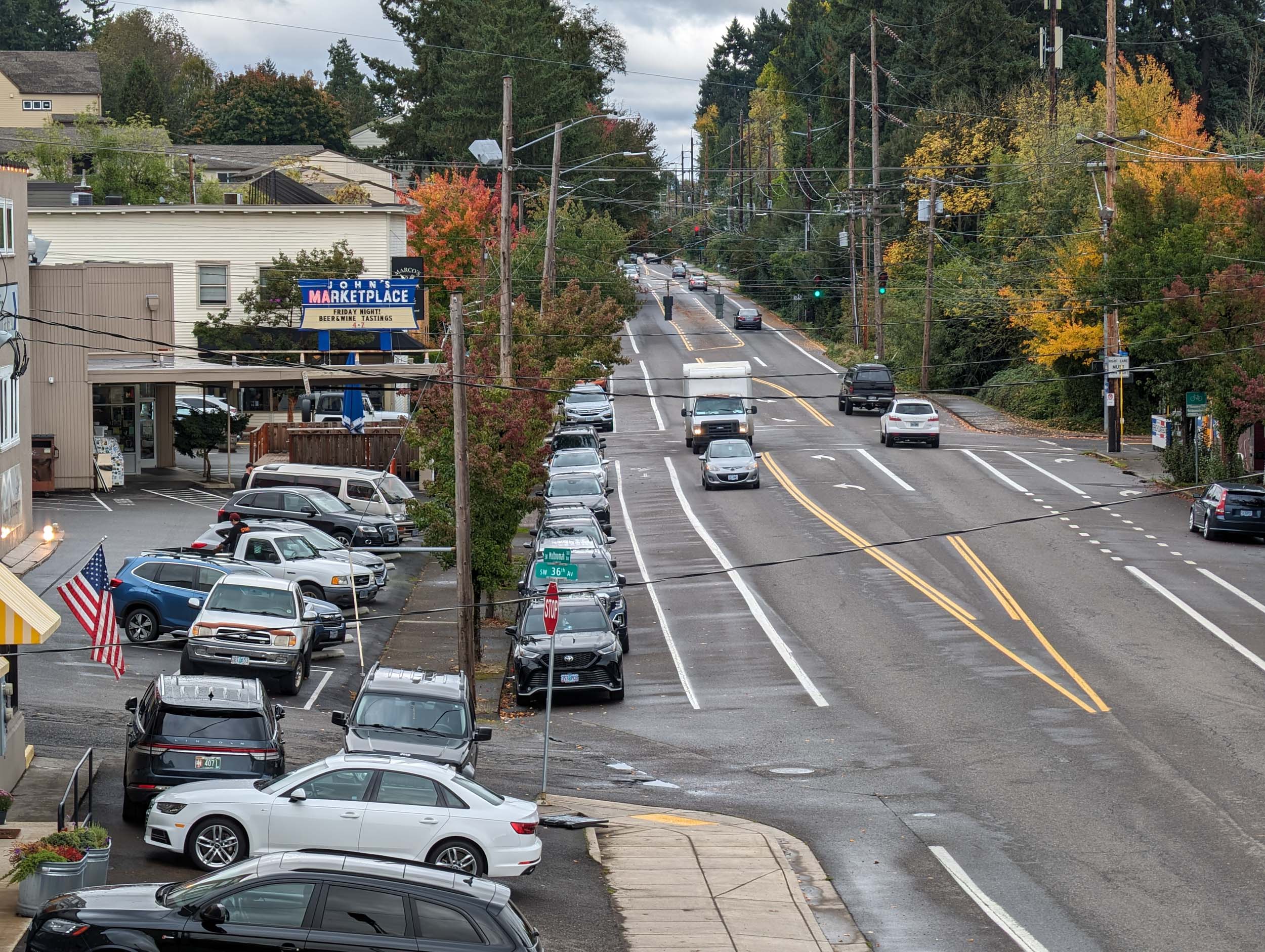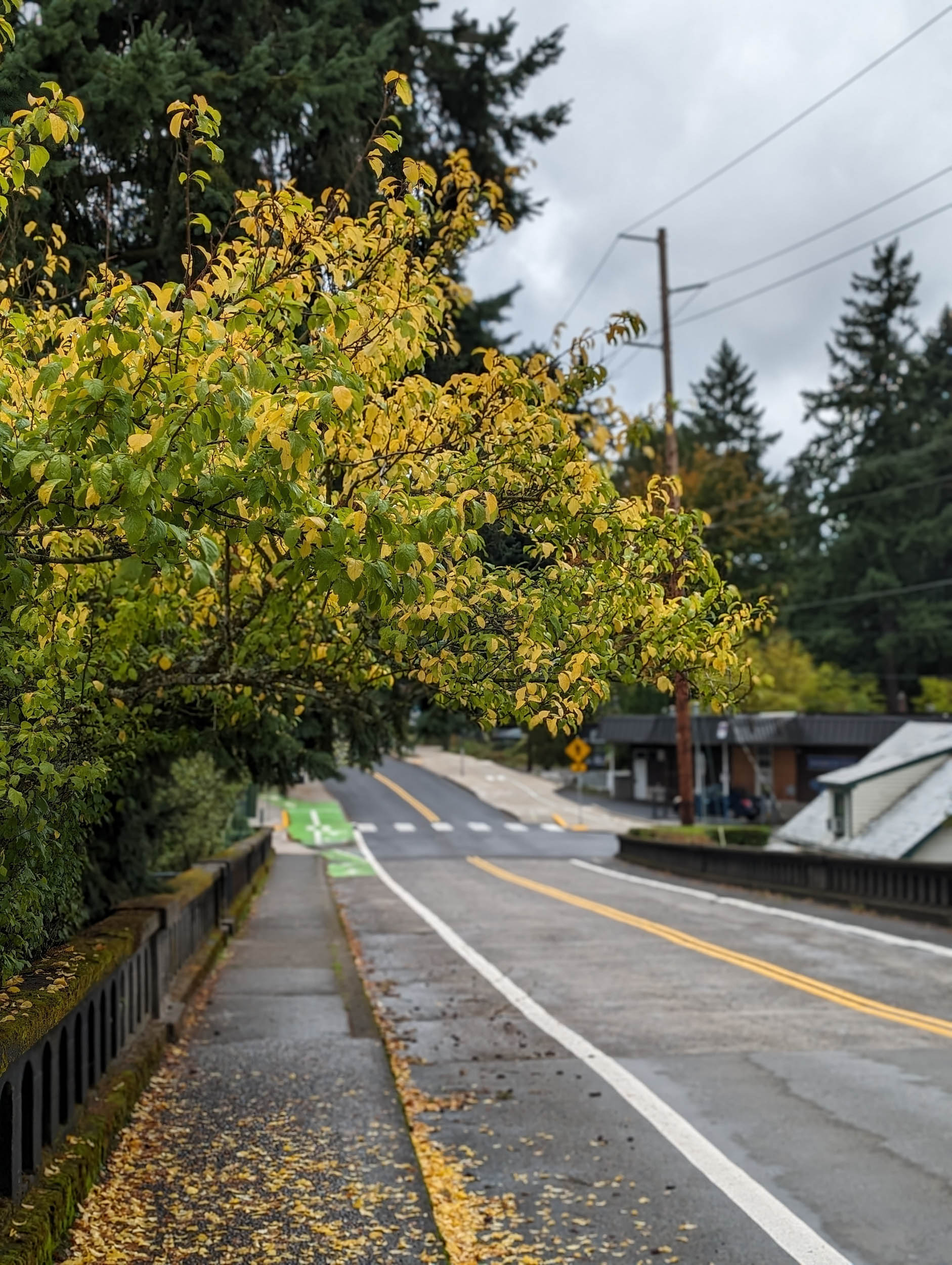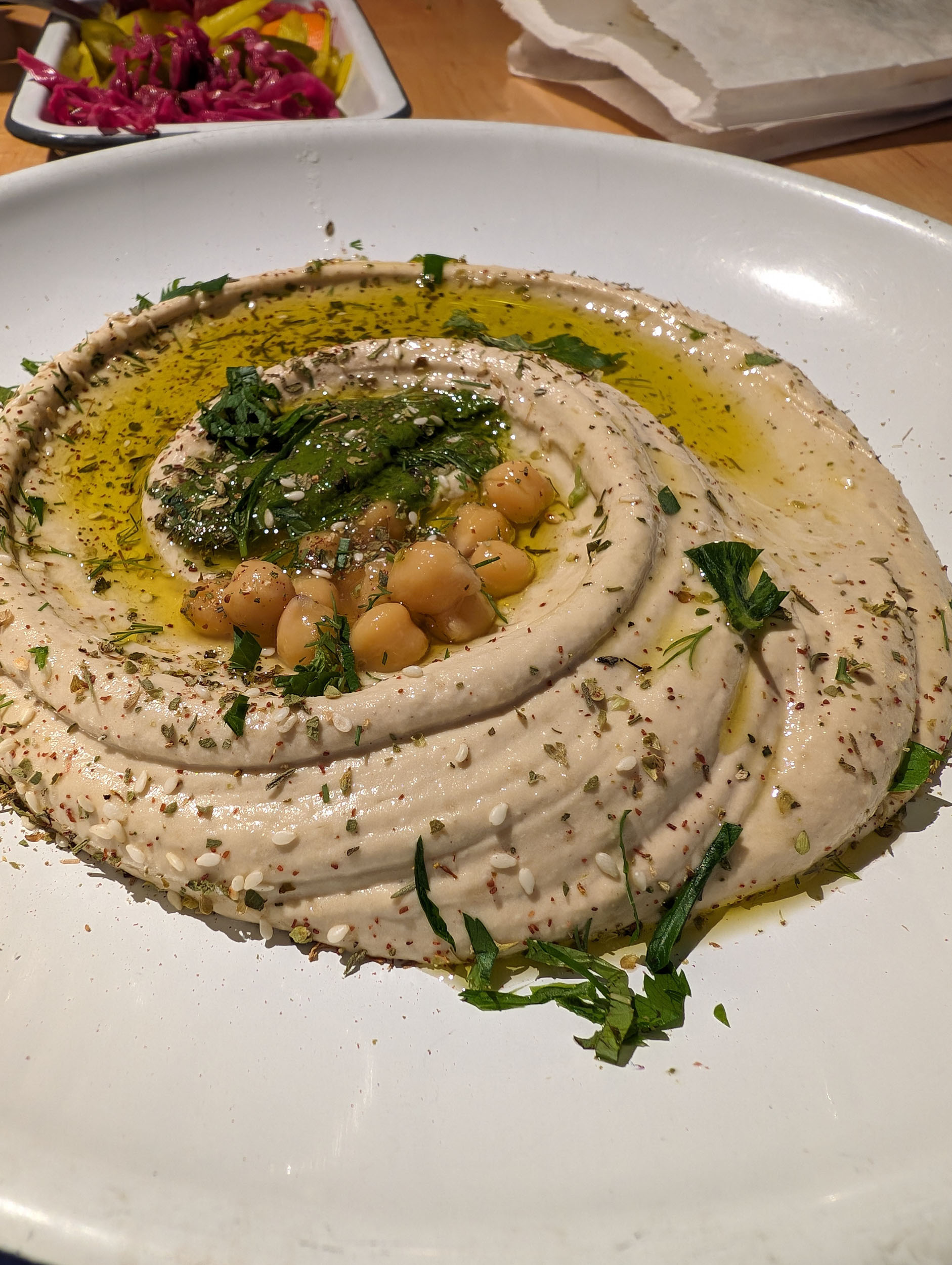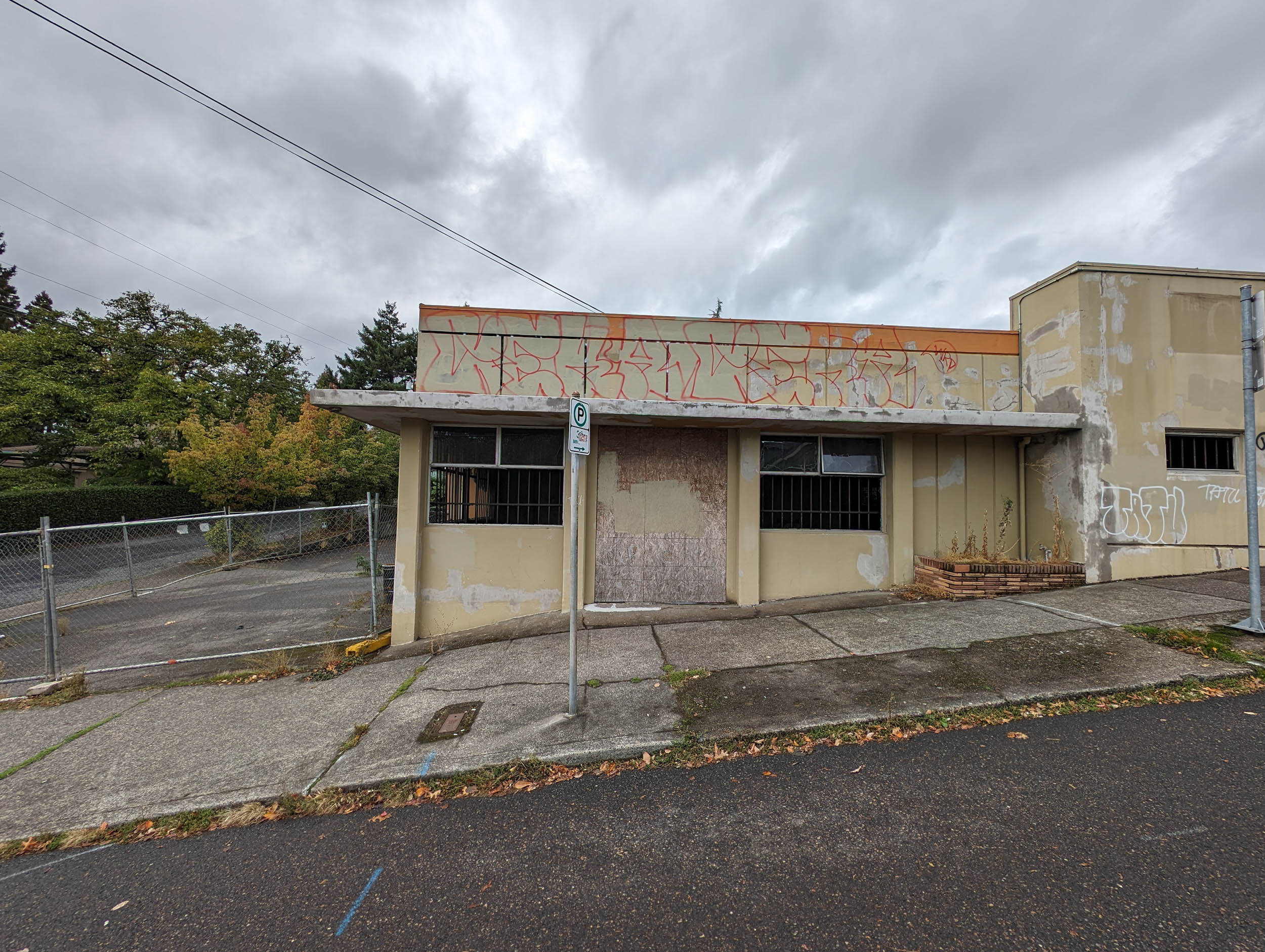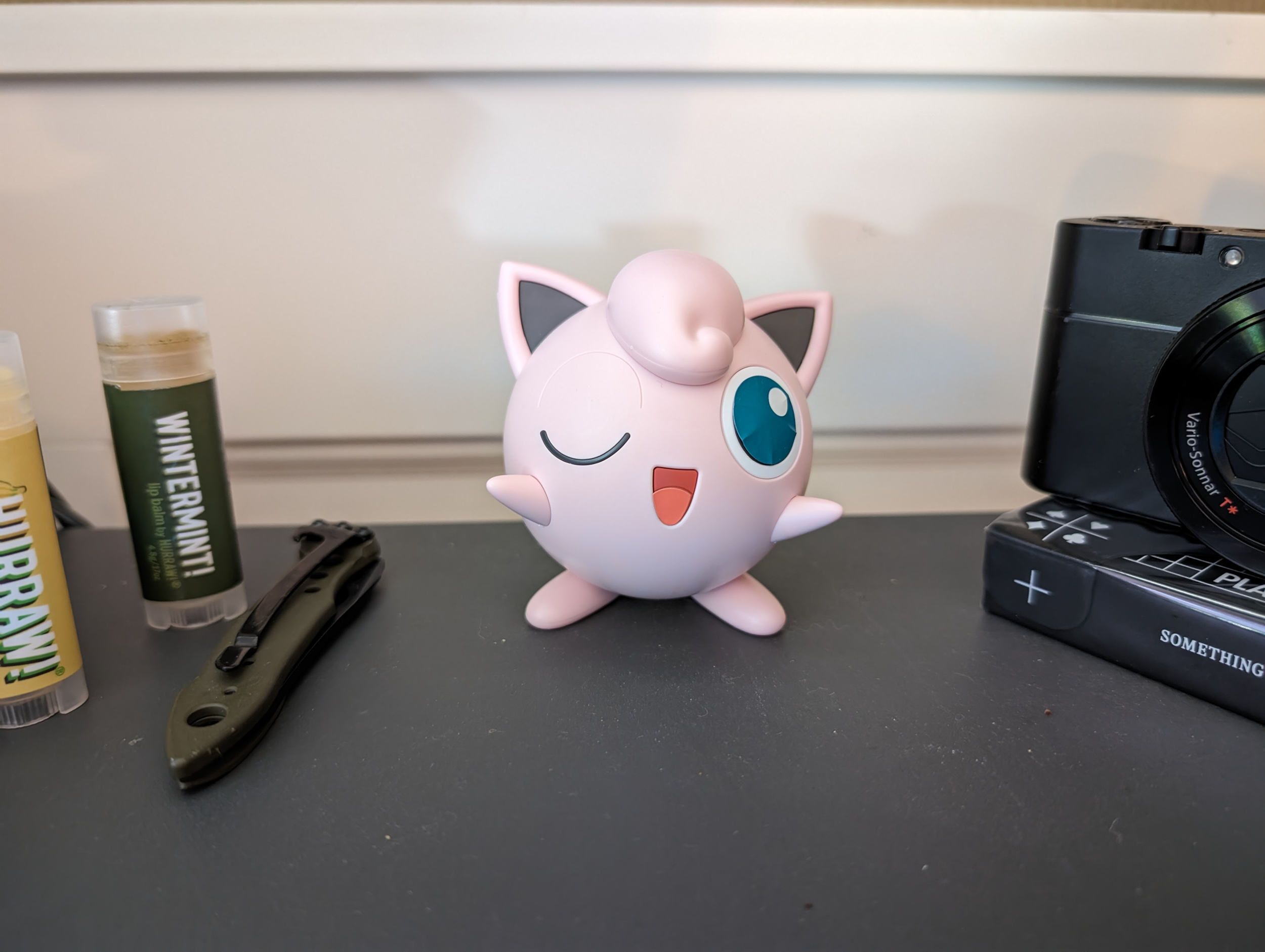 Camera editing tools. I don't actually know where to put this section, but we need to talk about it and so doing so next to the camera felt right. So yeah, the Pixel 8 Pro has a bunch of AI-equipped editing features that you may or may not ever use. I can't actually think of many use cases for them in my own life, but Google sure thinks they'll come in handy. I'm talking about Magic Eraser, that lets you remove unwanted objects from your images. We also now have Magic Editor, that'll let you almost re-create an entire image in the way you want it. There are video tools too, like Night Sight video and Video Boost that will take your videos, send them to a cloud server, attempt to improve them, and send them back for you to use. Since I am no videographer and rarely take video, I'll leave that stuff for other reviewers to tackle.
For the Magic Eraser and Magic Editor, again, I'm not sure these are for me, but I wanted to show you a couple of examples to help you see the capabilities. These may not be the best of examples, although I did try to make the AI here work hard to see how good it could do in tough scenarios. On the left is the real photo and the fake version is on the right. Not bad, right?
Pixel 8 Pro – Magic Eraser
Pixel 8 Pro – Magic Editor
Software. What's not to like about Pixel software? The Pixel 8 Pro takes Google's Pixel experience, presents all of its best parts, and then adds on a bunch of AI stuff and a full 7 years of software support. I already preferred the Pixel software over other Android skins, but Google has somehow made it more likable.
Before we get into features I love, let's first dive into support. Google announced 7 full years of Android OS version updates, security patches, and Pixel Feature Drops for the Pixel 8 and Pixel 8 Pro. I know there are some in the industry who don't want to believe Google will fulfill their promise here, but they have shown a history of providing more support for Pixel devices than was even previously promised. Google might kill off weird side projects like Stadia or Inbox, but they don't mess around when it comes to software updates on hardware, from Chromebooks to Pixel.
So yeah, the Pixel 8 Pro will see updates int0 2030 and that's wild. While we don't expect that it'll get brand new features from the newest Pixel phones each year, we do care that it'll see Android versions, those security patches I mentioned, and some form of Feature Drops. A lot of people don't even own cars for 7 years and yet Google has committed to supporting their $1,000 phone for that long. It's pretty wild and is absolutely one of the 8 series' biggest selling points.
As for the actual software experience, we have Android 14 out of the box and the first Pixel Feature Drop scheduled for December. The UI is snappy and poppy and colorful and works as Android should. Google has really loaded up Pixel with tons of useful, yet not-in-your-face features too, like Clear Calling, a further improved always-on display and lock screen, style customization throughout the system UI and apps, better Nearby Sharing, and more. There are all sorts of built-in AI or Assistant-powered items too, like call screening where the Assistant talks to people for you or web page summaries that so far have been spot on. And this is all in addition to the camera editing software I talked about above, many of which are exclusive to the 8 Pro.
The Pixel 8 Pro has the best software experience in Android and it only gets better with each new version and Feature Drop release.
Battery life. The Pixel 8 Pro doesn't have a dramatically larger battery (5050mAh) or faster charging (30W wired, 23W wireless), but it will last you through the day without worry. The combination of the Super Actua display and Google's new Tensor G3 chip appear to be quite efficient after two weeks with this phone. I don't think I ran into a situation where I needed to top-off before going to bed outside of a single day, where I threw in some extra juice knowing it might be an extra long, extra heavy usage evening.
Almost every night I went to bed with the Pixel 8 Pro by my side, I had 30% battery remaining. Whether that was with 3 hours of screen on time or if I was pushing well past 4 hours, that's about where I finished my day. I'll take that knowing that when testing, you play with a phone more than usual and probably put a bit of extra strain on a battery.
My mix of use typically includes a bunch of Chrome, Instagram, Google News, Gmail, YouTube, and some Threads. If it's the weekend, there is often a lot of Pokemon Go in there, as well as the camera, and whatever games my kid plays if we hop around town. Again, 30% is essentially what I was left with no matter what I threw at the Pixel 8 Pro. That's great.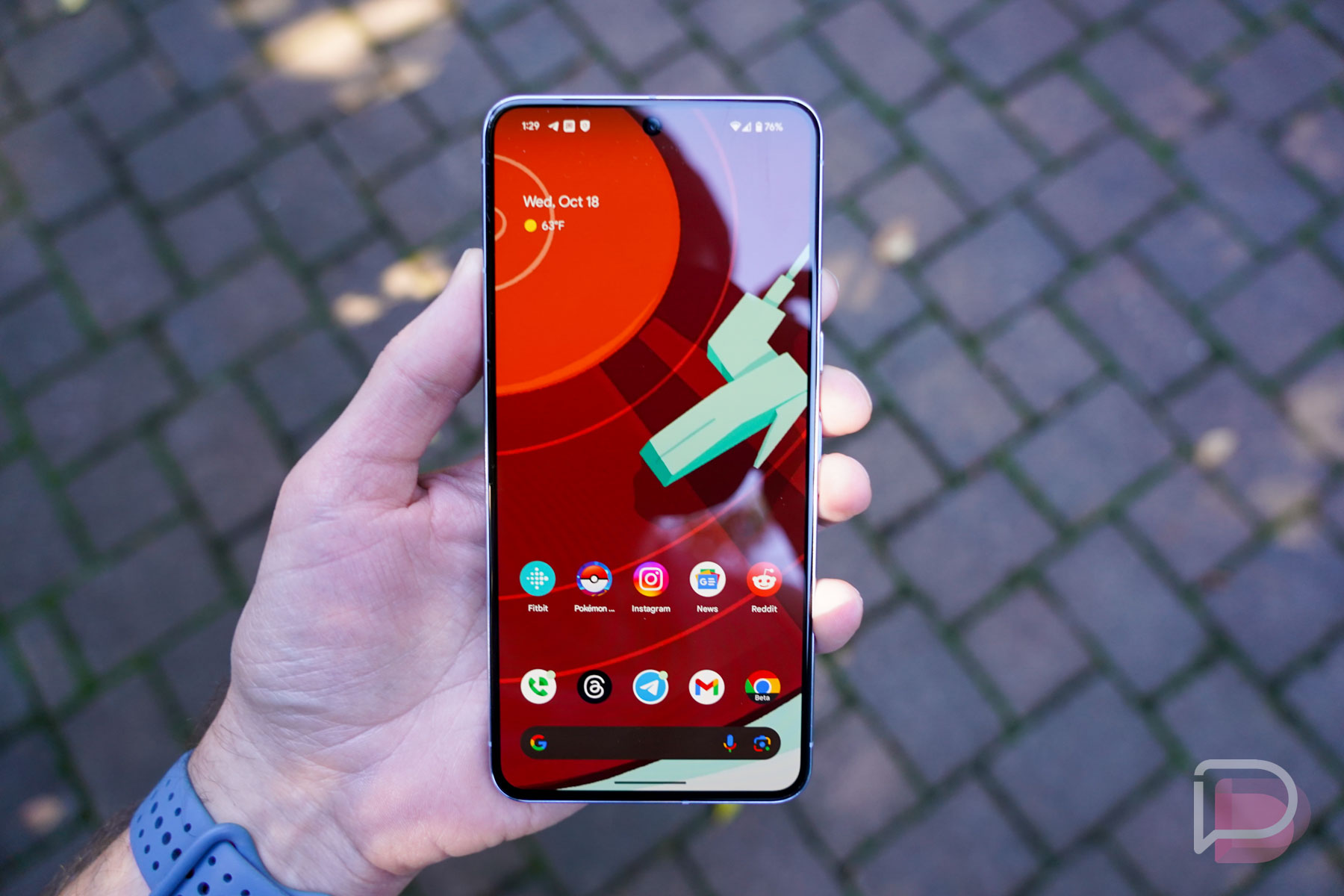 Performance. In the Pixel 8 Pro, we have a Tensor G3 chip, 12GB LPDDR5X RAM, UFS3.1 storage, and the super fast 120Hz display I raved about earlier. This phone is quick, even if it won't win any benchmarks, and hasn't heated up as quickly or as often as I remember from the past two Pixel phones. I've used this phone in weird 80-degree October heat with the screen constantly on and a game running for a 2-mile walk and the battery didn't drain, nor did it slow down. I don't really know what else I could throw at it to try and force it to fail, but that activity certainly didn't do the trick. Will the Pixel 8 Pro play the most intensive games on the market as efficiently as a Galaxy S23 Ultra might? Probably not. Will it handle everything else? So far it has.
The future. You could make the argument that buying a phone with the promise of future features is a bad idea, because a company might not follow through. On the flip side of that, you could buy a phone like the Pixel 8 Pro with its 7 years of support, knowing the future should be brighter than ever. I'm going to pitch that idea, even as a usual pessimist, because Google is already talking heavily about what's to come just in the next couple of months. More AI is coming. There has been a somewhat surprising focus on using cloud servers to enhance media (like with the Night Sight video and Video Boost) and there could be an expansion of that idea. USB lossless audio is coming. On-device AI is happening like never before on a phone, and it could mean further improvements. You might be able to take your own temperature soon, which is lol. There is a lot coming on top of the 7 years of updates and it could be huge.
What's bugging me?
Cellular connectivity. It's clear that I don't have many complaints about the Pixel 8 Pro and that I think it is a phone everyone should consider. It will likely be the phone I run in the pocket for months and months going forward because it is that good. However, Google appears to be running the same shit Samsung modem in this phone that they were in past years and it sucks.
This modem struggles mightily to handoff between towers or from WiFi to cellular when I leave my house each day. I had to play the Airplane toggle dance several times over the weekend when moving through Portland because I either saw the no-data connection exclamation mark on the cellular signal icon or it said "5G" and just wouldn't do anything. I lost my feed as I finished the Ducks' choke job against Washington in an Uber that took me through downtown Portland, I just lost signal walking from my front porch (on WiFi) to a cellular connection at the bottom of my driveway, and I've noticed several times that it is slow to switch from T-Mobile's 5G to 5G UC in areas I'm used to other phones doing so quickly.
Look, everything else is really great about this phone, but cellular connectivity could be another area of concern. Thankfully, most of my day is sitting at home on WiFi, though I do worry for those who aren't in this situation or who may get sick of using their Airplane shortcut so often.
Fingerprint reader. It's the same optical fingerprint reader from previous phones and it is fine, but not great. If you don't line your finger up perfectly, it'll fully light up a dark room and also not read your finger. When you hit it properly, it'll unlock your phone fast enough, but the thing just isn't consistent. Thankfully, Google built-in proper face unlock this time that'll even provide access to things like your password locker. In other words, you use the fingerprint reader on the Pixel 8 Pro less than before. Yay.
Temperature sensor. This is unfair because the temperature sensor that Google put next to the Pixel 8 Pro's camera is not bugging me, I just don't know what the point is. Google shipped it without the ability to take a human temperature, so you are left to take the temperature of objects. The pitch here is to see how hot your boiling water or your coffee is or if the ice cream in your freezer is cold enough. I'm not sure this will even be useful when you can take your skin temperature. It's just a thing Google put in their phone and it'll probably go away in the Pixel 9 Pro. Don't get attached to it.
Unboxing!
Should you buy the Pixel 8 Pro?
The Pixel 8 Pro is $100 more than the Pixel 7 Pro, bringing its starting price to $999. Since this phone will be supported for 7 years, you probably don't want the $999 version, which only has 128GB storage, so that means you will likely pay for 256GB. That would bring your starting price to $1,059. That's a lot for a smartphone. The thing is, a smartphone this good with that amount of storage is still priced under the iPhone 15 Pro Max ($1,199) and the Galaxy S23 Ultra ($1,199). I would take this phone before both of those even if the price matched.
Google is giving you a best-in-class camera that has a few unique tricks up its sleeves, their best-in-Android software experience, improved hardware with a lovely matte glass, and the flat display we've been begging for. All of that is then surrounded by a best-in-industry level of software support, all at a price under the competition. This seems like the easiest smartphone buy in a while.
Shop Pixel 8 Pro: Amazon | Best Buy | Google Store