We have all likely said over the last week of Pixel 8 leaks some form of, "OK, that's cool, but how much do they cost?" or "What are the Pixel 8 prices?" We might know the answer to those questions as of today, thanks to yet another leak, this time from what appears to be a Pixel for Business site run by Google.
In the below comparison sheet shared by @Za_Raczke, who has leaked a long list of Pixel 8-related materials at this point, we are getting both prices and some new specs for both the Pixel 8 and Pixel 8 Pro.
PIXEL 8 PRICE: How much are we looking at for pricing of the Pixel 8? This sheet says the Pixel 8 starts at $699. Because you likely know this, that would be a $100 increase in starting point for the smaller Pixel, up from the $599 we have seen for a couple of years. We never love a price increase, but Google is introducing a lot of new hardware on the Pixel 8, including a variable refresh rate from 60Hz to 120Hz, according to this comparison sheet. To my knowledge, this is the first time we've heard this spec. Previous Pixel 7 and Pixel 6 releases topped out at 90Hz.
Is a higher refresh rate enough for you to want to pay more? Well, we are also getting Tensor G3, an upgraded main 50MP sensor (or not?), and improved design in addition to the improved display. $699 isn't a massive jump and is also under the Galaxy S23's $799 starting price.
PIXEL 8 PRO PRICE: For the Pixel 8 Pro, pricing will apparently stay the same with a starting point of $899. The Pixel 7 Pro launched last year at $899 with 12GB RAM and that may not change, assuming this info is correct.
With no price increase, we are also getting upgrades, like the new Tensor G3 chip, new main 50MP and 48MP ultra-wide camera sensors, that odd introduction of a temperature sensor, variable refresh in the display from 1Hz to 120Hz, and improved design. While neither device is a massive refresh, they are maturing in positive ways throughout.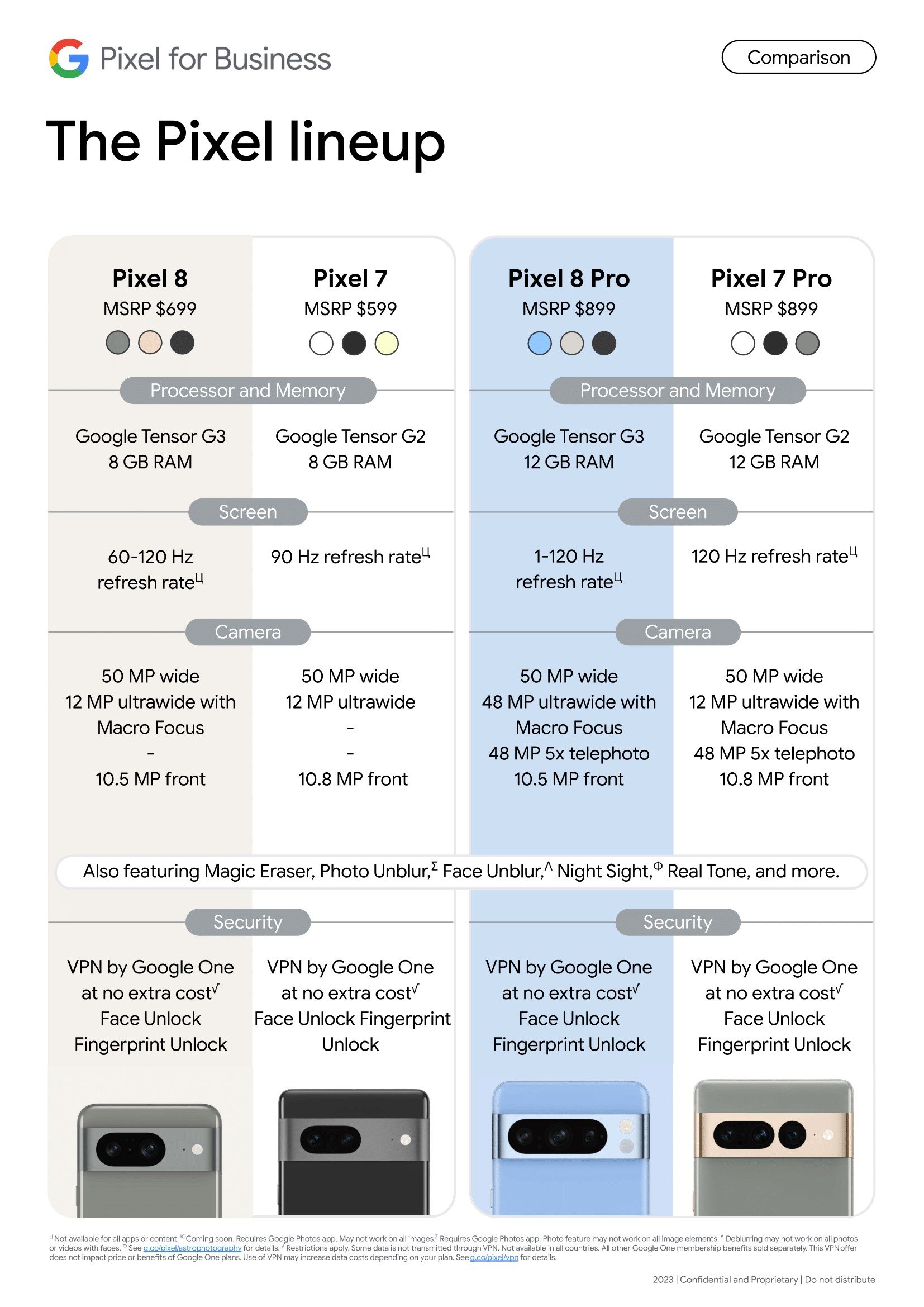 So that's Pixel 8 and Pixel 8 Pro pricing at a starting point, according to this leaked document from a source who has provided a lot of related material over the years that has been correct. We do not know starting storage (it's expected to be 128GB again) or how much prices will jump as you upgrade storage, but Google tends to charge $100 each time you double up. Don't be surprised to see that pricing stick again.
NOTE: I should point out that 9to5Google earlier reported that pricing could see Pixel 8 at $699 and Pixel 8 Pro up to $999, so $100 increases to both. My gut leads me to believe the $899 price could stick around for the 8 Pro, if only because it gives Google the perfect balance of pricing for their whole line-up. $499 for the Pixel 7a, $699 for the Pixel 8, and $899 for the Pixel 8 Pro sure makes a lot of sense, with room in between each for regular $100 discounts.
You good with these prices?