Back in March, I shared my early impressions of the smallest Galaxy S23 after spending a few days with it. The post, at least at the time, might have seemed a bit ahead of reality, as I was quick to call it the "Small Phone King." Like, come on Kellen, 3 days with a phone and it's the king? But I'm back almost two months later to tell you that I was absolutely correct in calling it that.
The Galaxy S23 and its "little" 6.1-inch display at 120Hz, with its slightly bigger battery over the Galaxy S22, the 8GB RAM and 256GB storage (I upgraded storage), and this Snapdragon 8 Gen 2, has delivered all that I could ask for. Even the camera, which doesn't have the extra-fancy stuff that you'll get on the Galaxy S23 Ultra, is as good as I need it to be. I don't have a single important complaint about this phone, which is weird – I complain about everything.
Over the past month+, I couldn't tell you if I've had to plug the phone in to charge it during the middle of a day. It only has a 3900mAh battery, but this new Qualcomm chip might be something special in the efficiency department. This phone just never runs out of gas. I could carry on my regular routine with 3-4 hours of screen on time, plus give it to my kid to let him game for a bit, and I'll still go to bed with close to 50% battery remaining. It is wild. There's magic inside.
All of that aside, the point of this is to confirm to you that the smallest Galaxy S23 is without a doubt a phone to consider. The fears about battery life that came with last year's Galaxy S22 are not here. What you do get is the fun of a smaller phone that slides easily in and out of a pocket. You get a phone that isn't ridiculous to handle, can often be used with a single hand, and that can travel with you to the gym, a hike, or really anywhere. The size of it is the star, but the rest is equally important and as good.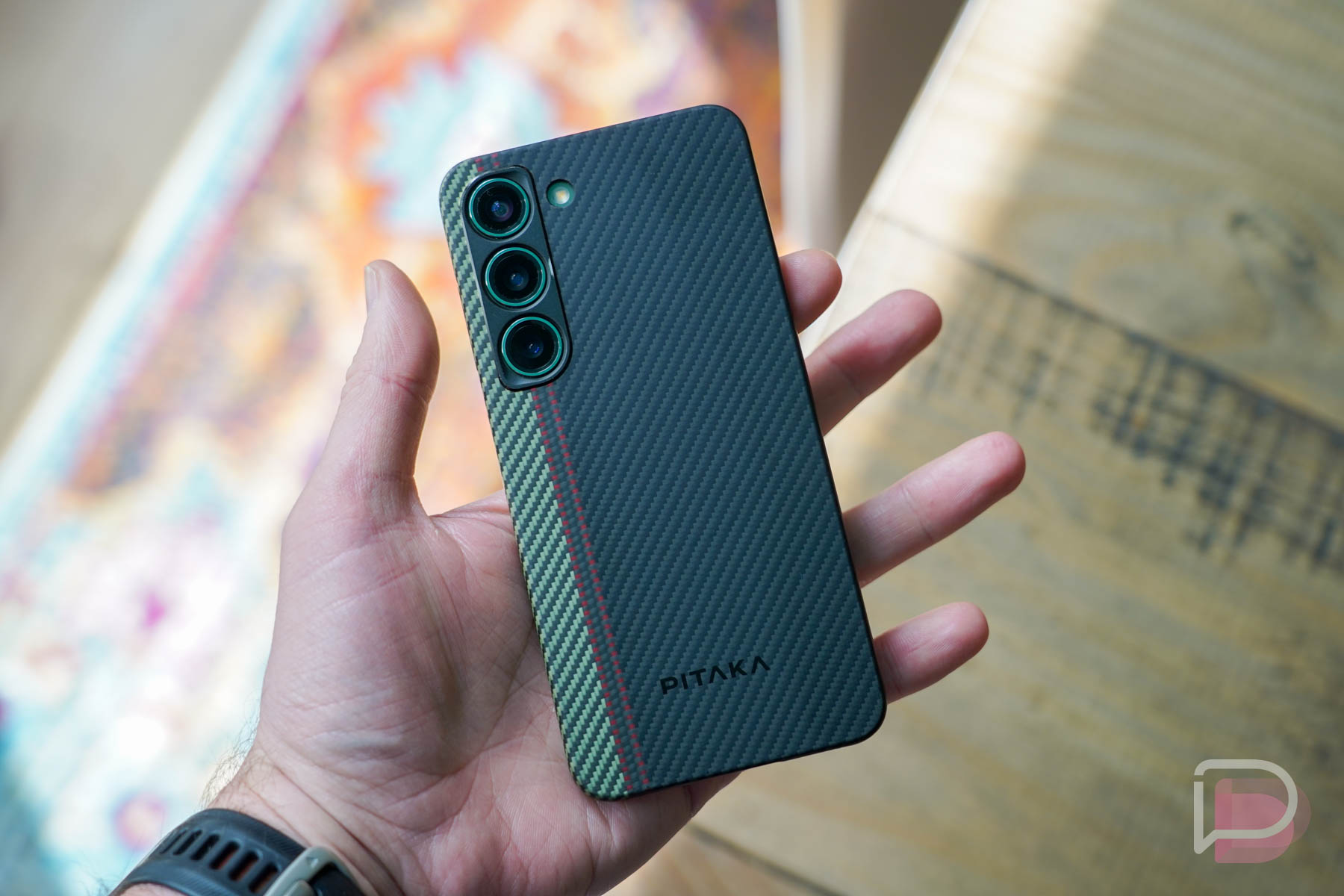 Obviously, the software support is great. We talk about that often when we reference Samsung phones. I'm on the April Android update, which the Pixel 6 line still isn't. Samsung's One UI is fine and full of more features than I care to acknowledge. I just toss on Nova Launcher to make the experience more my taste. But I have used a built-in routine or two lately, the camera is actually good at scanning QR codes, and its WiFi is rock solid, as is my T-Mobile connection in Portland.
I've also tossed on a Pitaka Magsafe case, because companies make accessories for Samsung phones. That's me taking a shot at Google and OnePlus phones, knowing that finding several decent accessory options for their devices isn't always easy. This Magsafe case lets me slap the phone onto all of the fancy Apple Magsafe-equipped stuff (like charging stands!) to charge up or attach my wallet, whatever.
I'm rambling now, because I just want to tell you about all of things I do with this Galaxy S23 or how I use it. I would hate to see people overlook a phone that isn't a massive whale. Having a smaller phone has brought me back to my time with the Pixel 5, which I miss dearly. Then again, the Pixel 7a is around the corner and it will give this phone a run for its money, I think.
But hey, just know that the Galaxy S23 is legit. With its $799 starting price that can be quickly reduced with any sort of trade-in, don't hesitate on it. I'd probably recommend this phone over the Pixel 7 at the moment.