Google is doing it, they are finally doing it. RCS is broadly rolling out to the US through Google's Messages app starting today.
Google shared the news with us this morning in a somewhat striking turn of events. You may recall that as they began rolling out RCS to the UK, France, and Mexico earlier this year, they would not commit to doing the same in the US without the help of US carriers. But we can't help but wonder if this new forced rollout is happening because all of the carriers announced a few short weeks ago that they were teaming up to do their own RCS thing, without Google's participation.
Not familiar with RCS? I don't know where you've been for the past year, but Rich Communication Services (RCS) is the new advanced messaging service that Google, carriers, and phone makers have been supposedly trying to push for years as the replacement for standard text messaging. It allows you to get read receipts, see if others are typing, share high-res imagery and video, and participate in better group sessions. It works with your carrier number and is being referred to as "Chat."
Starting today, RCS or "Chat" works within Google's own Messages app. There is a chance that other messaging apps will gain these RCS abilities, but this is where we are starting. Also, as I mentioned above, the carriers are teaming up to push their own RCS service and app that will more than likely be awful and filled with spammy business integrations.
Speaking of that carrier option, we asked Google if their approach changed since that announcement and a Google spokesperson shared the following:
We've been in close touch with the carriers on this step and continue to work with them to provide a consistent and interoperable experience for everyone on Android.

It's technically possible for us to migrate to partner RCS services and we are committed to working with our partners to ensure that users have a great experience, and are happy to interop with their service, including migrating to their service.
For you to get RCS from Google, you'll simply need to install the Google (Android) Messages app from Google Play. If you don't see it almost immediately, a prompt will show up in the coming weeks asking if you'd like to enable "Chat" features. You can try and manually turn on "Chat" ahead of time by opening Messages, tapping the top right menu, then Settings, then "Chat features."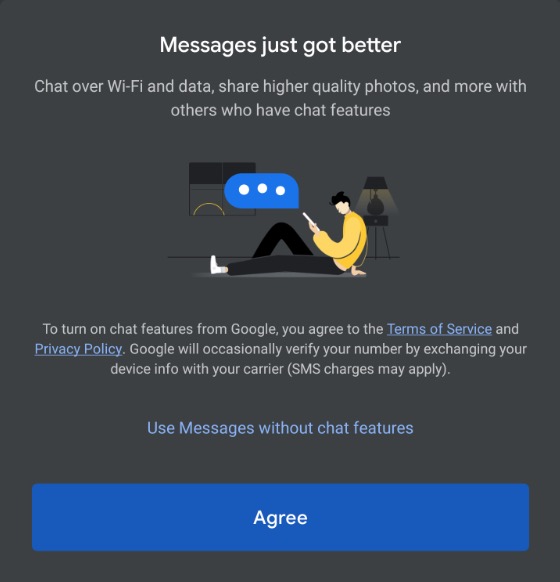 What if you forced your way into RCS a few weeks back, thanks to that nifty little trick that made the internet rounds? You should be fine and everything you should continue to work if not better. If you are worried, you could clear data on the Messages app (you won't lose your text messages) and then re-enroll officially without the need of that Activity Launcher app.
We're here, guys! RCS is here, carriers be damned.