---
Prior to Google I/O kicking off a week or ago, Pixel 3 owners over at reddit shared a tip that they believed was helping to improve the performance on their devices after monthly software updates failed to do so. That tip? Turning off Digital Wellbeing, Google's help-you-unplug-from-your-phone software that first debuted with the new Pixels.
This can't be real, right? Is Google's Digital Wellbeing really the cause of all of our Pixel 3 and Pixel 3 XL frustrations? That's still tough to know, but a second reddit thread that started up over this past weekend has folks convinced that turning it off might give you a new phone.
You can find the first thread here and the second here. As you'll quickly realize, almost anyone who turned off Digital Wellbeing replied with nothing but joy as if the move has indeed helped fix performance issues. You'll find a few suggesting that turning it off is only tricking folks into believing there is a speed improvement, but the majority are beyond ecstatic.
Digital Wellbeing, for those not familiar, is a suite of software features on your phone that helps you unplug  a bit more. It tracks usage of apps, lets you set app timers on those apps to remind you to stop using them, is a part of your phone's Do Not Disturb, and can even flip your phone to grey scale as a way to annoy you into putting your device down. In theory, all of the app usage tracking could be throttling or slowing your phone down, since it likely needs to constantly be tracking things. So turning off Digital Wellbeing to stop that from happening might be a solution.
Again, we don't know if this is truly fixing things and Google has not yet responded to press inquiries from what I can tell, but if you aren't using Digital Wellbeing, why not turn it off and see?
How to Turn Off Pixel 3 Digital Wellbeing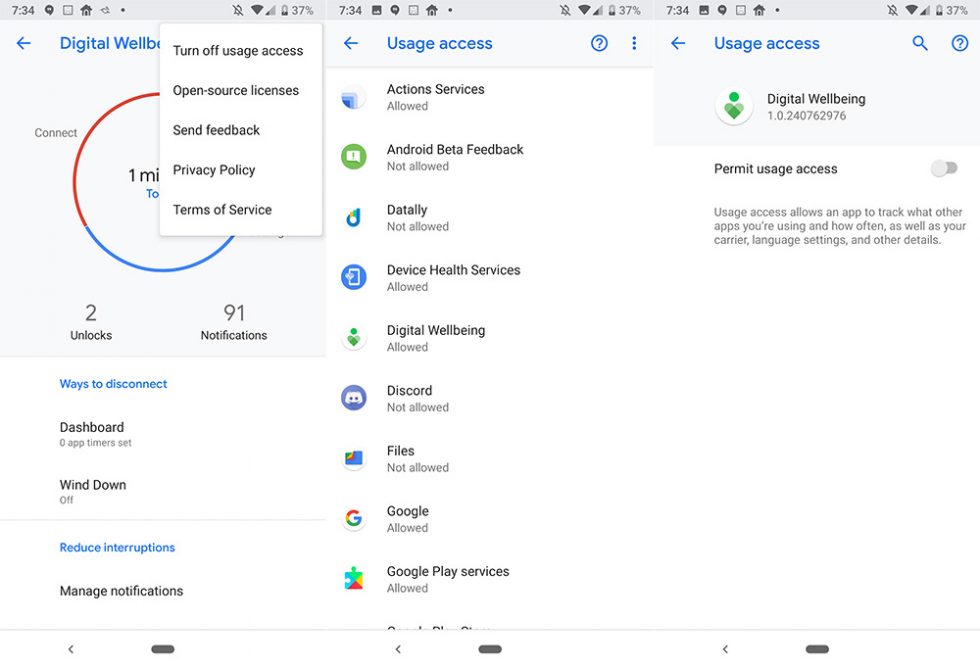 If you want to turn off Digital Wellbeing, open Settings on your Pixel phone, scroll down to Digital Wellbeing, open it, then tap the 3-dot menu in the top right corner. Choose the option to "Turn off usage access." On the next screen, confirm that you want it off by switching access from "Allowed" to "Not allowed."
And that's it. You could always reboot to fully freshen things up, but that should do it.
Also, feel free to try this on your Pixel, Pixel XL, Pixel 2, Pixel 2 XL, Pixel 3a, and Pixel 3a XL.
Pixel 3 owners who have done this, how has your experience been?