Razer Phone 2 is a direct followup to last year's original Razer Phone. Honestly, I wasn't expecting Razer to release a sequel so quickly, considering the company is very new to the smartphone game, but here we are and you aren't going to hear me complaining about a new phone to play with and review.
While the Razer Phone 2 looks very much like the first, Razer has changed up a substantial amount on the inside of the phone, and you will notice that the backside has changed, too. Yes, I'm referring to the sweet Chroma light show on the back. The phone seems like a much better package than last year's offering, but is this a phone any serious Android fan should consider over something from an established brand like LG, Samsung, or Google? Let's take a look.
This is our Razer Phone 2 review!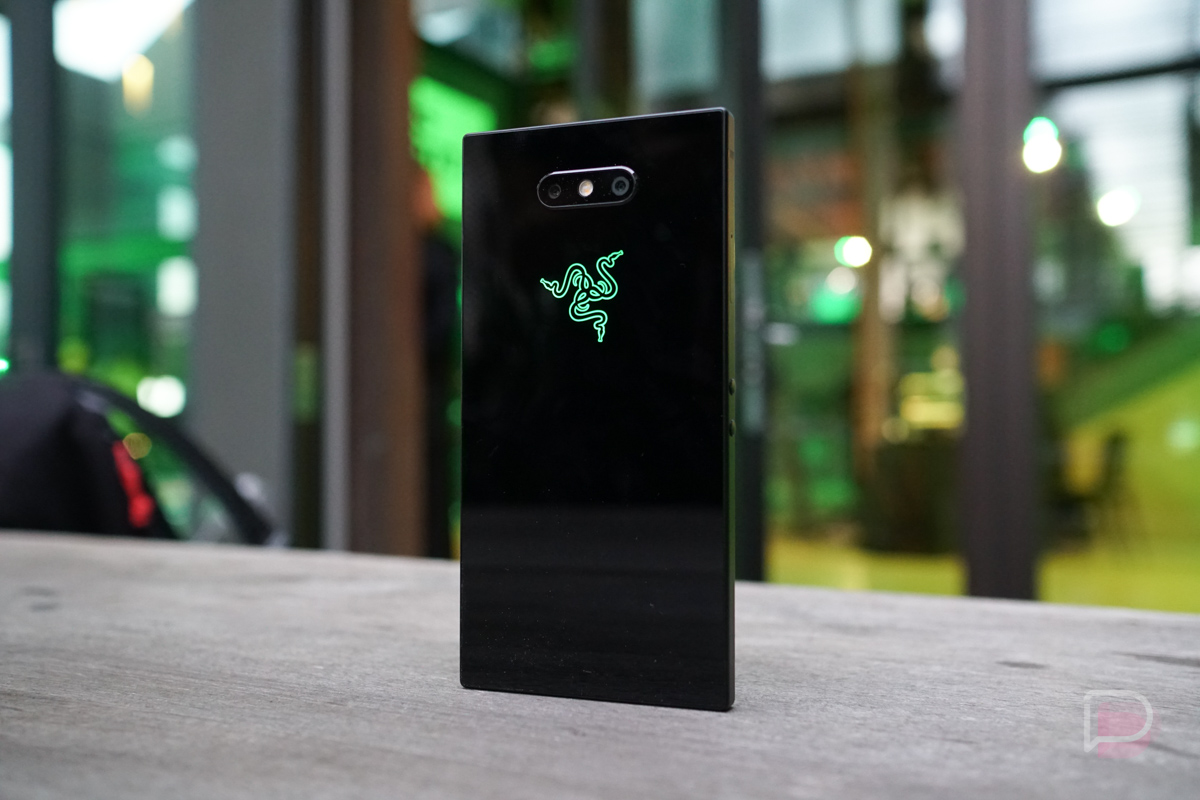 The Good
---
Specs
If you care about specs over other aspects of a phone, Razer Phone 2 may be calling your name. It has what I think is everything you can ask for in a phone. Inside you have the latest processor from Qualcomm, a big amount of RAM, large battery, dual cameras, water resistance, wireless charging, dual front stereo speakers, as well as a display that is still unlike anything else on the market.
If you need specifics, here we go. Razer Phone 2 features a Snapdragon 845 processor, 8GB RAM, 5.7″ IGZO LCD display (1440 x 2560) capable of 120Hz refresh rate (16:9, 580 nits), 64GB built-in storage, dual rear-facing cameras (12MP standard lens, f/1.75, OIS + 12MP Telephoto, f/2.6), 8MP front camera, dual front-firing stereo speakers with dual amplifiers and Dolby Atmos, 4,000mAh battery, Qualcomm's Quick Charge 4.0 tech, fingerprint reader inside the power button, wireless charging, Bluetooth 5.0, NFC, IP67 water and dust resistance, and Android 8.1 Oreo.
Seriously, that's quite the spec lineup and it aligns with the best of the best as we get closer to the end of 2018. If you're looking for something wrong with it, the only thing I can point to is the lack of Android 9 Pie, even though it's been available from Google for a bit now. Obviously, Razer will push it at some point to this phone, but we aren't sure when.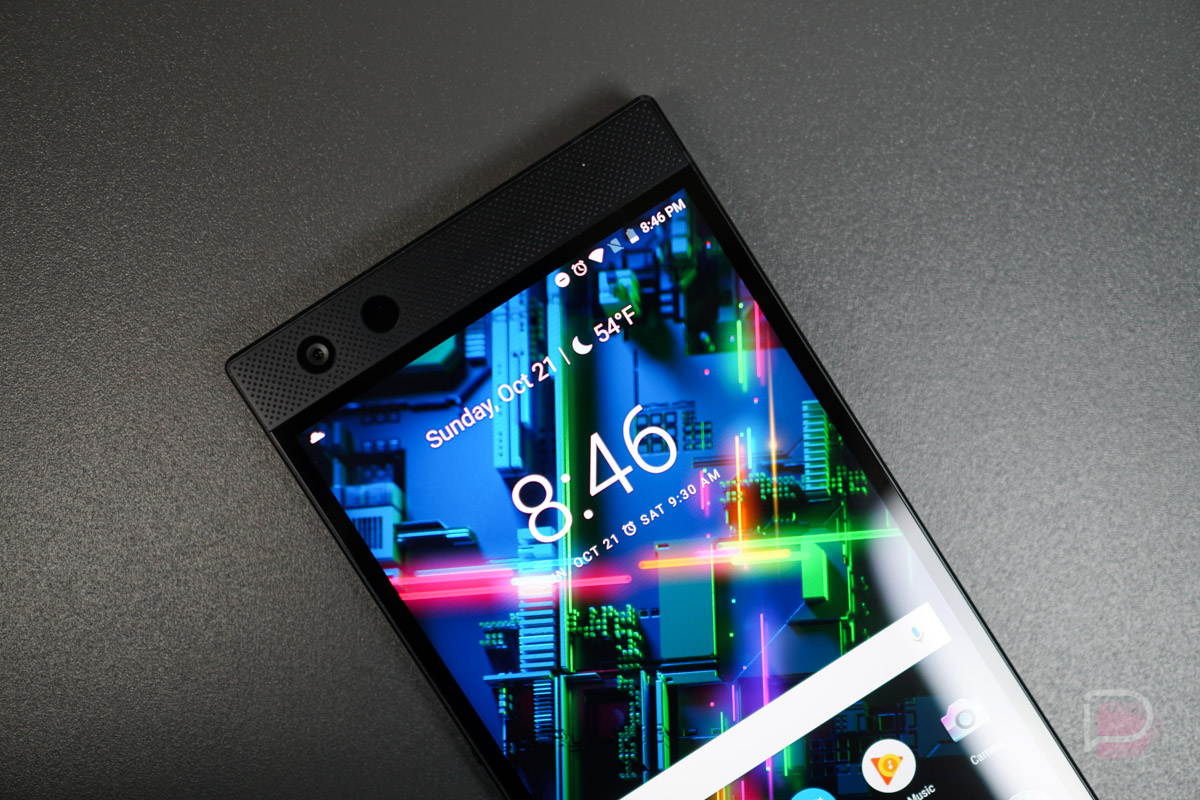 Display
Side by side to the last Razer Phone, I can't notice too many differences in terms of the display, even on paper. The only thing Razer highlights to the end user is a display brightness increase in the Razer 2, which certainly has been upped a bit. Other than that, it's the same 120Hz UltraMotion experience that really is unlike any other display on the market. When the screen is set to 120Hz, you can clearly see just how smooth UI animations are, as well as in-game content.
If you have seen video of the 120Hz in action, I can tell you that the display is not done any justice by cameras and only the human eye can truly appreciate what Razer is doing here. I said last year in my original review that I had hoped Razer's effort would get other display makers thinking, but so far, LG and Samsung, the companies that make most of the smartphone displays across the globe, aren't stepping away from the 60Hz industry standard.
Beyond the awesomeness that is 120Hz refresh for a phone, the colors on this screen really pop when the display is set to Vivid inside of the Settings menu. Purples, reds, and blues really take on a life of their own and when looking back at photos you have snapped, things just look really good. If you aren't overly fond of saturation, though, you can always opt for the Natural look mode the display offers.
Razer, keep pushing smartphone display tech to its limits. I love it.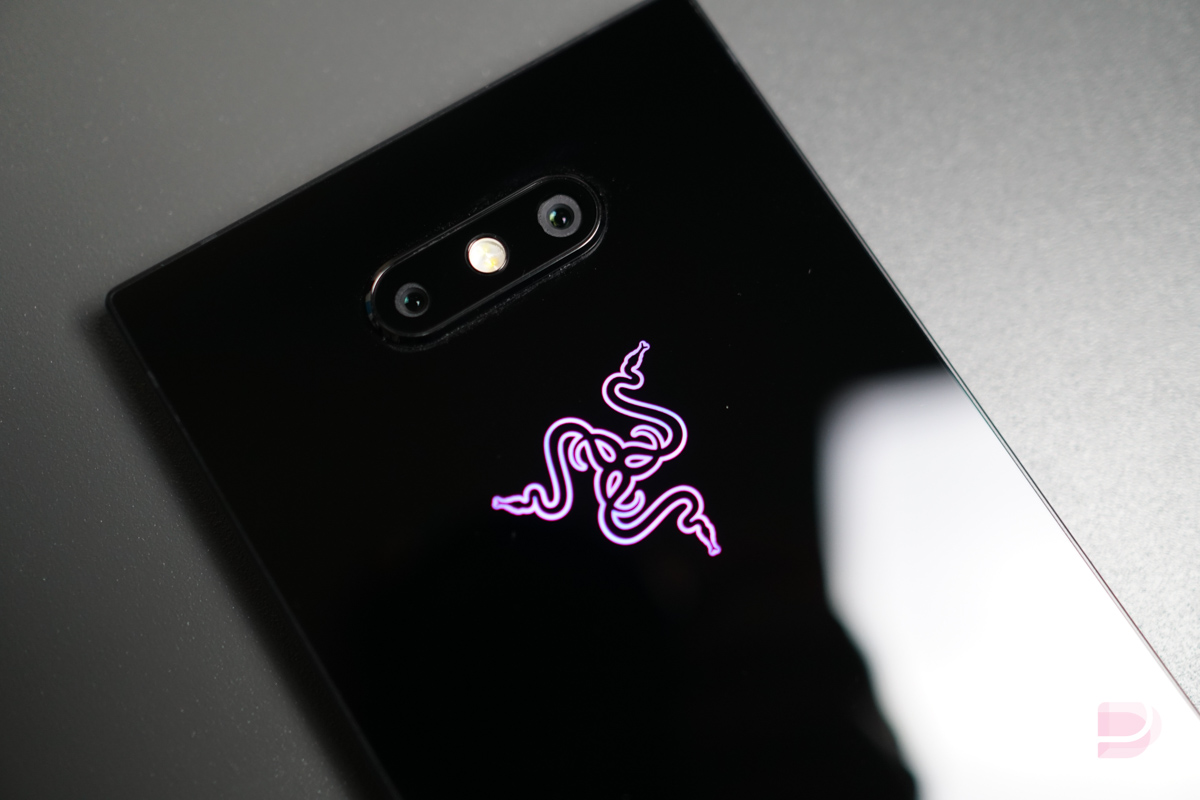 Camera
Last year, Razer launched its first phone with less than stellar cameras and that's me being pretty generous. The cameras were hot garbage. This year, Razer really honed in on giving users all of the good stuff the first phone had, plus a whole lot more, which includes much improved rear-facing shooters. On the back you have dual 12-megapixel cameras, one standard RGB lens with OIS and one Telephoto lens. For me, the Telephoto is hardly something I ever use, because I know from experience that distance shooting has never been a strong suit for phone cameras. However, this standard lens is much, much improved over last year's offering. It's actually usable, folks!
Now, I'm not here to blow smoke up anyone's ass and this camera probably won't outperform the latest from Samsung and Google, but it's solid and easily one of the better shooting experiences I've had this year. If we were giving Best Improved trophies for phones, Razer would be the winner.
The act of opening the camera, focusing on a subject, then hitting that shutter button is a much better experience than last year. Taking photo's on the original Razer Phone seemed like a hassle, but with Razer Phone 2, everything feels and looks smooth. After shooting, photos have great color accuracy and detail, plus the addition of OIS makes photo and video results a night and day difference.
While I'm pleased to report that Razer Phone 2 has a good camera, it is missing a couple of advanced features in the software. There is no Pro/Manual mode, and this bit me pretty hard when attempting to take a few shots. For example, if I had control over the focus instead of having to rely on the phone's Auto Focus, I could have snapped some legit macros, but instead, I walked away empty handed because I could not get the camera to focus on exactly what I needed it to. When you tap to focus, you only have control over the brightness and the Settings menu offers no options for the way focus is controlled. Honestly, this situation could be worse, and we know that from last year's model, but I'd love to see Razer push an update that introduces even greater software controls to match the work they put into the lenses themselves.
Here are a few resized shots from Razer Phone 2 with no other edits. There's a mix of HDR and non-HDR shots, and while I could label them for you, I think you'll be able to spot when the phone automatically applied HDR and when it didn't.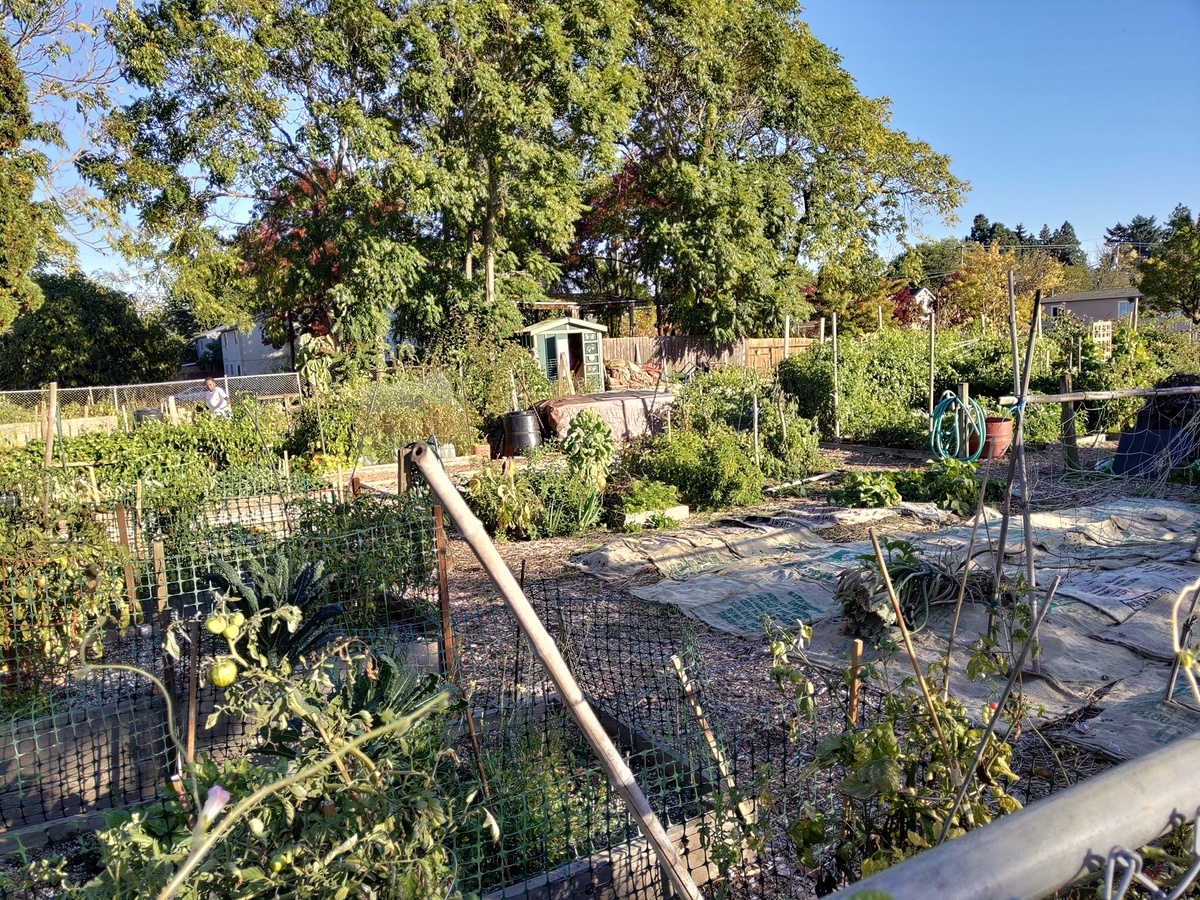 Battery
With a 4,000mAh battery, I can't imagine this section being anywhere else than The Good. This phone was easily powering through my typical day with plenty of juice to spare, and that's with me doing a bit of extra gaming and Twitter browsing to enjoy that 120Hz refresh rate a bit more.
Beyond good battery life, this phone does come with wireless charging thanks to its now glass back, as well as Qualcomm's Quick Charge 4.0+. With that, even if you somehow blast through your entire battery, you can replenish your battery at a faster and safer pace.
Software
Much like last year, Razer took a minimal approach to its Android UI. You won't find much of a skin, and instead, Razer employs its own Theme Store to help you change up the look of the phone. Themes can change up your notification pulldown, icons, wallpaper, and the color scheme of select apps. Other than that, this is a very straightforward version of Android 8.1 Oreo and there's nothing wrong with that.
Past the looks of it, Razer built in a few things to help gamers get the most out of this phone. Inside of the Settings, you'll find Game Booster software, which allows you to choose performance profiles for every game title on your phone. You can opt between Custom, Power Save, and Performance options. When you go for performance, the phone enables the 120Hz refresh rate, clocks the processor to its top speed (2.80GHz), ups the resolution to 1440p, and you can also toggle anti-aliasing on or off. If you're playing a performance intense game, Game Booster is a mightily powerful tool to have.
Just like last year, Razer includes Nova Launcher Prime on the device, allowing owners to seriously customize their home screen. As a Droid Life reader, I'll be seriously mad if you don't know about Nova Launcher Prime, but to sum it up, you can use custom icon packs, switch up your search bar's look, customize the dock and app drawer, plus so much more. This is a great touch by Razer and you have to appreciate software additions like this.
Performance
This phone is fast and smooth. The 8GB RAM coupled with Snapdragon 845, as well as any optimization tweaks Razer has done for the software, on top of the 120Hz refresh rate on the display and damn — this thing flies. When browsing through the phone and going in and out of apps, as well as playing games, I never came across any type of jank, stutter, or lag.
This experience doesn't differ from last year's model, because that phone also had some crazy good performance. But seriously, would you expect anything else from a company that says this phone is built for gaming and top-tier power? Razer set the bar high last year and it has delivered yet again in 2018.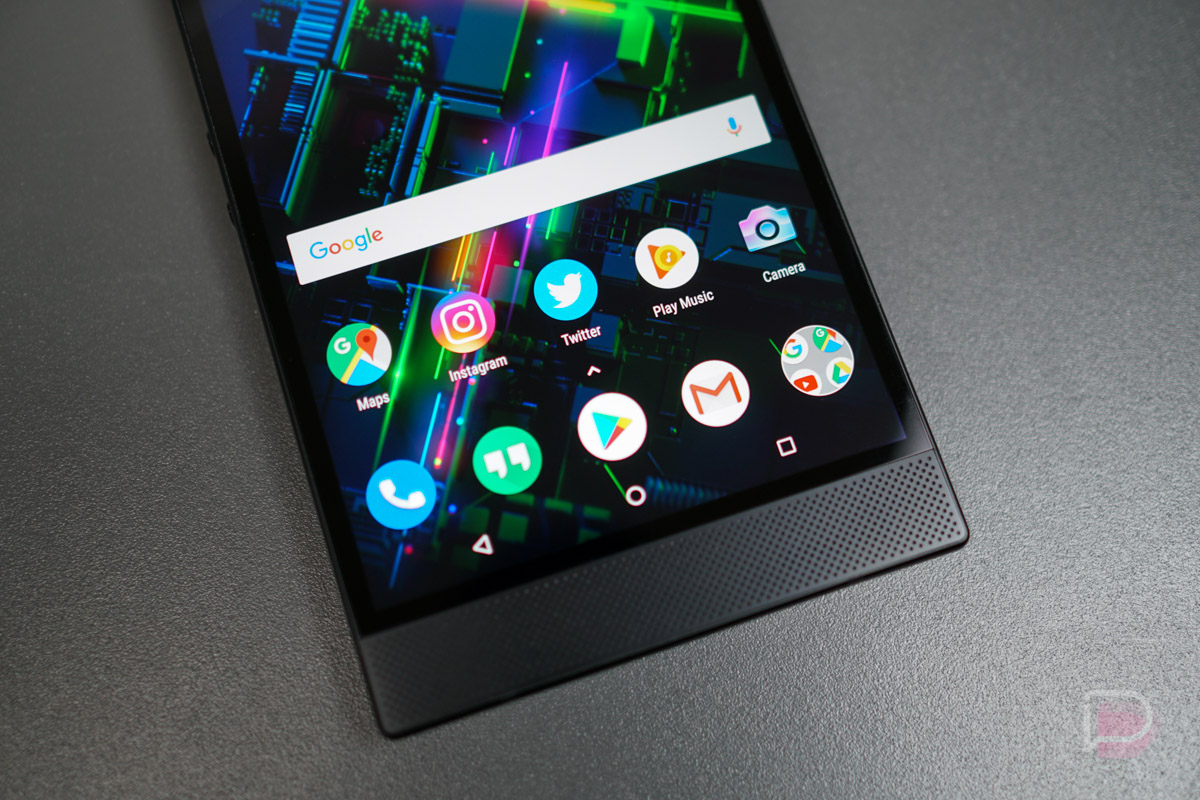 Audio
You'll find dual front stereo speakers on Razer Phone 2, said to be even louder than last year's model. While I can't say for sure if they're louder, they're just plain loud in general. Not only are they loud, they have some serious depth, too. There are plenty of lows when listening to your rock and hip-hop, but lots of clarity when listening to more vocal-heavy pieces. Compared to other phones on the market, even ones with dual stereo speakers, this phone seems to blow them away.
Sadly, there is no 3.5mm headphone jack, but when you have a set of USB-C headphones plugged in (or you use the 3.5mm headphone adapter), you have lots of control over your audio by way of software. Thanks to Dolby Atmos integration, you can choose between plenty of presets like Music, Movie, and Dynamic, as well as customize each and every band of a 10-band EQ. There's also an underlying Intelligent EQ that has Balanced, Warm, and Detailed presets. On top of all of that, there's a toggle for a Bass Enhancer, just in case you're all 'bout that bass, 'bout that bass, no treble.
Somewhere in the Middle
---
Hardware
Four 90-degree angles is potentially the most boring design for a phone ever. And because this phone's overall hardware design hasn't really change since last year, I feel like I'll be repeating a lot of the same things I said in my original Razer Phone review. Again in 2018, this is a beefed up, murdered out Nextbit Robin.
Now, the reason I'm not totally hating on it is because if you don't mind this hardware, then you're really going to love this phone. And really, to offer the speakers, display, battery, and everything else, I don't know if Razer could really change anything. While the bezels could use a trimming, gamers need a place to put their hands and phones with super thin bezels aren't necessarily that comfortable to hold when gaming. Realistically speaking, this hardware suits the needs of the users it was designed for, so I suppose it's perfect when looking at it from that perspective. Is it out here trying to be the prettiest phone ever? F*ck no. Razer Phone 2 is here to provide a mobile performance experience unlike any other and when you accept that and stop caring about fancy curves and notches, Razer Phone 2 hits the spot just right.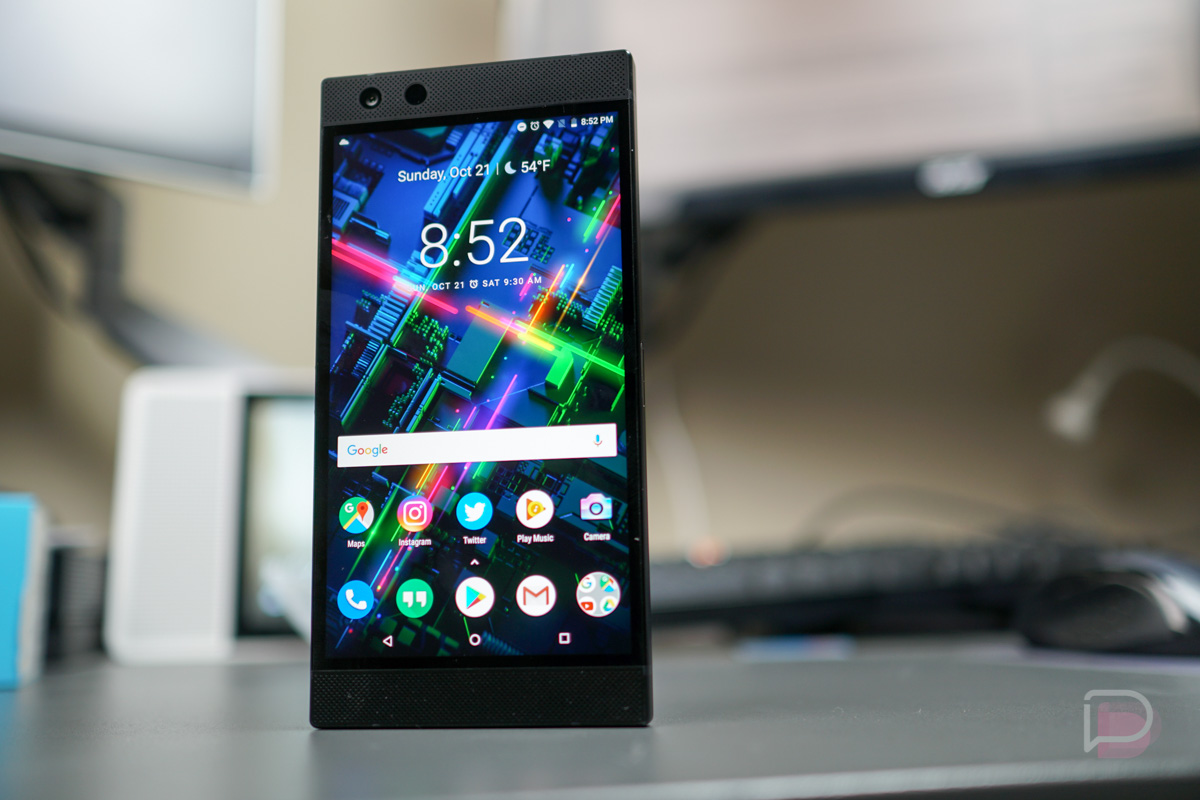 Chroma
I love the addition of the Chroma RBG LED on the back of this phone, but when you think about it, it's kinda pointless and it's just another thing that can drain your battery life. How it relates to the operation of your phone is minimal in the concept that it can act as a notification light. This is only useful when you place the phone on its face, and this could just be me, but I don't do that.
Look at this way — Razer added wireless charging. Sweet, but that requires the phone to sit or lay on its back, so if you're doing that, you aren't able to see the Chroma LED do its thing. When you're holding the phone and watching something or scrolling through Instagram, the LED is facing away from you on the back of the phone, so you can't see it. Really, unless you turn the phone around or are an unusual person and put your phone face down on a flat surface, you'll never get to enjoy the Razer logo lit up sexily on the back. That really sucks. And I get it, Razer likes flashy lights and Chroma is its calling card on nearly all of its products, but this just doesn't really add up to anything entirely beneficial for the user. Now that my nagging practical opinion is out of the way, I think it looks awesome and that's all I have to say about that.
Other Notes
---
Girlfriend Impressions – "Where's the power button? Oh, it's flush. That's cool. And it's the fingerprint reader? That's nice. I like the glass on back and the way it lights up looks cool."
Water Resistance – The addition of IP67 is much appreciated by me. To me, it exemplifies the notion that Razer brought everything they did last year, but added in a ton of goodies to really round out the package and make it a real option for those who want a phone that isn't made by one of the bigger phone brands.
Pricing and Availability
---
Razer Phone 2 is available for pre-order at $799. That's the same price the original Razer Phone launched at, which should definitely be noted as a positive. I mean, we see plenty of phone lineups get price bumps each year, so the fact that Razer kept the same price, but added in so much, is fantastic.
You can find Razer Phone 2 via pre-order on Razer's website, Best Buy, or Amazon. Each retailer shows the phone's launch date as October 26, which is later this week. As for carrier support, while you won't find Razer Phone at your local AT&T or Verizon store, it is compatible with the networks. It's fully supported for GSM and Verizon's LTE networks, so don't worry about network compatibility.
Video
---
First Look and Impressions
10+ Tips and Tricks
Gallery
---
The Verdict
---
I'm happy because this verdict is very easy for me. Can you get over the fact that this phone isn't pretty? Then buy it! It's a really good phone and it makes quite a statement compared to all of the notches and slaps the face of beauty standards.
Again, to reiterate what's essentially the bulk of this review, Razer has rereleased the original Razer Phone in the Razer Phone 2, but changed everything that needed to be changed and made additions that really help push this phone over the finish line. To recap, the camera is much better, the battery life is still awesome, the display is legit, performance is killer, and you won't find a better mobile gaming experience on the market. What else could you ask for from a mobile phone made for gaming? Exactly.
Now, go buy it if it makes you happy.