Alright, it's Pixel 3 review time.
Oh, and this is only a Pixel 3 review. If you want a Pixel 3 XL specific review, that'll come later once we've spent more time with it, but as you can probably guess, almost everything in this here block of text applies to the bigger of the Pixel 3 units, outside of notch impressions (meh), overall size (same as Pixel 2 XL), and (possibly) battery life. You cool with that?
Back on track here – as you know, the Pixel 3 from Google is the most leaked phone in the entire history of the f*cking world. Not that that matters much when it comes to reviewing one, but good lord does this phone arrive as a phone that we feel like we already know. That's partly a leak problem, yet is also due to the fact that this isn't a massive change over last year's Pixel 2 line. Things are very familiar here in good ways and also in some non-exciting ways.
I'm being purposely vague as to not spoil my thoughts (which the title sort of did), so let's just talk about it.
The Good
---
Camera
Yep, the single 12.2MP camera (dual pixel, f/1.8, 1.4μm, OIS+EIS) is really, really good. Google spent a lot of time talking about the Pixel 3 camera on stage during its unveiling event, pointing out that they've added a number of features to further enhance things. They also couldn't stop reminding everyone that last year's Pixel 2 camera was still beating 2018 phones in comparisons, as a way to say, "Prepare yourselves for this, if you can." This is the best mobile camera you can find, I'll just say that now. It just is.
From a software perspective, you've still got a super clean and simple camera app with what is (probably) the best portrait mode in the business, as well as additional modes like panorama, Photosphere, slow motion, and some AR action called Playground. Google introduced a Top Shot feature that will suggest the best shots from a series it took before and after you pressed the shutter button, it uses a Super Res Zoom technology to present cleaner, less blurry photos when you zoom in on them, and will eventually try and blow minds with a Night Sight feature for darker situations. Night Sight is not yet out, so we couldn't test it. The camera incorporates Google Lens too, in both real-time settings and also in a fully-featured way that helps you save info, identify items, etc. Finally, the camera lets you tap on an object to track it should it or you move during a shoot.
It does lack a full manual control setup, which is kind of a big omission, but the photos you get are so good I'm not sure most will care. Video is capped at 4K and 30fps too, which is slightly disappointing now that some phones are doing 4K at 60fps.
While I'm not a selfie guy, I should add that Google did include a second front-facing camera this time (both at 8MP) with a wide-angle lens for capturing more. They want you to get all them group selfies and you go do that if that's your thing. The front cameras do portrait mode too, so yeah, get busy.
The camera fires up and is focused and ready to shoot faster than most phones I've used this year. Snapping off multiple shots in a row is also about as fast as it gets. I'm being somewhat chill there, because I actually do believe it's the fastest. This camera experience is the camera experience for me because it doesn't get in your way, it's insanely fast, and the pictures are phenomenal.
So what about those results? Here are a few that have been resized to fit better on the site.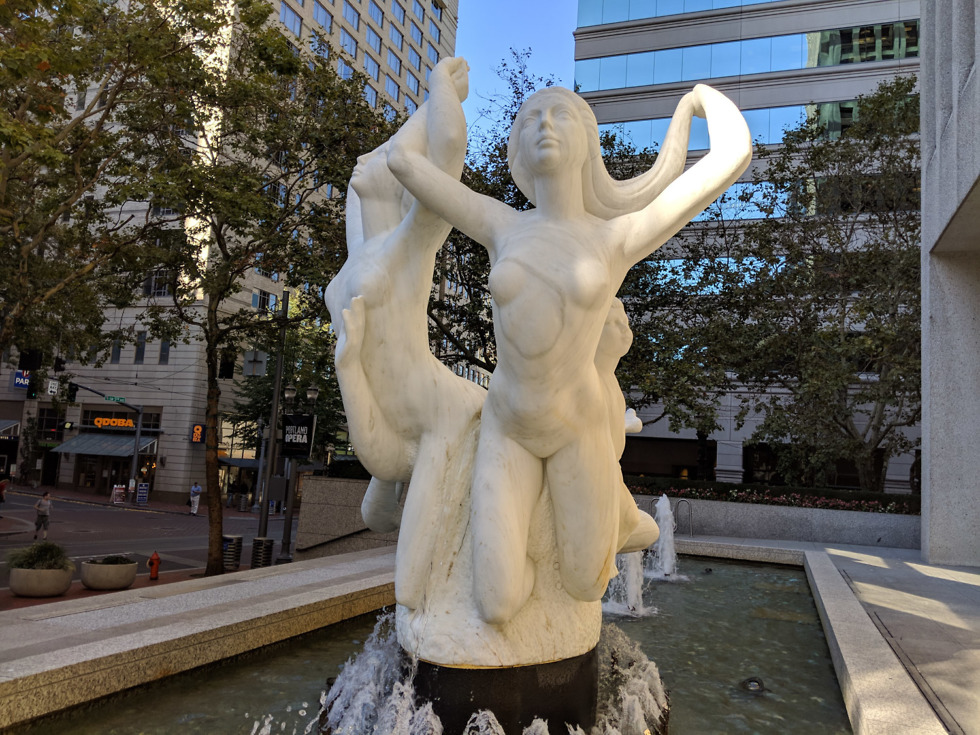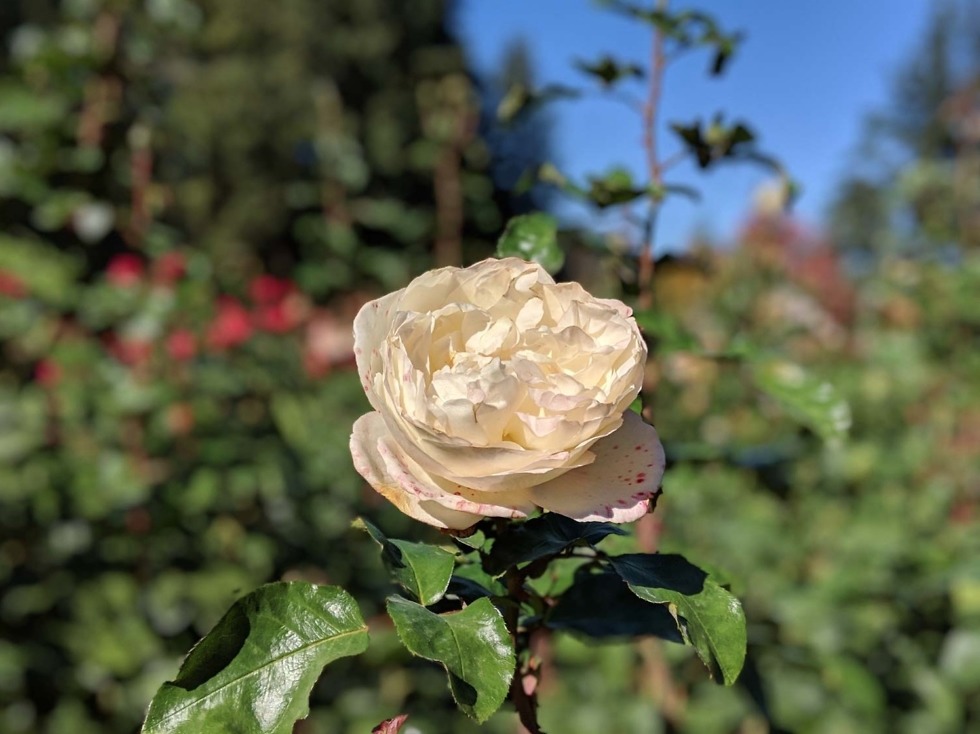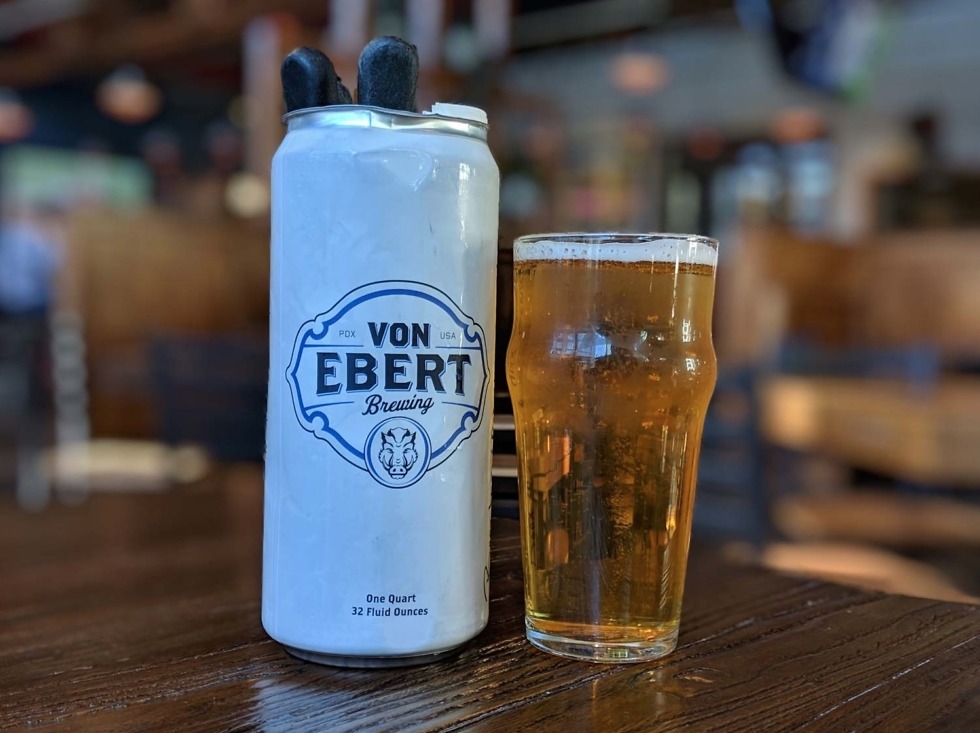 To my eye, it's a lot of the same story from the Pixel 2. Google's processing pushes contrast and ramps up some colors. While they may not be the purist photos that something like an LG phone might capture, they sure do look pleasing to the eye. And in the end, that's what matters. Google's algorithm is basically a mathematical equation for how to seduce your eyeballs. Additionally, even when not in portrait mode, the f/1.8 lens adds nice depth to any shot and also plenty of light when your life gets dark.
Again, the photos above have all been downsized to fit better here, so they don't show you the full results. However, even at these sizes you should be able to see the quality. And just wait until Night Sight shows up.
Software and Performance
This might sound like a negative, but on the Pixel 3, Google hasn't done much in terms of new stuff over the Android 9.0 Pie that many already have on the Pixel or Pixel 2. In fact, when putting together this review, I was wondering what to really point out. Again, it's fast and minimal, but it's not really that fresh if you already own a Pixel device.
With that said, there are two software experiences on Android that I prefer – the one that Google makes and the one that OnePlus makes. Since the Pixel 3 is a Google phone, it is no surprise that this is once again exactly what I look for when it comes to a phone experience. It's lean and clean Android, it runs fast, it has just the right amount of features, and I know it's the newest version available. I never feel overwhelmed or wonder if I'm missing something or not taking full advantage of Google's phones. Should I need something that's missing, I can always find an app that does it. Although, I'm not sure I've really needed to pick-up an additional feature, I'm just saying that in theory, I could.
We do now have a screen calling feature that will help you screen spambot calls, some new camera options that I already mentioned, a flip-to-shhhh Digital Wellbeing feature to quickly put your phone in do not disturb, and some other yet-to-be-released things, like Google Duplex. The thing is, most of these will come to the Pixel and Pixel 2.
What you have to understand is that even without a major overhaul of the UI or an entirely new exclusive feature set, this is still the best version of Android in my opinion. This is Google's vision, which means all of your Google apps match the UI, you get to use the new Android Pie gesture navigation and the Pixel Launcher, always-on (Ambient) display which now shows parts of your wallpapers, access to special gestures, Active Edge for launching Google Assistant, free unlimited high-resolution photo uploads for years, the full suite of Digital Wellbeing to help you disconnect more often, and Now Playing music recognition.
Of course, you also get monthly security updates, you'll get the next big Android Pie update as well as Android Q before anyone else. You'll get to test beta builds of Android Q and never again have to worry about whether or not you are a part of the latest and greatest in Android if you own a Pixel 3. Well, you have 3 years worth of major updates, so 3 years, not "never again."
You really just can't beat Google's take on Android, unless you need edge lighting and side-swipe-out panels and extra multi-tasking things, and S Pen controls, and double mail, calendar, fitness, and appstore apps,. Me, I don't need or want that stuff.
As for performance on the Pixel 3, it's incredibly smooth. The software has obviously been fine-tuned to run very well, the haptic feedback you get as you use the phone is satisfying, and apps fly open without extra garbage animations. How well will this phone age with its 4GB RAM? That's tough to say. I know that some Pixel 2 XL owners ran into sluggish phones about a year into ownership, so there is always a chance that happens here or maybe Google has fixed whatever was causing that. Google still hasn't really acknowledged that issue, though. Again, the Pixel 3 runs great now and I've only been testing for a week. I can't predict the future.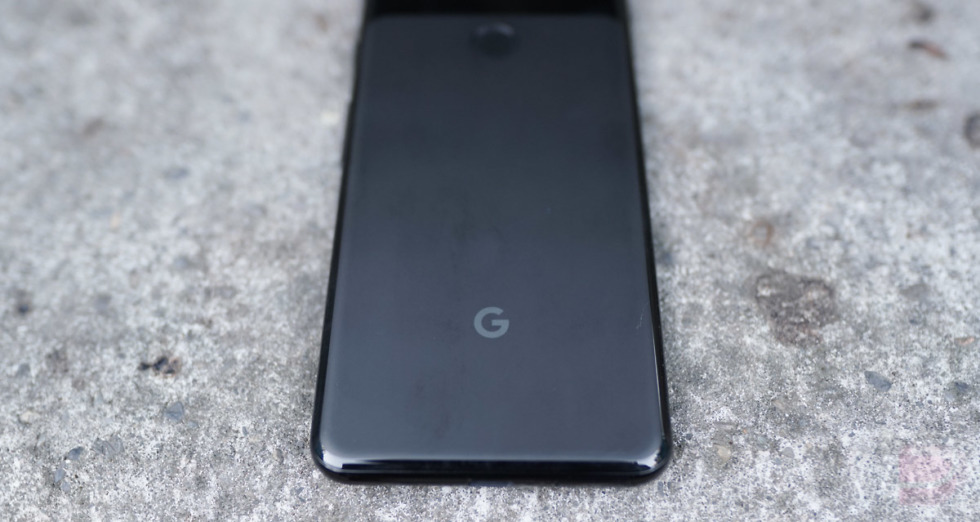 Design
Google's hardware design language for the Pixel 3 is a continued push from the original Pixel. You've got the two-tone backing again with black, white, and "not pink" colorways. You know right away that these are Google phones because of the color blocking on the backside. It is their signature look and I'm a fan.
The Pixel 3 now sports an all-glass back to allow for wireless charging, but Google coated the bottom portion of its glass with a matte or soft touch finish that feels nice in hand and resists fingerprints for the most part. Like all glass phones, this material choice makes for great in-hand phone presence that comes off feeling high-end.
The Pixel 3 is identical in size to the Pixel 2 and Galaxy S9, in case you need a comparison. It feels slightly better in hand than both, though, because it's much more rounded from front to sides to back. The Galaxy S9 has definitive edges where it meets its side metal, while this Pixel 3 is perfectly rounded for a more comfortable grip.
Coming from a Pixel 2 XL for most of the year, this Pixel 3 feels kind of small even if it isn't. It still has a 5.5-inch full HD display and is the size of the Galaxy S9. I do think that a number of you will enjoy this size, especially if you planned on skipping the Pixel 3 XL and its notch. On a related note, and this is going to sound weird to those of you who know me, but I've been using a case on it. The glass scares me and the size after using the Pixel 2 XL for so long had me itching for more thickness. And yes, the Pixel Stand still works just fine with a case on.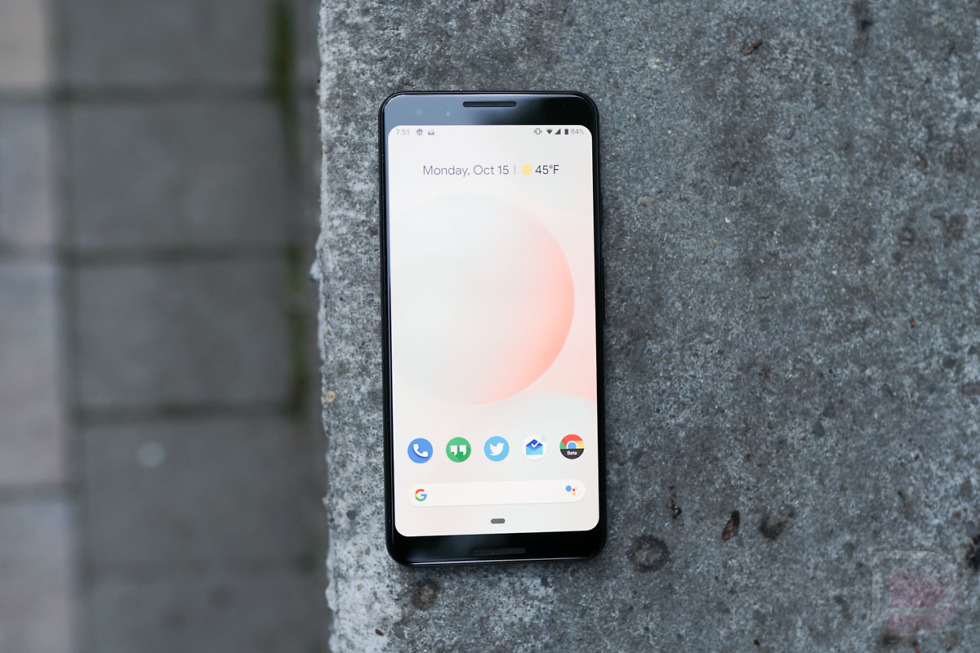 Display
The 5.5-inch FHD AMOLED display panel on this Pixel 3 is pretty solid. It is 100% an upgrade over last year's smallish panel on the Pixel 2 and certainly doesn't have the blue characteristics of the Pixel 2 XL that turned so many of you off. It has solid viewing angles, good levels of brightness that I often wish would get dimmer in darker situations, and three color profiles to help you find the best experience for your eye.
I've been running the Pixel 3 with Adaptive Brightness on, so that it constantly learns from my usage patterns. It has Night Light mode to add that amber color to the display at night and help ease eye strain. And it (of course) has an Ambient (always-on) Display to show you the clock, date, weather, and notifications on the lock screen at all times. This display has all of the features you could ask for in a top tier phone.
For color profiles, Google is offering you Natural, Boosted, and Adaptive. Natural shows more muted or "natural" colors, Boosted slightly cranks up the vibrance, and Adaptive goes a bit overboard with color ramping. I've left the phone on Boosted, but if you really want those wild color pops, you might want to go with Adaptive.
I do wish there were some manual controls over blues and reds, or warmth and coolness, and I'd imagine more than a few of you would have liked to see a QHD resolution on it. The 1080p resolution is fine to me, as someone who often sticks with OnePlus phones for weeks at a time, but I get that you want as many pixels as you can get.
Overall, I think this is a much improved AMOLED panel in the Pixel 3 that you won't find much to complain about.
Battery Life
My initial testing of the Pixel 3's 2915mAh battery shows positive results. I've had a couple of days with heavy use and plenty of battery at the end of the night. I've also had some days where my child grabbed my phone and crushed some kiddie games for excessive amounts of time and ran down the battery faster than normal. The problem with my testing is that I've had the phone for a week. I'm going to keep testing it and will likely update this portion if things change, but again, so far things have been mostly positive.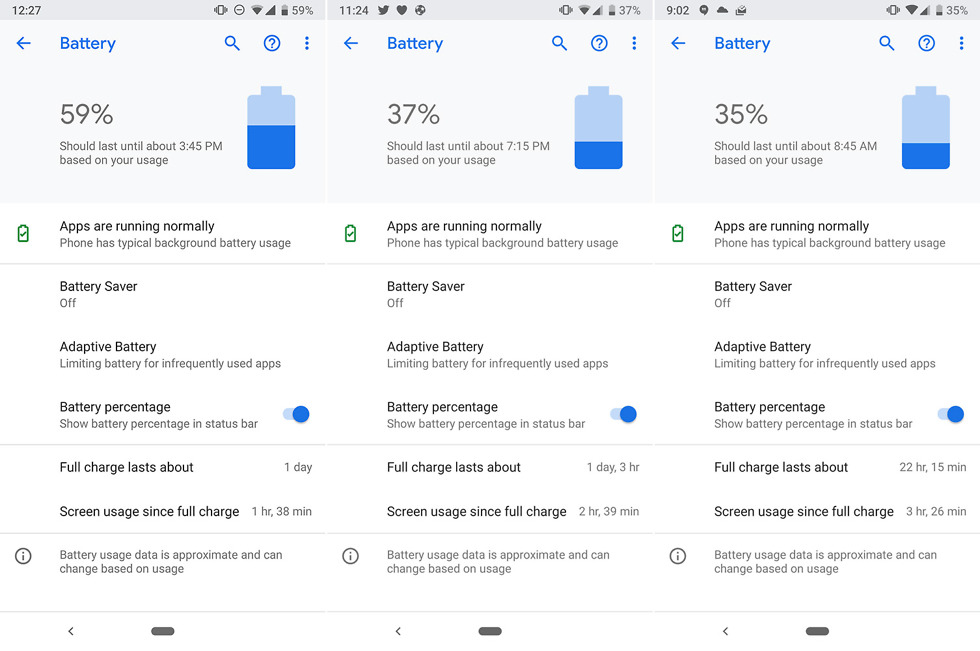 I've kept Adaptive Battery on, hoping that Google's AI smarts can predict my usage and extend battery life. Like I said, some days it did and I felt like I had 40% battery left at the end of a night, while other days I reached for a charger at some point before going to bed. I wish I had more exact numbers for you than that, but I forgot that Google has buried usage stats some in the top menu of the battery section and forgot to screenshot that section each day. Instead, I got the shots you see above which don't actually tell you much outside of screen on time.
Thankfully, this phone has both fast wired and fast wireless charging. You can charge it pretty damn quickly both ways should you ever need some juice to finish out a day.
Pixel Stand
Wireless charging isn't a feature I've ever cared much about, but the Pixel Stand that I've been testing has convinced me to get one for my desk and night stand. Even at $79, I think they'll be worth it in the long run.
For one, they do fast wirelessly charge the Pixel 3 and Pixel 3 XL. More importantly they are smart wireless chargers that don't just charge your phone. When you place a Pixel 3 on the Pixel Stand, a special UI appears within your always-on display that gives you quick access to Google Assistant and your daily overview. It also shows you timely quick buttons to end your night by turning all your smart lights off, check the weather for tomorrow, see what's on your calendar, or learn about the latest news.
Additionally, you can have the Pixel Stand smartly turn your phone's screen dark when docked and in a dark room, utilize the Night Light display to carefully wake you up in the morning, act as a photo frame with pictures from Google Photos, and flip to do not disturb. It really is more than just a wireless charger and makes for the perfect accessory to launch Pixel 3 with.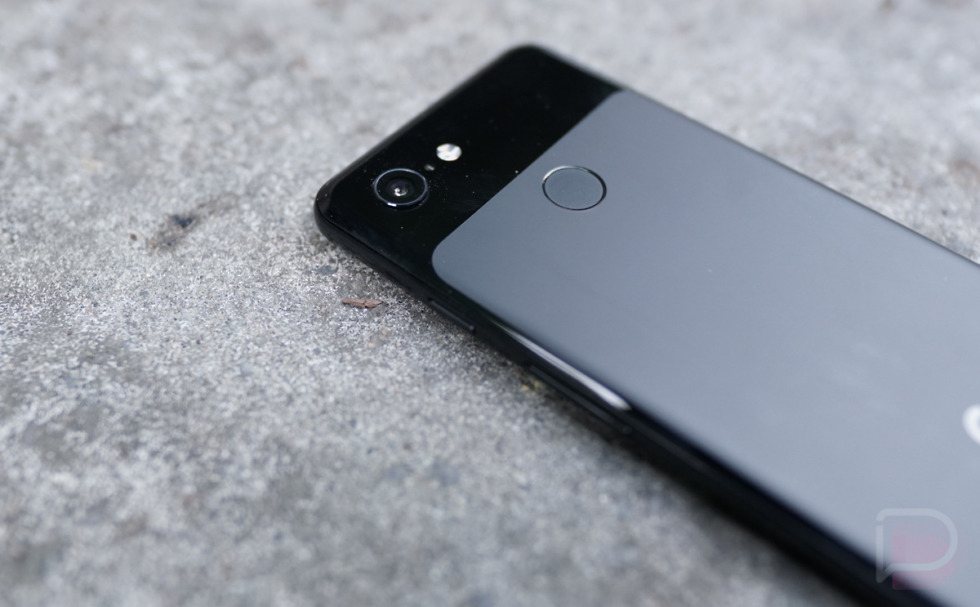 Somewhere-in-the-Middle
---
Specs
The spec list for the Pixel 3 isn't the worst in the industry, but I wouldn't be doing my job if I didn't point out some missing pieces. For the most part, it's all there, like the Snapdragon 845, incredible 12.2MP camera, dual 8MP front cameras, front-facing stereo speakers, USB-C port, IP68 water and dust resistance, improved 5.5″ full HD AMOLED display, and Android 9.0 Pie.
What's missing? Well, the RAM tops out at 4GB, while most phones these days are carrying 6GB to 8GB. The storage options are 64GB or 128GB, which isn't awful, but you can't expand either because there isn't a microSD slot. The battery on this Pixel 3 is arguably on the smaller side at 2915mAh, there's no headphone jack, and while the display is a nice size, some might want more pixels. Look, the Galaxy S9 checks all of those boxes and still manages to drop in at a price $75 lower than the Pixel 3.
Google will try and keep our attention away from the specs on the Pixel 3 and instead push our focus to Google Assistant, the camera, and some unique software features. But come on, we're Android folk – we care about the little bits of hardware that most think consumers ignore.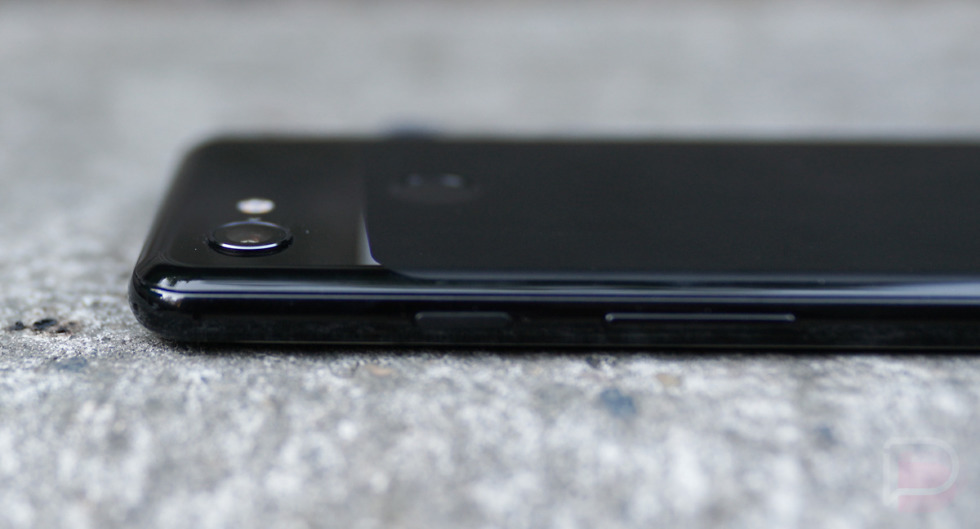 Price and Availability
The Pixel 3 starts at $799 (64GB) and goes up to $899 (128GB). Is that expensive for what you get? Yes. As I just mentioned, the Galaxy S9, a phone that was released 7 months ago and packs in all the specs, including the ones the Pixel 3 is missing, costs $725. So, even as Google has upgraded the Pixel 3 over the Pixel 2, we got a $150 price jump over last year's Pixel, but still aren't matching competitors on paper. That's not good for the vocal folks who want the most bang for their buck.
In terms of availability, Google has once again given Verizon an exclusive to be the only carrier in the US. That sucks for those who buy phones from their carriers and want no part of Big Red. Sure, you can go buy the Pixel 3 and Pixel 3 XL directly from Google or Best Buy and both phones work perfectly fine on any network. But the problem is, that people in the US like to get their hands on phones before they buy them and they like to get them from their carriers.
I still think the Pixel 3 and Pixel 3 XL are worth buying. The pricing and availability aren't great, but the phones are pretty great. You would have to look past the value of the Galaxy S9 or S9+ or LG V40 and understand that the software experience and camera on the Pixel 3 are probably enough to justify some of those missing items.
Other Notes
---
3.5mm headphone jack: It doesn't have one! But you do get both a dongle in the box and a nice pair of USB-C earbuds with full Google Assistant optimization.
Phone calls: It makes them. Calls sounded fine to me. I wish I could tell you more, but I talk on the phone like twice a month.
Speakers: They get louder than the Pixel 2's front speakers and are much better at handling loud audio. Audio is overall cleaner this year and really packs quite a punch.
Video
---
First 10 Things to Do
First Look
Pixel Stand
Gallery
---
The Verdict
---
Alright, the fun part! Should you buy the Pixel 3? I did. This is the Android experience I prefer, the camera is unstoppable, the phone looks and feels great, I'm appreciating the Pixel Stand experience, I love Android updates, and its ability to run on any network is a plus. Specifically to the Pixel 3, the size is really nice for those of us who don't love a massive phone and don't want a double-wide notch. So yeah, I think you'll be happy if you decide to buy the Pixel 3. It's a really good phone from Google.
Why wouldn't you buy it? Maybe you want a bigger phone? Maybe you need a headphone jack or bigger battery or more storage or are worried about the 4GB of RAM? Maybe you'd rather go with whatever OnePlus is about to release because you know it'll be similar to the Pixel 3, yet cost a couple of hundred dollars less? Those are decent reasons to pass. Also, if you own a Pixel 2 XL and it's running fine, this isn't that much of an upgrade. But if you are in need of an upgrade, this is a good choice for an Android phone.
---
Buy Google Pixel 3: