When Motorola hosted a bunch of press at an event at their Chicago headquarters on August 2, the collective "Wait, what?" faces from those in attendance as a new phone was announced spoke volumes. We were all reacting to the Moto Z3, a phone we expected to be Motorola's take on a 2018 flagship phone, yet there we were, staring at the specs and price, wondering what in the hell Motorola was up to.
Of course, we quickly learned. The Moto Z3 exists for one reason and one reason only – so that Motorola and Verizon can say that they made the first 5G-ready phone. That's it. That is the point of existence for this phone. It will be sold as such without hardly a mention of its specs, camera, software, performance, or design. All Verizon and Motorola are going to tell you about this phone, is that it will one day more than likely be the first 5G phone in early 2019.
And that idea, that this phone is a "We did it first!" device, makes for an awkward review. You see, I just reviewed the Moto Z3 Play on July 6 and this is the exact same phone save for a couple of component tweaks. Instead of a Qualcomm Snapdragon 636 processor, it has last year's top tier Snapdragon 835. It also ditches the secondary rear 5MP camera from the Play and replaces it with another 12MP monochrome shooter. It's a different color too. Those are the differences.
NOTE: The original story said that the Moto Z3 has Qualcomm's new X50 5G modem inside, but that's actually in the 5G Moto Mod.
It has the same 6.01″ Super AMOLED FHD display, 64GB storage, 4GB RAM, 3000mAh battery with fast charging, same dimensions, same design, same splash resistance, and same version of Android (8.1). This is a Moto Z3 Play with a different processor and modem in a frame that's black instead of indigo.
Why does all of that matter? Because I'm not going to write up another 2,000 words about a phone I just reviewed and like quite a bit. Instead, we're just going to jump right into whether or not this should be a phone you should consider buying. For the dirty details on what the Moto Z3 is, read our Moto Z3 Play review. I feel exactly about this phone as I did that one. That sound good?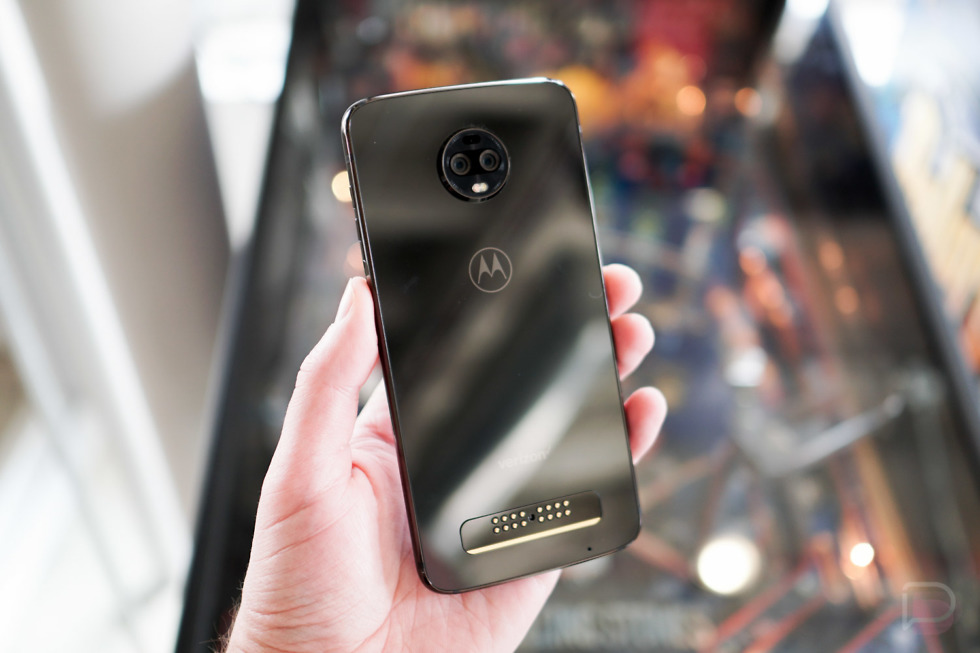 Who should buy the Moto Z3?
Well, if your budget is $480 and you are on Verizon and love Motorola, then this is not a bad buy. By all means, the hardware, performance, display, software, access to Moto Mods, fingerprint reader, and dual camera, make for a phone that is actually pretty good. And at $480, which breaks down to $20 per month, there aren't many phones on Verizon that top it for the price.
I love the simple Android software that Motorola keeps including, battery life has been full-day at a minimum, the side-mounted fingerprint reader is still one of my favorites, and this phone does have access to all of the Moto Mods that have been released so far. There is a lot of good stuff here.
Is the Moto Z3 a better phone than the Pixel 2 XL, Galaxy S9, Note 9, or LG G7? No, no it isn't. It's camera isn't even in the conversation with any of those phones. I'm not sure it's a better designed phone than any of those either. But at $480, it's not really trying to compete there and is instead sitting in that Moto X4 range from last year, which is this rarely-touched middle ground between the highest end phones and those lower-tier $200 phones. This phone is probably priced just right.
Again, the Moto Z3 is for those without a big budget, who love Moto and their Moto Mods system, are on Verizon (it's their exclusive), and want a generally all-around good performing and looking phone. I've got no real complaints about the Moto Z3.
Why shouldn't you buy the Moto Z3?
You certainly shouldn't buy this phone just to be one of the first to 5G. That's right, I'm telling you to ignore the entire sales pitch from Verizon and Motorola.
The 5G Moto Mod that Motorola is going to try and push 5G with is a tank that not only looks silly, but probably will be ridiculously limited in terms of network reach. It'll probably be stupidly expensive too.
When Verizon launches 5G in early 2019 using mmW spectrum, there is a really, really good chance that the network will be limited to major cities and major cities alone. MmW isn't exactly built for range and is instead more of a hotspot type of network connection that is built to handle a lot of people in a dense area and deliver them really fast speeds. My guess is that your house in the suburbs won't have mmW access. I'm also going to guess that we might see a handful of cities with Verizon 5G, rather than a nationwide immediate rollout.
What I'm trying to get you away from is this idea that if you buy the Moto Z3 and plan to buy the 5G Moto Mod to go with it, that you will be guaranteed to live a life filled with 5G. That's just not that realistic, unless Verizon is doing a whole bunch of behind-the-scenes magic in every major city that no one is aware of. Otherwise, finding Verizon 5G may not be that simple out of the gate, just like when we first had 4G LTE.
And of course, if you aren't on Verizon, you shouldn't buy this phone because it's a Verizon exclusive.
Confused?
That's fair if you are. This is one of the weirdest phone launches in years. This may be the last of the Moto Z line with Moto Mods, and instead of going all out, Motorola used some old parts in the body they created for another phone, so that they could try and be first to 5G. They didn't push any boundaries here or try anything new or take one last risk to try and make the Moto Z line a success. Nope, they took the cheap way out to try and add another "first" to their list.
Now, they created a budget phone that isn't bad, but we sort of already had that with the Moto Z3 Play, a phone that costs between $450 and $500 depending on where you buy it. Motorola made two different phones at the same price, added a couple of better specs to one and then let Verizon keep it as their own. It's beyond silly. Some of us would have liked to get a Moto Z3 Force (they aren't making one) with shatterproof display and current Snapdragon processor and more RAM and a real high-end camera and a big ass battery. We didn't get that, though.
We got a phone that won't be remembered six months into 2019 when other phones release that have 5G built-in and don't need a thick-as-hell Moto Mod attached to their backs.
The Moto Z3 arrives at Verizon on August 16. You can buy it here.