Speed will always be a big part of the decision you make between this wireless carrier and that one. Sure, coverage is arguably more important, but we do care that when connected to a nearby tower, that we can watch HD+ video on our QHD screens, stream music without hiccups, and get to Droid Life in a hurry. And so we look at reports, like the newest from Ookla, to see which carrier is king of speed. As it stands today, according to Ookla's 2018 US Mobile Performance Report for Q1-Q2, you should see the best speeds whether you are on T-Mobile or Verizon, but not so much on AT&T and Sprint.
In this new report, Ookla takes test results from their SpeedTest service and then analyzes it to determine which carrier might be the best across the nation, in particular states, in rural areas, and in the largest cities. This time around, they used data from 2.8M users, 12.4M tests, and 523M data points.
What were the results?
T-Mobile came out on top in the nationwide speed score test for Q1-Q2 of 2018. With an average speed score of 27.86Mbps, they topped Verizon's speed score of 26.02Mbps. AT&T came in third with 22.17Mbps and Sprint finished last at 20.38Mbps.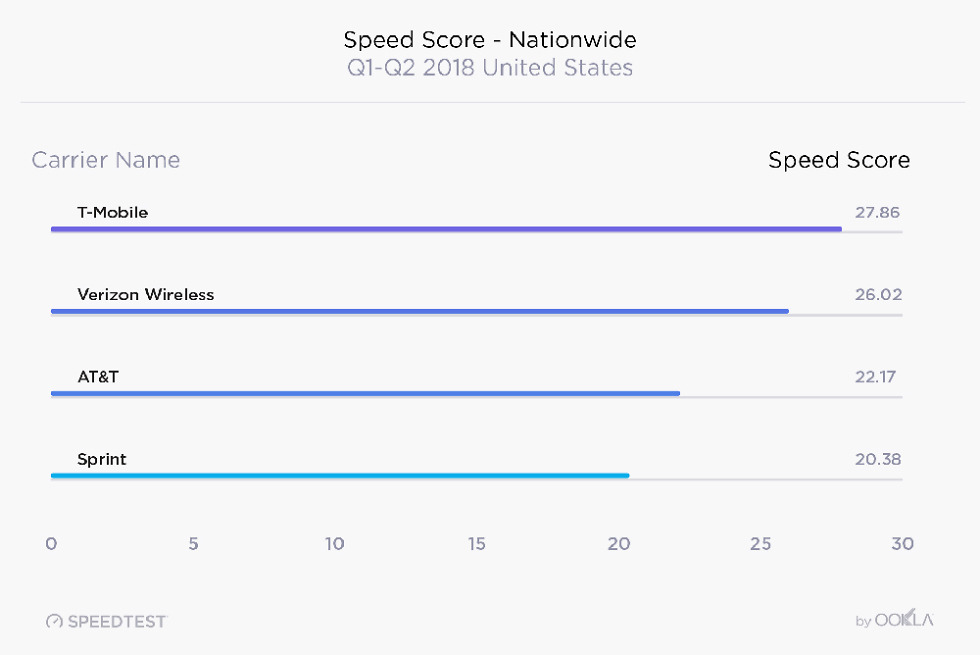 As you can see from those averages, there is a sizable gap between the top 2 and the bottom 2. Ookla equates those numbers to T-Mobile's use of their newly acquired 600MHz spectrum to expand their footprint, as well as deployment of License Assisted Access (LAA) with Carrier Aggregation. Verizon has stayed towards the top by adding additional cell sites in cities and also by pushing out 256QAM and 4×4 MIMO.
So look, those numbers are fun and all, but what about in cities, where a large chunk (80%) of the population lives?
According to this report, Verizon (just barely) tops the speed charts in MSAs (metropolitan statistical areas), but comes up just short of T-Mobile in RSAs (rural service areas). As far as the top markets go, Verizon took the crown in 45 of 100 cities, T-Mobile won 33, AT&T won 12, and Sprint grabbed 5. To see the entire list and which carrier won each, hit up that link at the bottom of this post.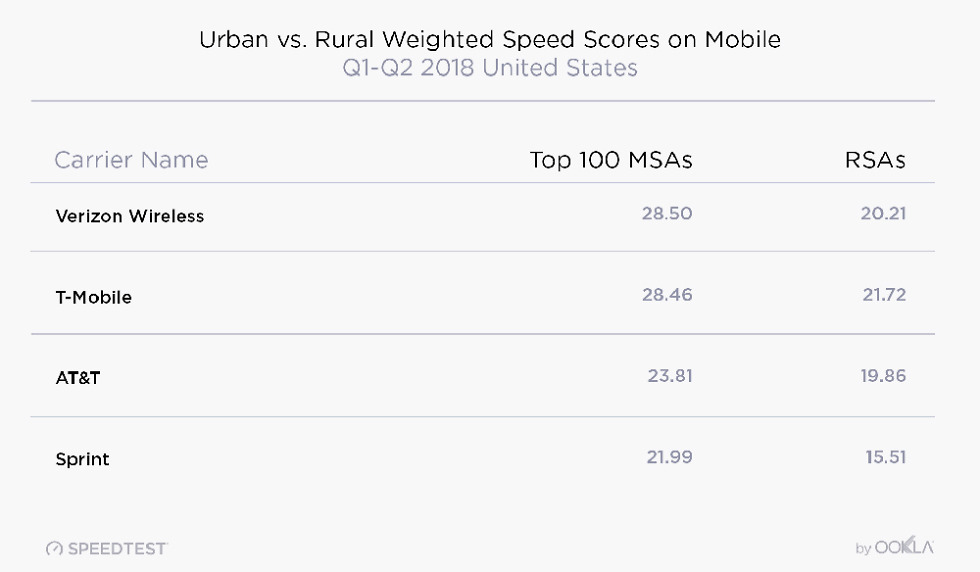 Moving on to states, T-Mobile was the fastest at the state-level in 31 states. The report notes that they were the best in the southeast, southwest, and west coast. Verizon was the best in 13 states, while AT&T topped in 4 and Sprint managed 1 (Colorado).
On a somewhat separate and interesting note, Ookla also tested speeds between the top two phones on the market today, the Galaxy S9 and iPhone X. The speeds from each carrier show that the Galaxy S9 is the faster of the two by quite a lot, particularly because of the antenna setup on the S9 vs. the iPhone X. I'm not sure it matters which phone won from each carrier, but you can see those results below.
What's the conclusion? That your best bet in terms of speeds from a carrier today is the choice between T-Mobile and Verizon. They are almost identical across the country as far as download speeds go. That's been the case for a while, though. What you should care more about are the individual city and state results, as those will help you decide which is the best for you, not these general nationwide bragging rights type of numbers. But then again, that's always been the case.
---
UPDATE: Just realized in my inbox that OpenSignal also released its latest wireless network report this morning, the State of Mobile Networks: USA (July 2018). They used data for 385K devices with 8.1B measurements to determine, like Ookla, that T-Mobile is the current speed king with Verizon right behind them.
Here are OpenSignal's 4G speed rankings:
OpenSignal is reporting a big surge in speeds from T-Mobile and Verizon since their last report, with both carriers topping 20Mbps speeds for the first time. That meant a dominant performance by both in cities. T-Mobile won 9 markets for download speeds, while Verizon won in 13. In remaining cities, either T-Mobile or Verizon tied another carrier for the top spot.
What about availability? Here are the 4G availability rankings:
In the battle over city availbility, AT&T and Sprint just couldn't compete. Of 47 cities that were analyzed, Verizon or T-Mobile either won or shared the top spot for speed in 46 of them. Verizon took the individual crown in 20, but tied with T-Mobile in 25 others. T-Mobile only won a single market (Vegas).
// Ookla | OpenSignal