It has been a couple of years since we last reviewed a Moto G phone, so even though we don't always drop down to the mid-tier range, it felt like a good time to make a return before Samsung's new ridiculously expensive products arrive. This time, it's the Moto G5 Plus review we're talking, the G5 Plus being a phone that is going to give a whole bunch of phones a run for their money, money that probably doubles what Motorola wants to charge you for this guy.
To recap, the Moto G5 Plus is the upgraded version of the Moto G5 that will be sold here in the US. In other words, there is no Moto G5 here, only this guy, the Plus. It has a 5.2-inch FHD LCD display (1080p), Snapdragon 625 processor, 12MP f/1.7 camera, fingerprint reader, microSD support, water repellent coating, 3000mAh non-removable battery, and connectivity on all major US carriers. Depending on how much you want to spend, you get to choose between 32GB or 64GB storage and either 2GB or 4GB RAM.
I've spent the past couple of weeks with the 64GB/4GB model and have a whole bunch of thoughts to share about it. Let's do this right now – this is our Moto G5 Plus review.
Moto G5 Plus Review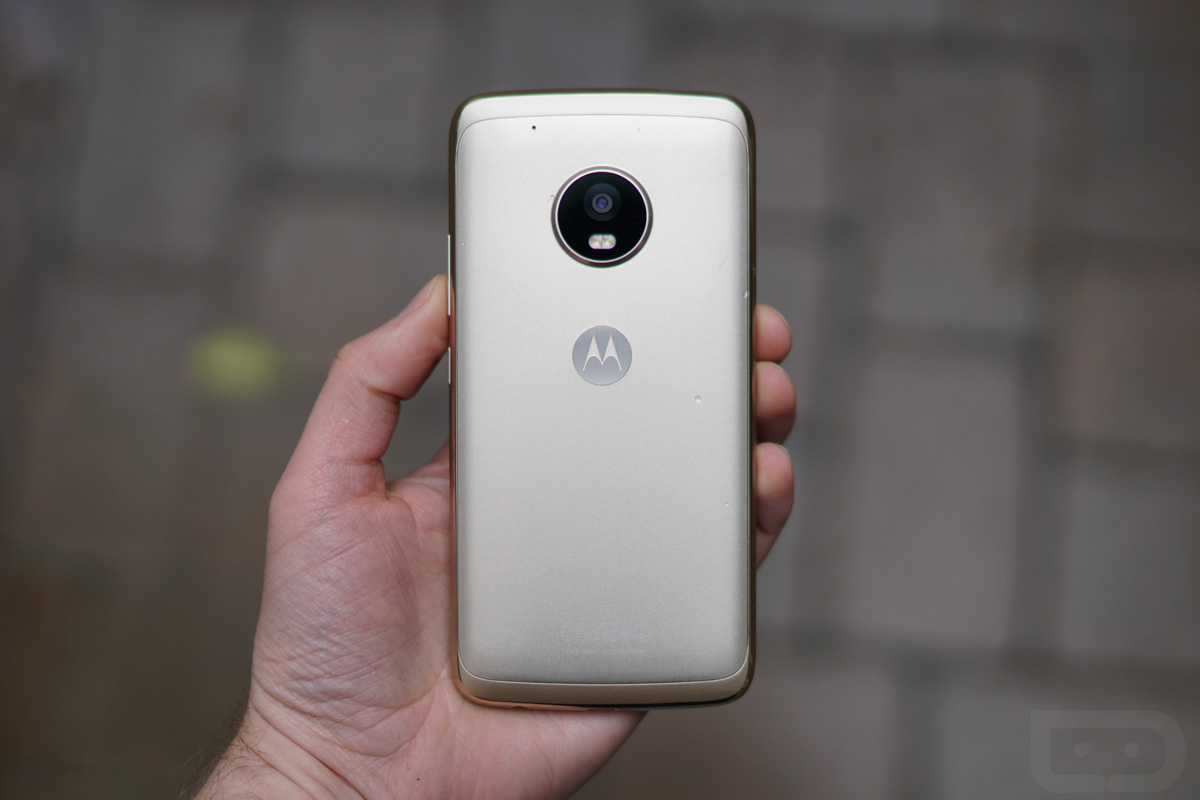 What's awesome about it?
---
Battery life
I already talked plenty about the battery life situation on the Moto G5 Plus, but in case you missed that, just know that this is a little champ in the juice department. It may not be able to top the Moto Z Play for single-charge usage, though no one has to date. However, it does come close and might have matched it had Motorola managed to slap in the same size battery (G5: 3000mAh vs. Play: 3510mAh).
On almost all days, I'm never worried about having enough battery to get me through to the following day. Yes, the Moto G5 Plus is capable of legitimate full-day battery life. Not 6AM to 6PM life. I'm talking about 6AM to 10AM the next day with 6 hours of screen on time.
This phone is one of those rare devices that will allow you to forget about how much battery your phone has left and let you live your life a little more stress-free.
Software and performance
If you have used a Motorola phone at all over the past 3 or 4 years, you know what to expect here: clean Android without a bunch of goop, along with some useful tweaks thanks to the Moto app. That also means swift performance, no hiccups, a buttery user experience, and the feel of a phone that could trick you into thinking it's powered by something other than Qualcomm's 2016 mid-tier processor.
You've got Moto Display to show you notifications, the time, and battery status as things roll in. You've got chop twice for flashlight, the wrist twist to launch the camera, flipping over for DND, etc. These aren't new features, they just happened to be those we still love.
But with this phone, you even have Motorola's new launcher (or v7.0 of Launcher3) that essentially matches the Pixel Launcher in many ways. You swipe up to access your app drawer and swipe to the right to get into Google Now. It even uses a wallpaper setup process that's similar to the Pixel phones. It's super basic, which is why I like it.
With that said, the G5 Plus (at the time of this review) is running Android 7.0 with January's security patch. That's…not good. Not only has 7.1 been out for months, but it's April right now – this phone is 4 months behind on security patches. Motorola has become really terrible at updating phones, so as you go into the G5 Plus, don't get your hopes up on having the latest and greatest with Google's phones.
I do appreciate the software experience here, but Motorola has to do better with updates.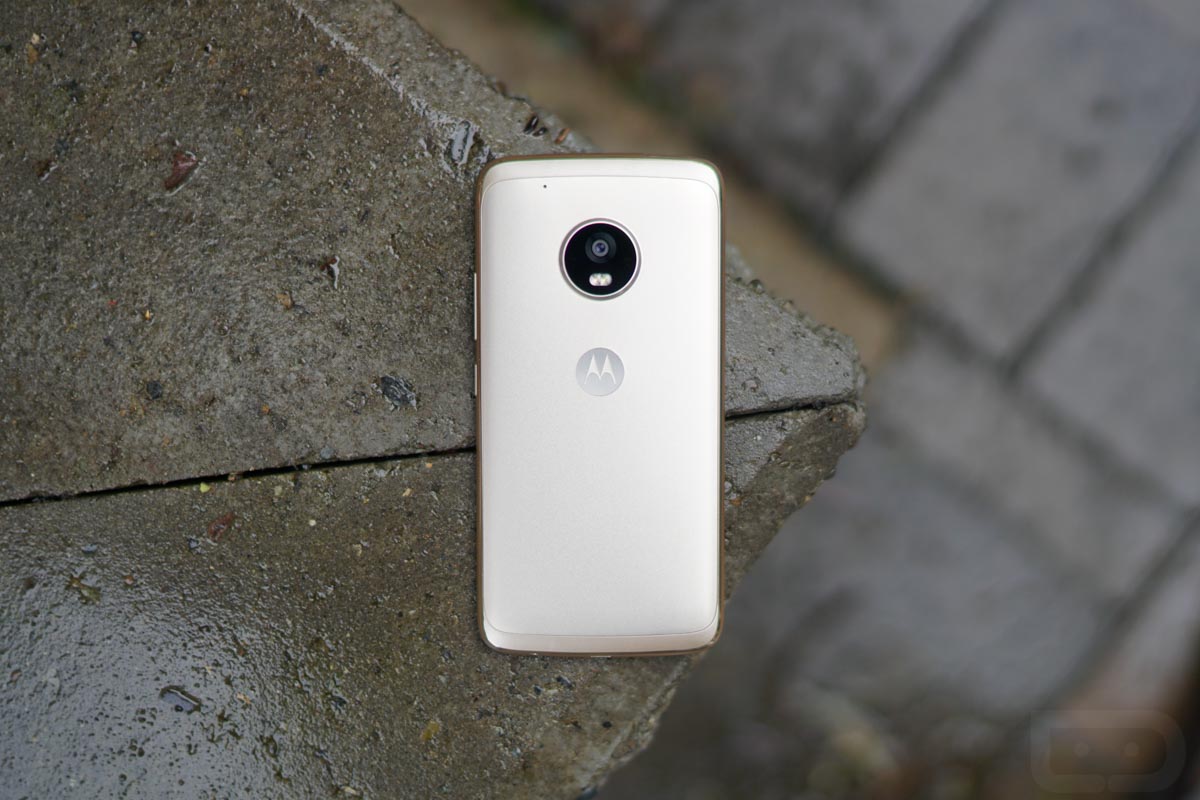 Price, availability, and connectivity
You won't find the Moto G5 Plus at a single wireless carrier in the US, yet I'm still listing its availability as a good thing. And I'm doing so because you can find it on Amazon with Prime shipping, Best Buy with same-day pickup, and a handful of other popular electronics dealers. This isn't going to be a phone that is hard to find. If you want a G5 Plus, you should be able to buy one and possibly set the thing up within a couple of hours if not less than a day. Plus, since this is an unlocked phone that sells for a couple of hundred bucks, you don't have to deal with contracts or payment plans or any of that jazz. You just buy it, slap in a SIM, and enjoy.
Now, which one to buy is going to be a challenge. Do you go with the Amazon ad-filled versions that have substantial discounts or do you keep it clean without Amazon's slime? The phones are the same either way, just some have Amazon ads on the lock screen and in notifications from time to time, while the others don't.
In terms of price differences, we're talking about the 32GB/2GB model with Amazon ads for as little as $185. You could even go 64GB/4GB with Amazon ads for $240. Those are crazy prices! Should you not want to walk around with an Amazon ad network attached to you at all times, the regular versions are super reasonable as well, especially when you consider all the specs I listed off above. The 32GB/2GB model is $230 without ads, while the 64GB/4GB model is $299.
Wondering which networks you can use this phone on? All of them. That's right, folks, the Moto G5 Plus works on all the major US carriers (Verizon, AT&T, T-Mobile, Sprint, and you favorite prepaid services).
You can buy the Moto G5 Plus right here at Amazon or here at Best Buy.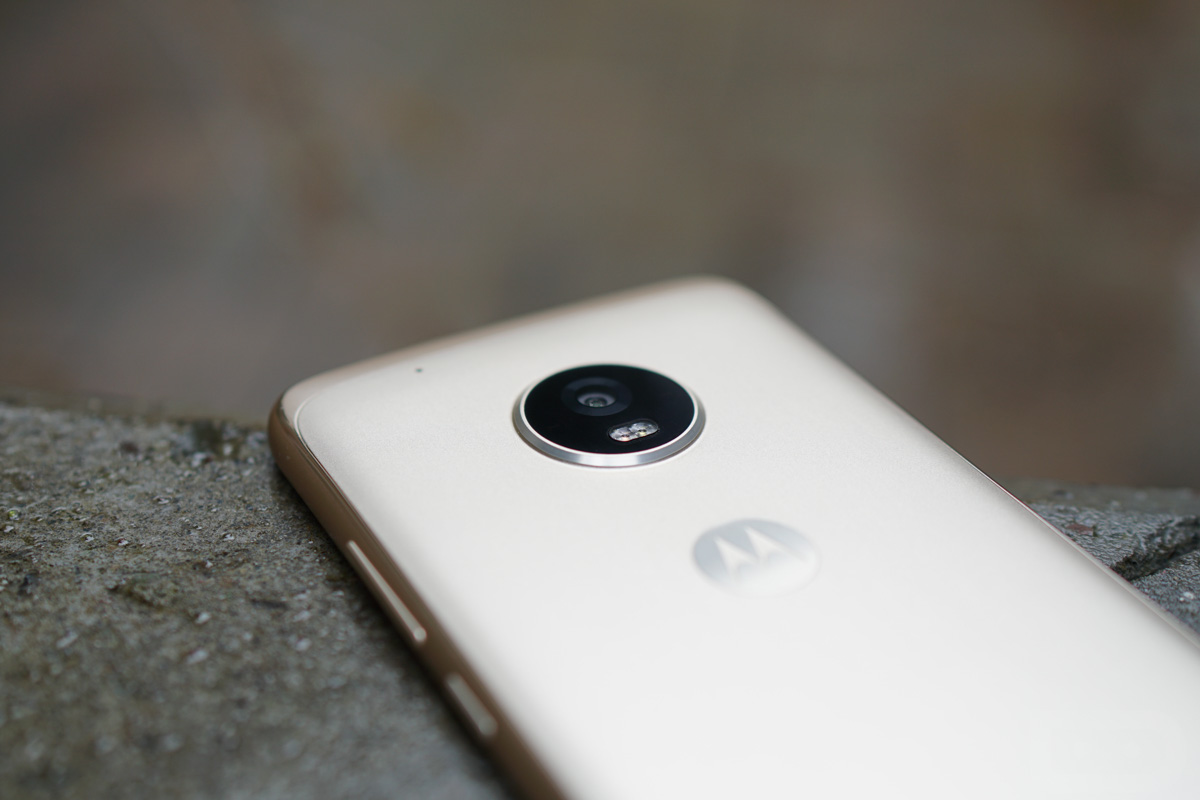 Camera
Calling the camera on the Moto G5 Plus "awesome" is a stretch, I'll admit that. However, for a phone that can be had for under $200, this camera is quite good.
The 12MP f/1.7 shooter here is more than capable in good light, solid during low-light or indoor situations (for this price), and plenty fast. You can launch it with the flick of a wrist or double-tap on the power button, focus, and fire off shots in a hurry. I'd argue that this phone is faster to launch and snap the first shot than the LG G6 is and that's a $650 phone.
As for the software, you get a typical camera layout, so everything should be mostly familiar. The camera modes don't come with any labels, though. Learning them took me some time, but I eventually figured out that you have auto, manual, video, slow motion, and panorama modes. You can adjust photo resolution down from 12MP and choose between 4:3 or 16:9 ratios. The video side does 4K at 30fps as well.
In terms of image quality, you'll know right away if you are coming from something like a Pixel or Galaxy S7 that this camera doesn't put up much of a fight. Still, even though the pictures aren't next-level sharp, I like the natural colors that are presented, the bit of bokeh you get at f/1.7, and the versatility without complete image breakdown from one scene to the next. Overall, this is a well-rounded $200 phone camera that will certainly impress you from time to time.
Here are some samples I took recently.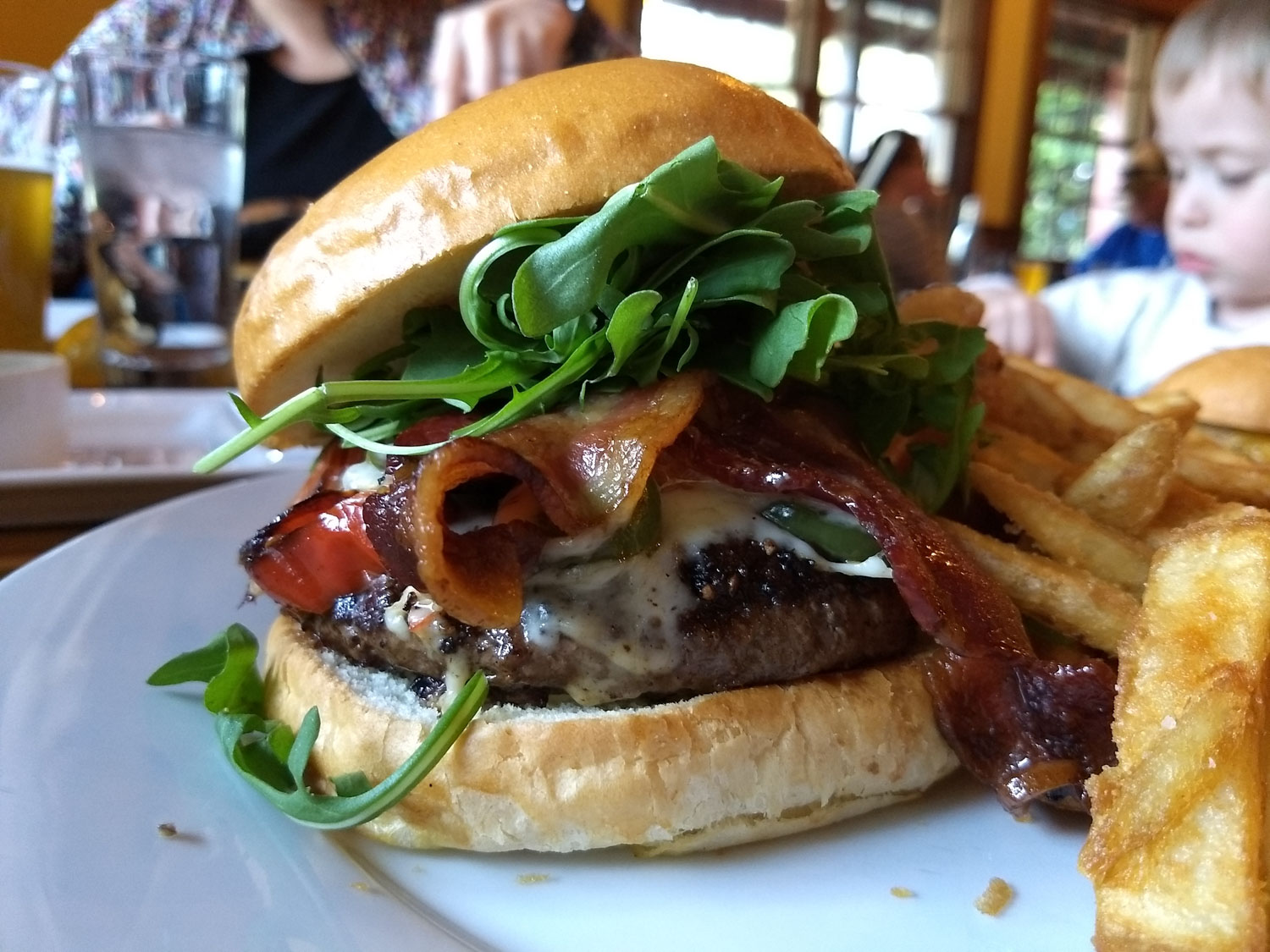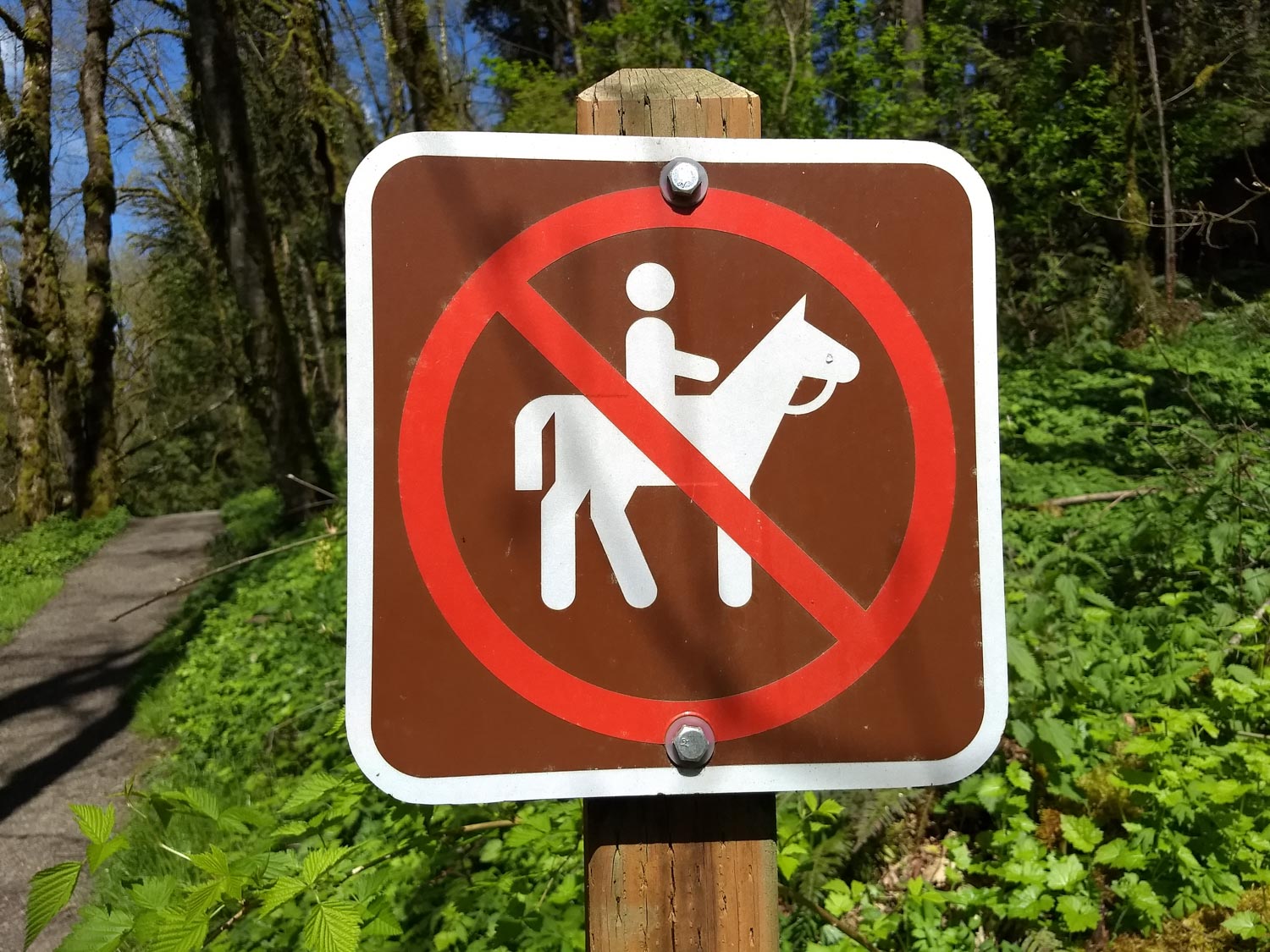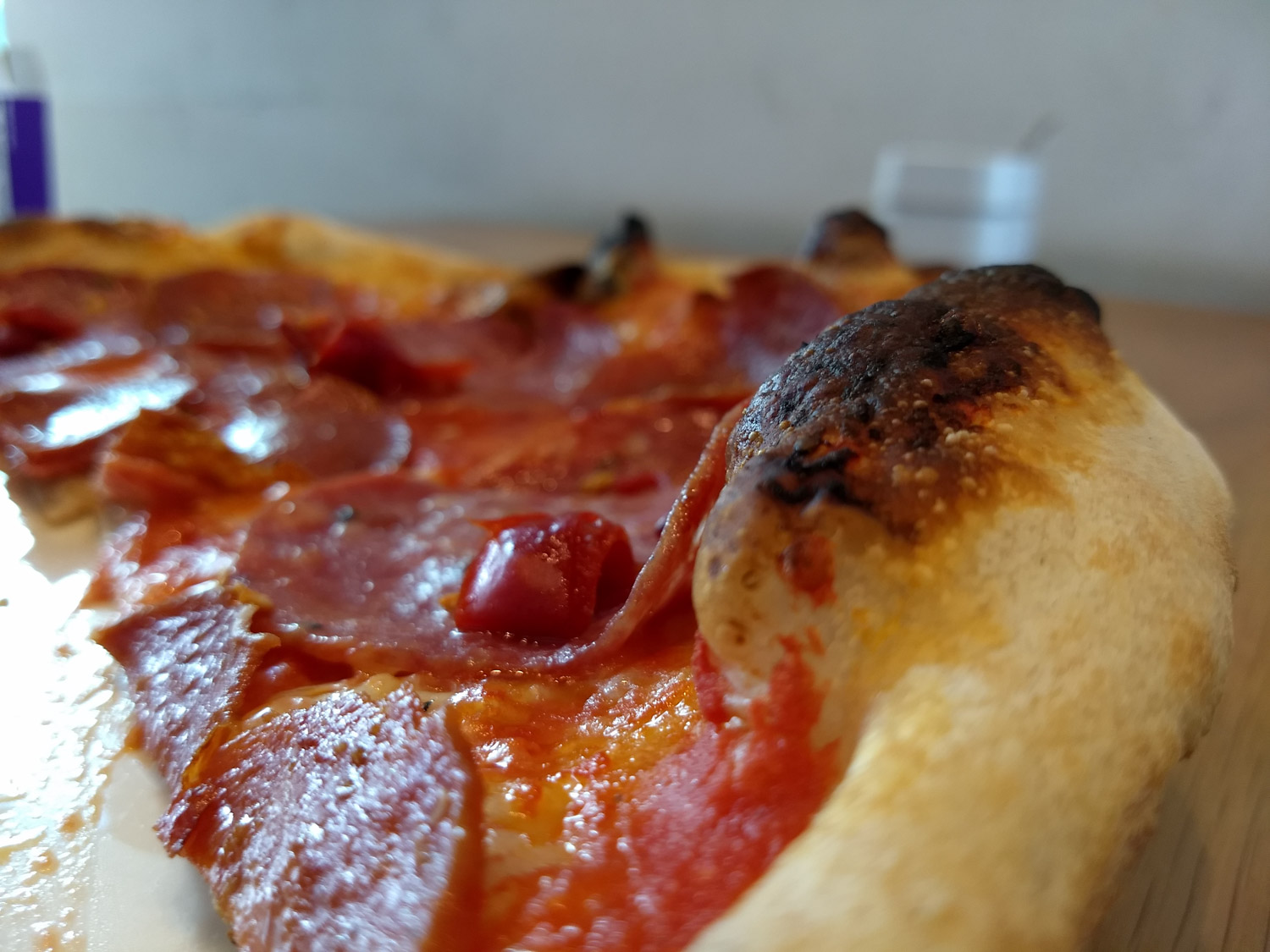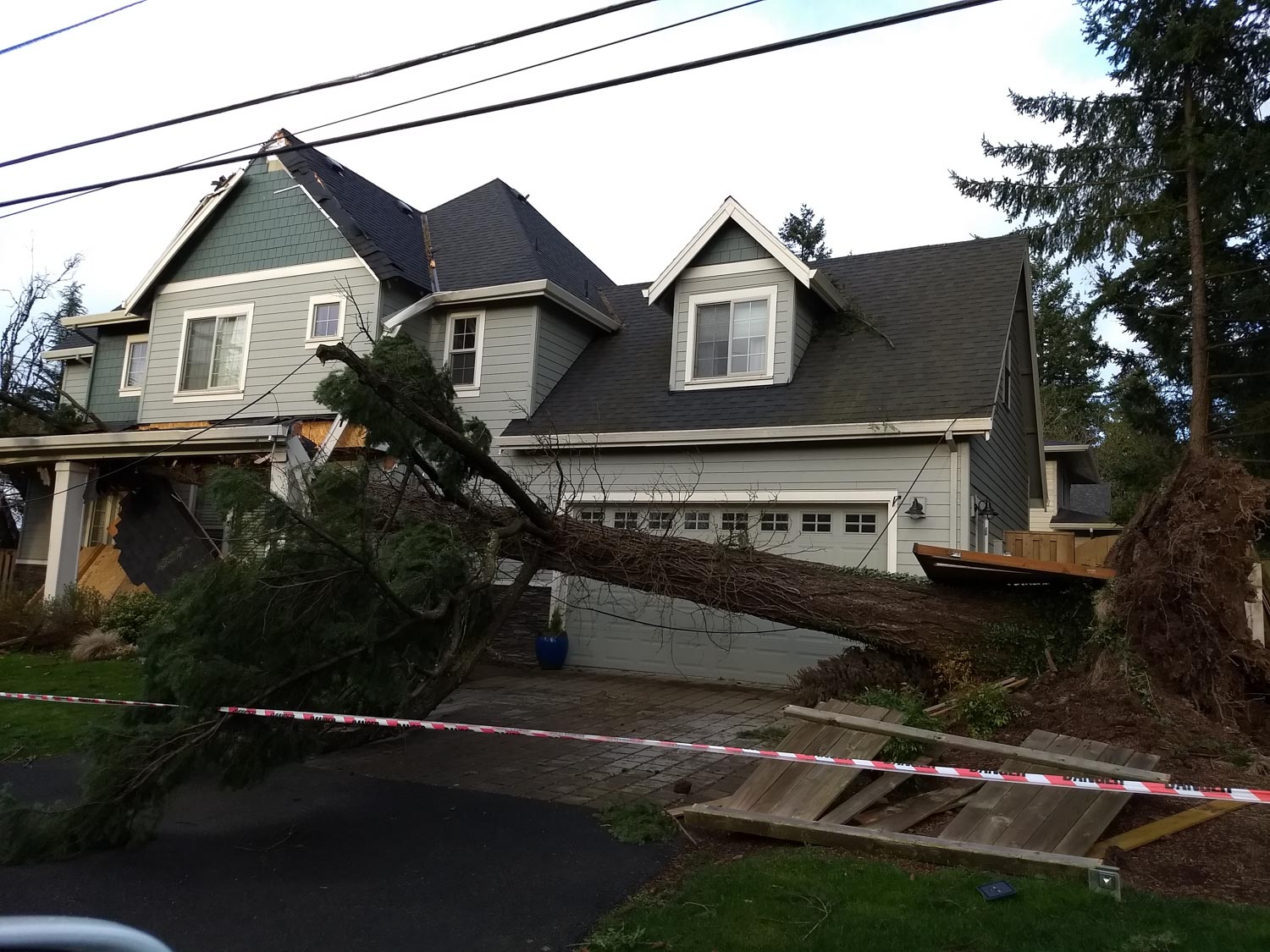 What's not-so-awesome about it?
---
Design
The Moto G5 Plus is not a looker. Even though my Zeiss glass is doing wonders for these review shots, I'd argue that this gold version that you are seeing in this review, is one of the ugliest phones I've used in years (it's quite slippery too). Thankfully, there is a silver and black model that won't embarrass you and I highly recommend looking at that version over this should you be considering the purchase of one.
I mean, look at this thing.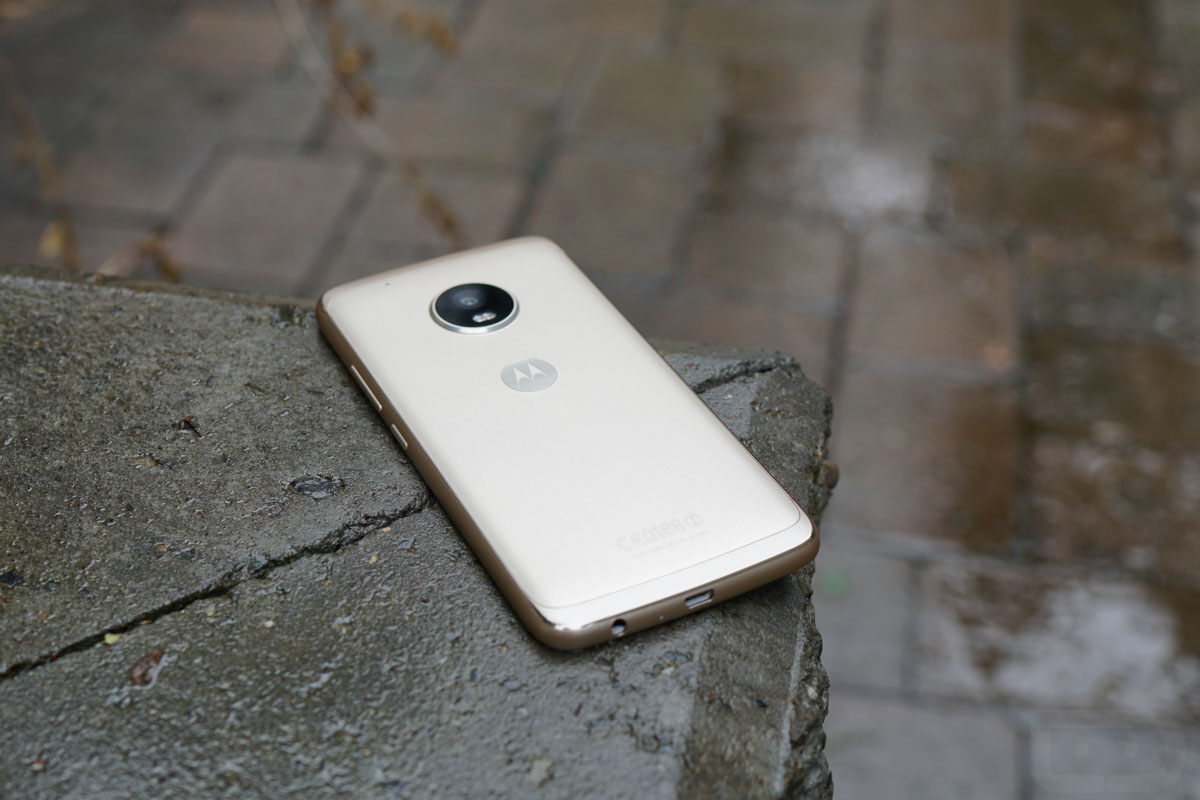 It's supposed to be metal, but you can tell that there is copious amounts of plastic or off-putting coatings all over it, in between and around the metal. It has an unsightly camera hump, massive chin and forehead, and this weird back plate that is for some reason separated into multiple pieces. I hate to be too harsh here on a sub-$300 phone, but good lord Motorola, what happened to your designers? Also, can we quit the gold already?
Again, go with the silver and black model as it won't make you into an instant honorary Trump child when owned (unless that sounds fun to you, of course).
No NFC
Can someone explain to me why NFC is the first piece of tech to get cut from everything when budget phones rollout to the market? OnePlus did it with the 2 a year ago. Most of the new Android Wear watchmakers did the same thing, even though Wear now supports Android Pay. And Motorola did it here with the G5 in all models. Even the Plus versions don't have NFC, so you'll never be able to use Android Pay if you own this phone.
That's really unfortunate, especially as Android Pay is becoming widely available these days. Honestly, I use NFC and Android Pay almost every time I leave the house to buy something. My favorite growler shop has an NFC terminal, as do almost all of the grocery stores I visit. Movie theaters have them and local Portland shops do too. Seriously, NFC is really here for us to get used to using.
Is not having NFC a dealbreaker? Eh, maybe? I guess it depends on how futureproof or current you need a phone to be. You'll need to ask yourself if you use NFC and Android Pay regularly right now or not and that should help you answer those questions.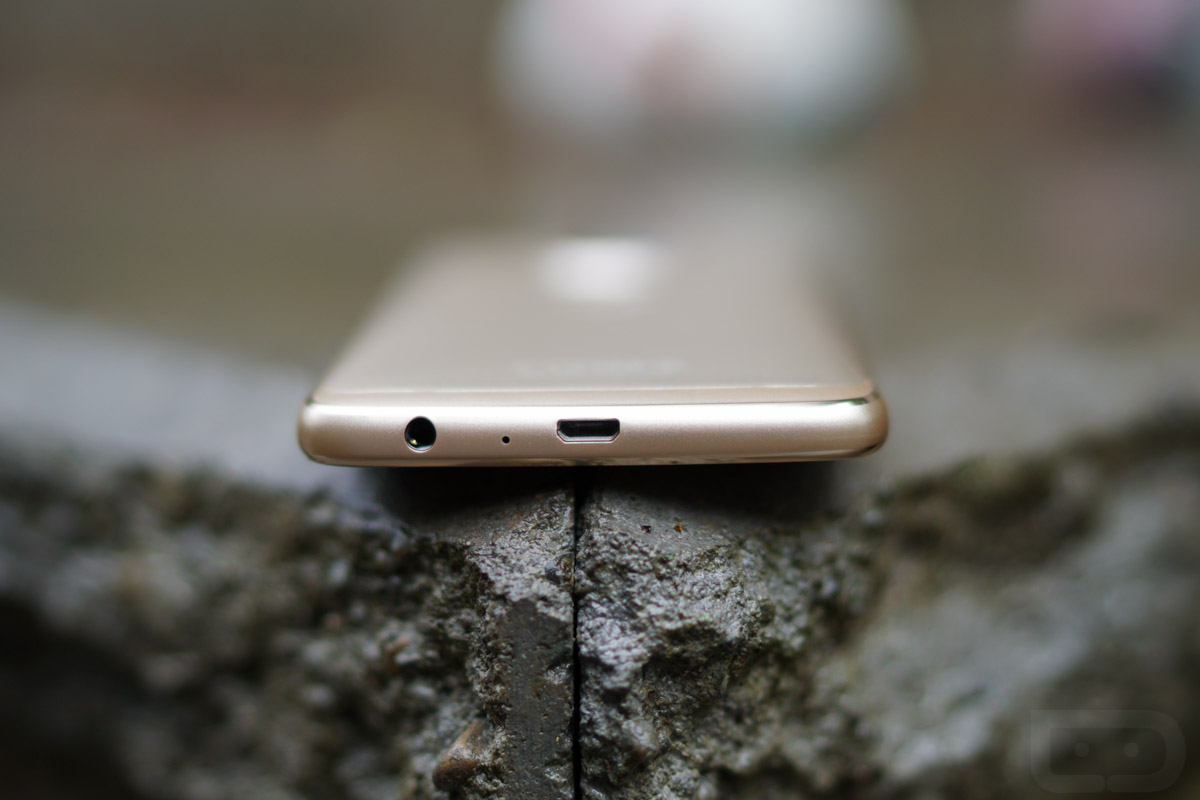 No USB Type-C
This might not matter to you at all depending on which phone you are coming from to the G5 Plus, but the fact that Motorola kept microUSB in this phone instead of switching to USB Type-C is disappointing. The rest of the world all basically switched to Type-C last year and we thought 2017 would be pure Type-C going forward, yet here is Motorola pissing us off. It's not that we don't all have a bunch of microUSB cables shoved in drawers, it's just that we should be upgrading to Type-C and the future, not hanging around in pre-2016.
As a household that has nothing but newer phones, I can tell that you the charging situation with the G5 Plus has been a pain. Both my wife and I have been using Type-C phones for months, so there aren't a lot of microUSB chargers lying around. I had to, for the first time in a while, use the damn charger that came with this phone because it was the only non-Type-C easily accessible.
Other notes:
---
Turbo Charging: This Moto G5 has Turbo or fast charging! That means super-duper fast charging of that 3000mAh battery. Not that you'll need to charge often, but it's there and the charger is included in the box.
Fingerprint reader: The fingerprint reader on this phone is quite good. It's quick to unlock, plus you can use it to lock the phone too. Motorola also has a mode that lets you use the fingerprint reader to navigate the phone (it hides the navigation buttons), but honestly, I couldn't even figure it out and almost threw the phone against a wall when enabled. I'd avoid that setting if possible.
Gallery
---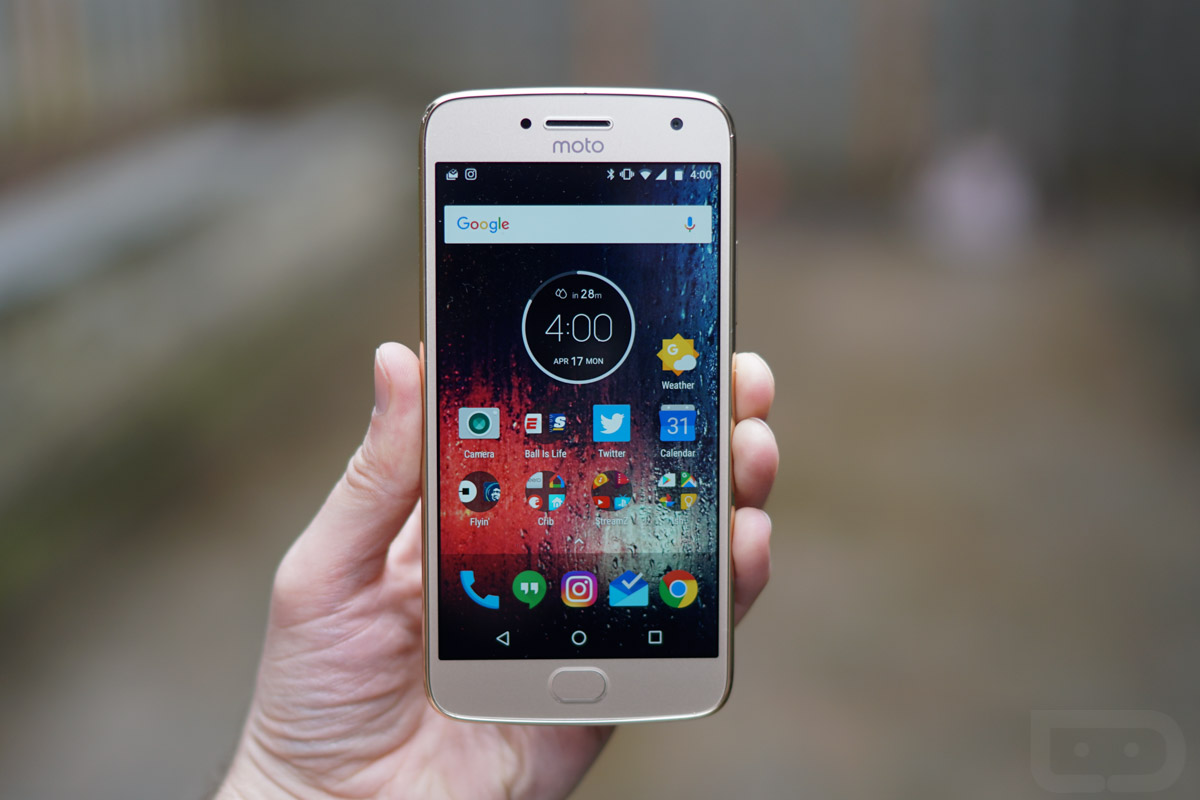 Moto G5 Plus Review: Should you buy a one?
---
Well, let's talk about this. Is your budget under $200? Then yes, buy the Amazon ad-filled version at the link below and love life. Is your budget under $300? Then yes, you'll still probably enjoy life with a Moto G5 Plus by your side, because at $299, you can even upgrade to 64GB of storage and 4GB RAM.
With those budgets, you are getting quality hardware, speedy and clean software, a solid camera experience, ridiculous battery life, and connectivity on your favorite wireless carrier.
Now, if your budget is closer to $400, then it's time to look elsewhere, perhaps at the Moto Z Play or OnePlus 3T.
Moto G5 Plus Links: Amazon | Motorola | Best Buy | Newegg | B&H Photo