Immediately after both Samsung and LG unveiled their next flagship phones this past weekend, the discussion began – which of the three (if any) are you going to buy? We tossed out polls asking not only that question, but why you might be passing on all three as well. You've given your reasons why or why not, so now it's our turn. Tim and I decided to tackle each side of the Korean match-up. As you can tell by the title of this post, I've got LG and he has Samsung.
In the post below, you'll find a handful of reasons why the LG G5 just might be the phone for you, even after Samsung took time out this week to unveil two amazing phones. You see, the G5, at least in my opinion, matches up quite nicely to the new Galaxy S7, maybe even besting it in a few areas.
This is why the LG G5 should be your next phone. 
It'll probably get faster updates
For many of you, this is reason enough to skip on Samsung's new phones. The LG G5, assuming LG keeps up with what they have done with the G4, will more than likely get the next version of Android (Android N) weeks if not months before the Galaxy S7 or S7 Edge. Samsung just barely started pushing Android 6.0 Marshmallow to some of its global devices from 2015 and hasn't even sniffed a US carrier-attached phone. LG's G4 saw Marshmallow internationally in Poland back in October and then through Sprint in December before hitting every major US carrier, including Verizon, by early February. Even the 2-year old G3 has received Marshmallow on a handful of carriers. Again, Samsung has failed to push Marshmallow to any of its US devices at this time, including the S6, S6 Edge, S6 Edge+, Note 5, S5, and Note 4.
Samsung could change how they push updates, but they've never been good at it. LG, which was once terrible at updating phones, has gotten much better in recent years. So if you want Android N within a couple of months of release, the G5 should get you there faster than Samsung will.
Removable battery
While Samsung may have included bigger batteries in the Galaxy S7 (3000mAh) and S7 Edge (3600mAh), LG stuck to what it has done for years and that's going the removable route. The battery capacity weighs in at 2800mAh, so it's not that far off from the regular Galaxy S7, yet should you drop to day-ending levels of juice, you can always swap in a full battery and be on about your day. That means less time on a charger and more time for balling out on the town with your bad-ass metal self.
Oh, and if swappable batteries isn't your thing, the LG G5 also supports Qualcomm's Quick Charge 3.0, which means you could grab up to 80% charge in just 35 minutes with a capable charger. The bottom line is that the LG G5 has a big enough battery for most, but it offers the flexibility heavy hitters require.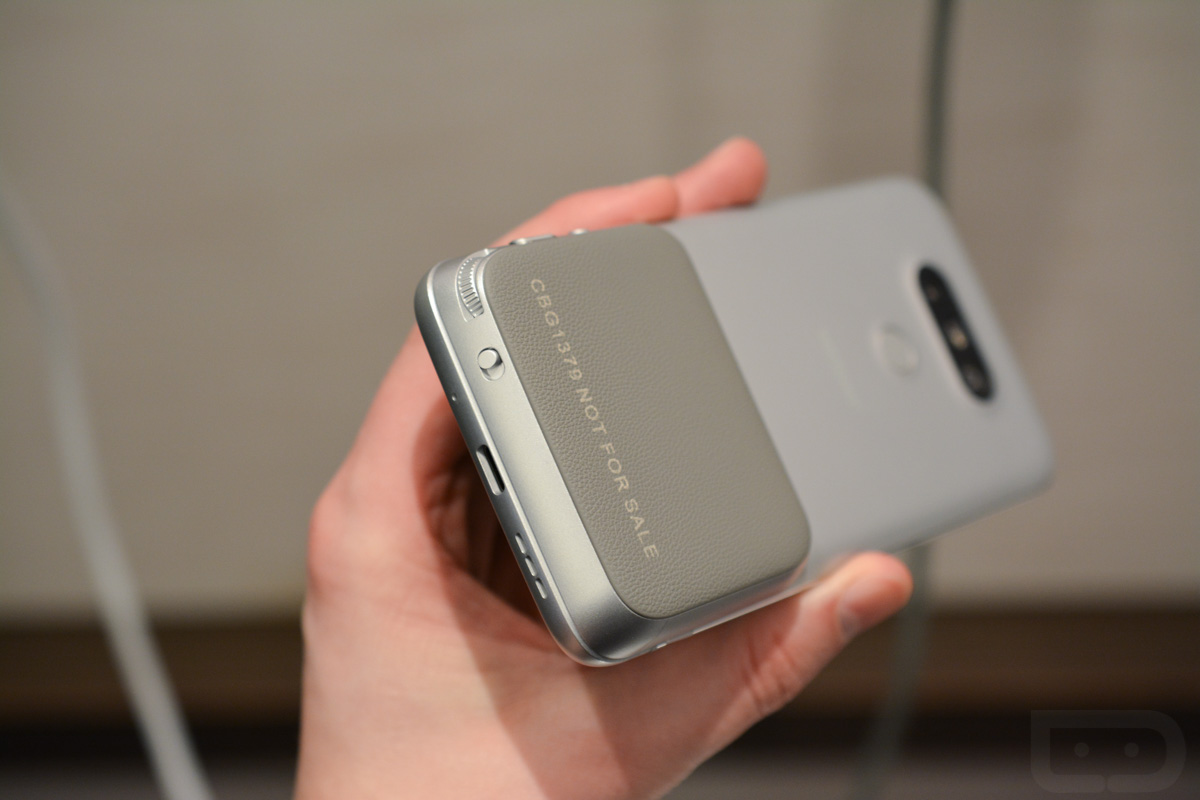 It's modular, man!
With the G5, LG tried to make a phone that can get even better over time. They built a modular phone that sees expansion and new features via removable battery slot. For now, LG is pushing out a camera grip and a Hi-Fi audio DAC, but should hardware partners see the potential, that list could grow and we could see some really cool innovations around the G5.
Today, the options to expand the functionality of the G5 are geared towards camera enthusiasts and audiophiles. The camera grip turns the G5 into a point-and-shoot style camera, with zoom controls, shutter, and video record button, all while making it much more easy to handle. It also adds an additional 1200mAh of battery. As for the DAC, we're talking about giving G5 users the ultimate audio experience by upscaling audio played to 32-bit. What other phone can do that?
Dual cameras
Because two is always better than one, right? OK, not always, but with the G5, LG tossed in two cameras to give you the opportunity to never miss a shot, or at the very least, know that you can adjust more than anyone else to get the right shot. The G5 has a 16MP standard camera that will take incredible shots on its own, but LG also tossed in an 8MP wide-angle (135-degree) shooter for those tight shots or those that include an area most cameras will struggle to capture. The cameras are aided by laser autofocus and enough manual controls to get even the most advanced photog feeling steamy.
It's not a fingerprint magnet
I spent a solid hour with the Galaxy S7 this week and needed to wipe off the fingerprints more times than I care to remember. While fingerprint issues don't seem like reason enough to skip a phone, some of us would rather own a phone with equally as impressive specs that doesn't require a t-shirt wiping every couple of minutes. The LG G5 sports a full metal body that feels great, looks great, and isn't a smudgefest. It's also likely to be more durable than the S7, which features glass on both the front and back. Sure, it has an arguably ugly dual-camera hump on its backside, but it won't gross out your friends when you hand it to them to take a quick pic of you posing in your latest sneaker pick-up.