For those possibly on the fence after this weekend's flagship announcements from LG and Samsung, allow me to make the decision a bit easier for you. Buy a Galaxy S7 or Galaxy S7 Edge. Oh, you want a few reasons why? No problem, I handle that.
In every sense of the word, the Galaxy S7 and S7 Edge are an improvement over last year's Galaxy S6 and S6 Edge. They both include bigger batteries, water resistance, expandable storage, enhanced cameras, and countless other features that, as Samsung perfectly puts it, makes them the ultimate Galaxy devices.
If you are weighing your options still, please read on. If you'd rather have reasons the G5 should be your next phone, you'll find those here.
Bigger Battery
Looking back on the Galaxy S6, it was a fantastic device in terms of overall specs and design, but no one can deny that it had its issues. For one, the battery capacity was too low at 2,550mAh. In our testing, we were lucky to go a solid morning to night without having to charge near the early part of an evening or late afternoon. As people who rely heavily on our mobile phones, this is no good. This year, Samsung not only brought back a similar, sexy design, but upped the battery to a full 3,000mAh. If that can't get us through a day, then something is wrong.
Expandable Storage
Beyond a larger battery, fans of expandable storage will be jumping for joy with the addition of microSD support in the Galaxy S7 and Galaxy S7 Edge, a feature Samsung used to be very proud of in the Galaxy lineup. For whatever reason, maybe it was a size issue or they just wanted to make more money on offering different storage tiers, this was removed on the Galaxy S6. Samsung apparently heard the cries of many and opted to bring it back for 2016. With that said, for us in the US, only a 32GB model will be available for purchase through carriers, and microSD storage cannot be used as Adoptable Storage, meaning you can't store app and game data on a microSD card. This does limit the usefulness of expandable storage. However, a microSD card can still be used to store your UHD 4K video and high resolution photographs, in addition to any data files you may need while mobile.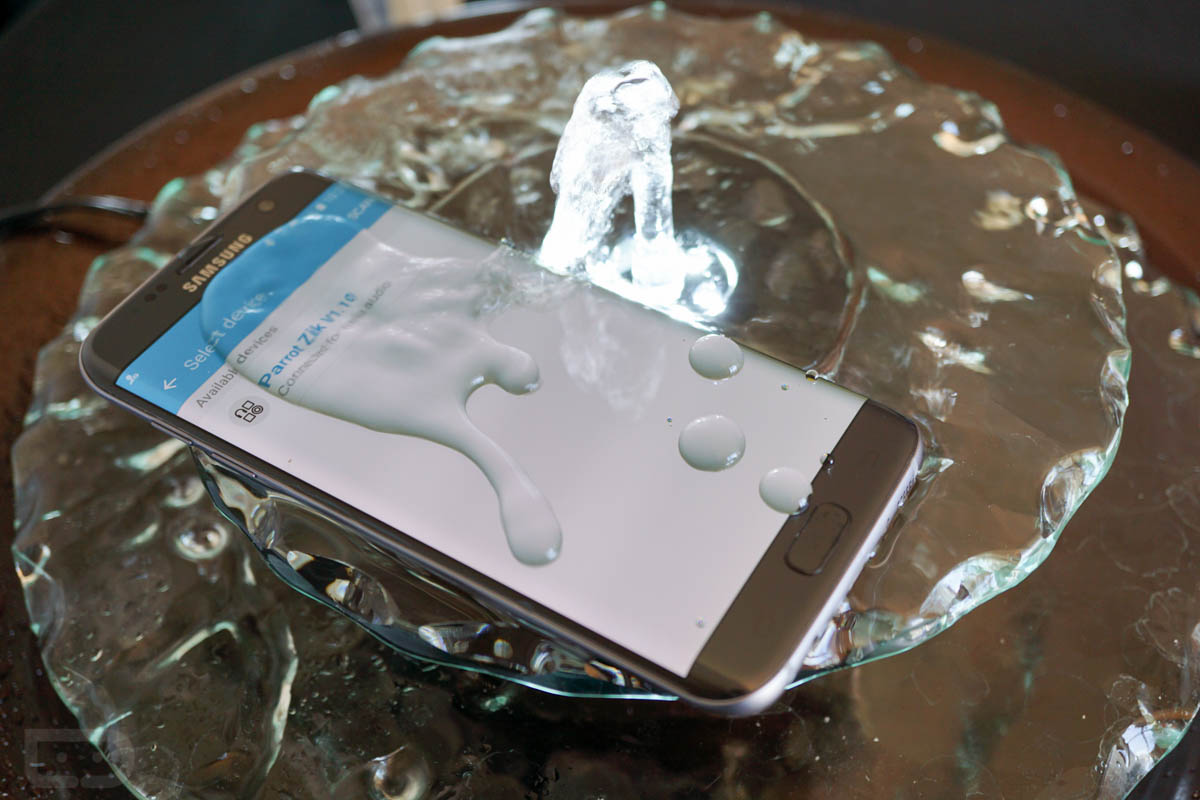 Water Resistant
Without a doubt, the 2014's Galaxy S5 may go down as one of the ugliest Galaxy phones ever created, but on the bright side, it offered water resistance to those who are prone to water damage. You could dunk it in a glass of water to show off to your friends, or you could read the news while showering – not that I highly recommend it. The point is, a feature that was actually cool was removed for the Galaxy S6, since Samsung wanted to redesign the phone from top to bottom. This included removing those hideous port covers on the bottom of the Galaxy S5. We ended up with a much better looking device in the Galaxy S6, but alas, it was not water resistant. In 2016, Samsung is bringing it back, but now rated at IP68, you can submerge the Galaxy S7 and Galaxy S7 for 30 minutes in 5ft. of water. That means you can snap underwater shots in the pool, take your sexy Snapchat shower pics, or get it dirty and wet while cooking in the kitchen. The best part is that Samsung was able to bring this IP68 rating to consumers without sacrificing the fantastic work they did at designing a great looking smartphone.
Dual Pixel Camera
As we expected, Samsung continues to deliver an uncompromising mobile photography experience in 2016. Yes, it's true, the megapixel count is smaller on the Galaxy S7 than on the Galaxy S6 and even LG G5, but don't let that number fool you. The Sony camera module being used in addition to Dual Pixel technology will allow for faster auto focus, brighter, and more crispy images in low light settings. Featuring an aperture of f/1.7 on both the front and back-facing camera, the sensors will bring in more light to shine on the enlarged pixels, which will ultimately offer better photos all around. During our short testing period, we were snapping shots off left and right with the quickness, marveling at how fast the device was able to focus on objects. Needless to say, as soon as we get this device in-house, we will perform a comprehensive camera review.
… And More
Really? You want more? Ok then. The Galaxy S7 also features an always-on Super AMOLED QHD display, Vulkan APIs for an enhanced gaming experience that consumes less battery, Snapdragon 820 quad-core processor with 4GB of RAM, fast wired and wireless charging capabilities, support for Samsung Pay, fingerprint reader, and plenty more.
Oh, and did I mention that the Galaxy S7 Edge comes in Silver? Hotness. If you feel inclined, pre-orders for the Galaxy S7 and Galaxy S7 Edge are live right now. If you want the LG G5, you will be waiting until mid-March to get a pre-order in. Ouch.