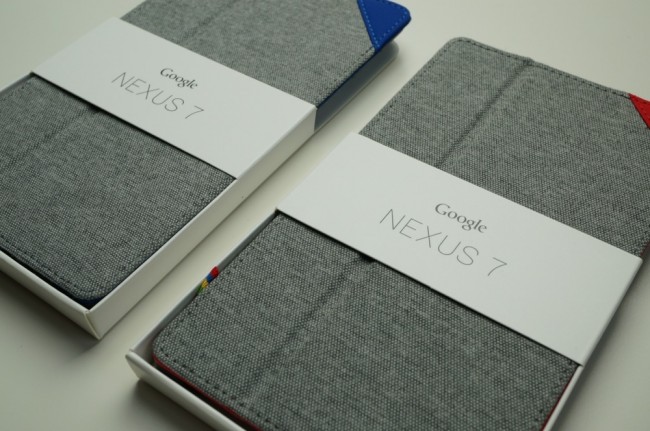 On Tuesday, Google revealed their first official cases for the new 2013 Nexus 7 on Google Play (outside of that zipper thing). The cases are actually designed by Google and molded perfectly to fit their new affordable tablet. They come in four different colors (blue, red, white, and black), are made of soft suede, and carry a premium price of $49.99, which most would argue is far too steep for a flip case. We've already highlighted a number of cases that can be had through Amazon for as little as $5, but just in case you were thinking of going the official Google route, we bought a couple to give our first impressions on. 
When you pull out one of these new Nexus 7 cases, the first thing you'll notice is how beautifully designed they are. The two-tone color scheme of the blue and red versions is quite lovely, but they also feature a little specially placed Google flag so you know exactly who made them. The interior is bright, the plastic feels more premium rubber than cheap plastic, and the fit on the device is about as snug as it gets. Actually, take a look at this picture after I tried to remove my N7 from it the wrong way. Whoops!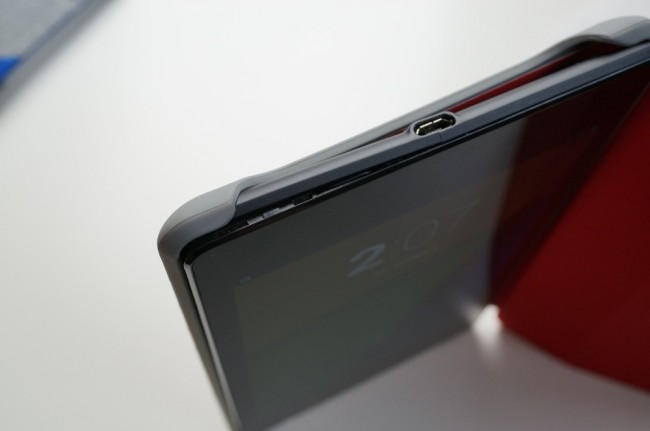 Once your tablet is dropped into these official cases, it will not be falling out. It takes work to both insert and remove your Nexus 7, which is something I think we can all appreciate. Another thing I immediately noticed was how flush the case came up the side of the device. Rather than overlapping onto the top, it sits just below the edge, so that you won't run into your case during long swipes from left to right or as you hold the tablet in hand.
They really do feel like premium flip cases for your tablet, but if you were looking for extra features like sleep/wake or magnets to hold the case closed, you won't find any of that here. There are cutouts for camera, power, volume, and the speakers, though, just none of the other goodies that have become standard are much cheaper options. They feel great with your tablet in, thanks to that fine suede, and also look amazing. That price is just going to be tough to stomach, especially when you find yourself having to reach for your power button each time you open one up.
The rest of my thoughts are in the video below.
Video
Additional Images