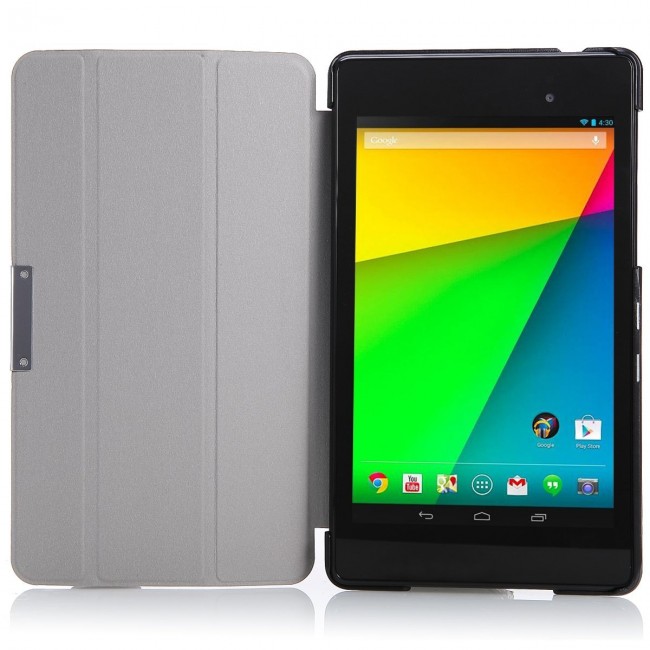 When Google first released the new Nexus 7 onto Google Play, they included a listing for an official sleeve case at a price of $29.99. That case disappeared and re-appeared from Google Play for weeks before becoming available today. It's probably a decent case, assuming you want to zip and unzip your new tablet from a case every time you want to use it. For those who don't want to spend $30 on a zip-up sleeve, we thought we should point out that Amazon has all sorts of case alternatives, many of which that retail for less than $10 – some at $2.98. 
The first I'd highlight is the Poetic Slimline case that will be released on August 23. I have the Nexus 10 version of this case and absolutely love it. At $7.95, and in a variety of colors, you really can't go wrong here. It's similar to the smart covers that Apple introduced a year or so ago with the iPad, meaning it has a foldable cover that can be used as a stand. But this case steps up the game a bit by also attaching a form fitting plastic back to your tablet to give you some real protection. There are port cutouts everywhere you need them, plus the faux-leather material used makes it feels like a high-end product.
With over 1,000 reviews on Amazon, the Poetic Slimline for the original Nexus 7 and Nexus 10 carries a 4-star rating.
Two other cases you may want to check out are the MoKo and the rooCase. The MoKo is a lot like the Poetic Slimline, but offers even more colors and a slightly cheaper starting price of $4.99. The rooCase on the other hand is a multi-angle, spinny, clippy, ultimate toolbox of a case. It starts at a ridiculously low price of $2.98 and also comes in a handful of colors. I've never personally used either MoKo or rooCases, but they sit at 4-star and 4.5-star ratings, respectively.
If you want a sleeve, Mivizu Shell runs $14.95 (with Prime shipping), and looks all sorts of legit in terms of protection. It also has extra pockets for storing accessories.
We've got all three cases on order and will report back with our findings once they arrive.
Amazon Links:  Poetic Slimline ($7.95) | MoKo Case ($4.99) | rooCase ($2.98) | Mivizu Shell ($14.95)
Play Link:  Nexus 7 Sleeve