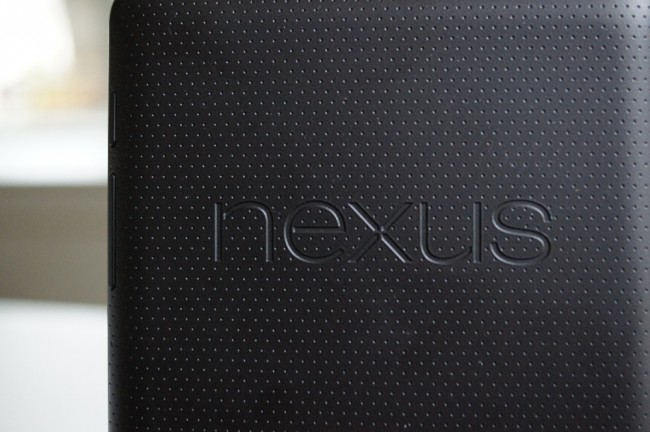 The new Nexus 7 is on its way, that much is certain. We also think we know what it looks like for the most part, that it'll be priced at $229 (16GB) and $269 (32GB), that retailers are expecting display units as early as July 20, and that Google will more than likely unveil the 7-inch tablet on July 24 at a press event in San Francisco. But what about specs? We've seen some, but a new leak points to a couple of additional features that we had not yet heard of. 
According to a leak over at Engadget, we could be looking at a 1.5GHz quad-core processor (thought to be a Snapdragon S4 Pro), 7-inch display (not new), dual cameras (5MP on the rear), and Android 4.3 (not surprising). In terms of new features, this short spec list shows a SlimPort that supports 1080p output for playing HD content through bigger displays. It also mentions wireless charging, something the Nexus 4 currently has.
We'd love to see wireless charging, but if that means that we have to wait 6-8 months for Google to release a specific wireless charger for this tablet, we'll pass. Unless of course, that the Nexus 4 charger somehow works with it.
Ready for the new N7?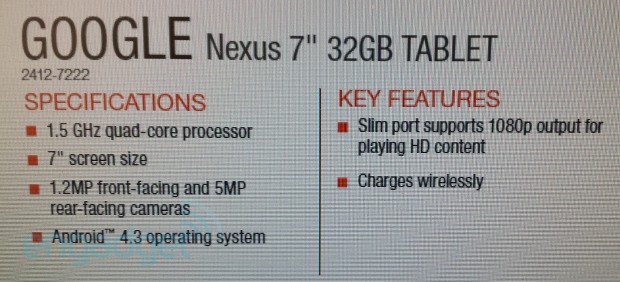 Via:  Engadget
Cheers Scott!