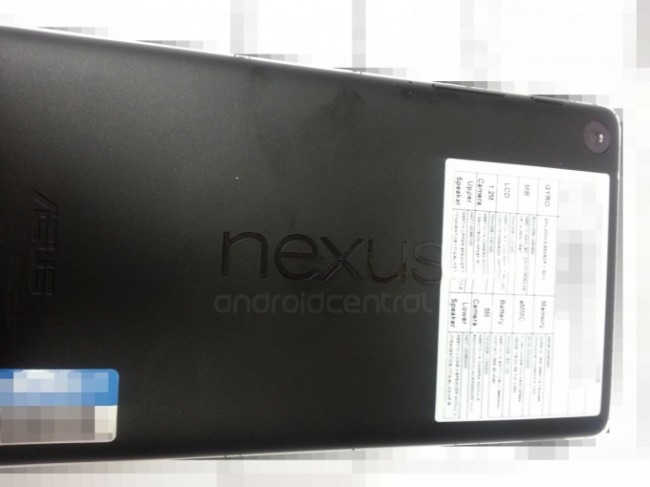 Can we officially dub July 17 as "New Nexus 7 Leak Day"? Starting with pricing leaks this morning, followed by the scheduling of a Google Event for next week and retailer inventory dates sneaking into public view, we now also have a first look at the Google-inspired 7-inch tablet. In a series of photos, one of which includes a sticker listing out specs, there may no longer be any surprise to this device. 
According to a set of leaked photos (plus a video), we're looking at a device that looks almost identical to last year's Nexus 7, aside from an adjusted placement of the "Nexus" logo, addition of a rear camera, and the disappearance of the faux-leather backside. But the overall shell and front side look identical, including the placement of the ports and buttons.
In terms of specs, the device still rocks a 7-inch display, however, this leak didn't include a mention of the screen's resolution. We're also looking at a Snapdragon S4 Pro processor (not surprising since the Snapdragon 600 rumor was thought to be bogus from the get-go), 1.2MP front camera, 5MP rear camera, and what is being listed as 4GB of RAM. The RAM sounds a bit high, especially if this tablet is going to drop in at an insanely low price of $229, so don't be surprised if that's wrong and we're looking at 2GB.
And that's that. How does she look?
Via:  Android Central
Cheers Open1Your1Eyes0, Damian, Rashad, and Tony!