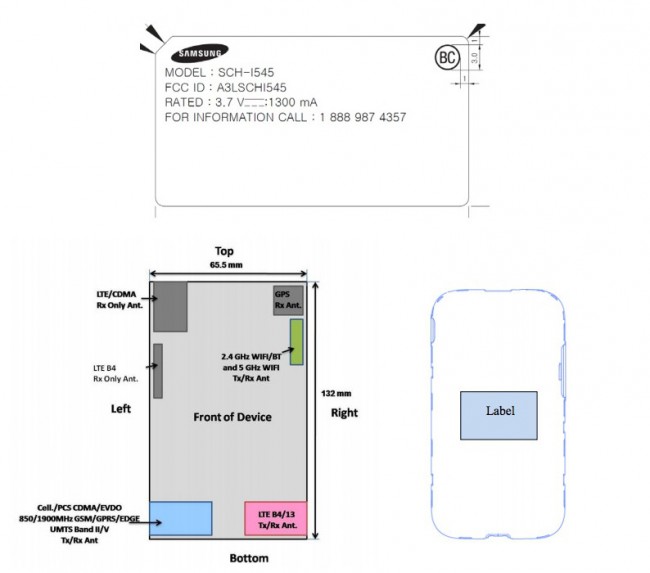 After Samsung announced the Galaxy S4 back on March 14, we heard comments almost immediately from AT&T and T-Mobile, since both plan to carry the device. T-Mobile has said that they plan to have the device available by May 1, while AT&T and US Cellular will kick off pre-orders on April 16. But one carrier in particular who has remained silent on the matter, is Verizon. For whatever reason, they didn't acknowledge the device, haven't mentioned a pre-order, and for the most part, have been silent outside of a Tweet here or there from their Twitter accounts. It's sort of odd. This is the biggest Android phone of the year after all. You can't tell me that if Apple stood on stage and announced the iPhone 5S, that Big Red wouldn't have an entire landing page and pre-order site setup and live before Tim Cook could even exit the stage.
None the less, their variant of the Galaxy S4 cruised through the FCC today under model number SCH-I545. There isn't anything new in the filing, but it does list out LTE at both 700MHz and AWS frequencies, CDMA, and some global HSPA bands, leading us to believe that it will be global-ready.
And that's about it. The only rumored date to cross our inbox is May 23, a full month after the rest of the carriers are expected to at least begin selling it.
Via:  FCC | Engadget
Cheers Open1Your1Eyes0!