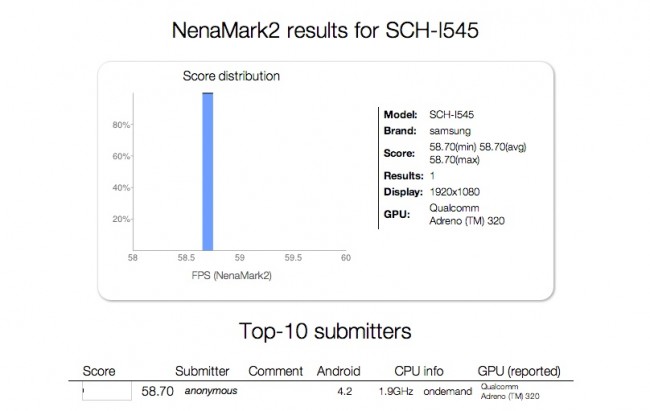 A Samsung device by the model number SCH-I545 has been listed in a new benchmark over at Nenamark, leaving us with one question – is this Verizon's Galaxy S4? We ask simply because the Galaxy S3 on Verizon was the SCH-I535 and Samsung typically follows a similar model number scheme when releasing new versions of the phones. 
There is a chance that this could be some other Samsung device, since we have seen other Sammy devices on Big Red with similar numbers, like Galaxy Nexus (SCH-I515), Charge (SCH-I510), Note 2 (SCH-I605) and Stratosphere 2 (SCH-415), but that seems unlikely. What else would Samsung release these days other than their next Galaxy? They seem to be all in on the Galaxy brand and wouldn't make much sense for them to release another phone to Verizon under say, the DROID brand.
The specs, which we can grab from the benchmark, suggest it has a Qualcomm Snapdragon S4 clocked at 1.9GHz, an Adreno 320GPU, Android 4.2, and a FHD 1080p display. Verizon isn't mentioned specifically, but again, all of Verizon's Samsung phones over the last couple of years have started with "SCH" in the model number, so we'll also assume it'll have 4G LTE.
It seems a little odd that the device wouldn't have some next-gen Exynos processor from Samsung, but like last year at this time, Qualcomm may have the best available chipset for now.
Previous rumors have suggested that the display will be a 4.99″ FHD Super AMOLED display.
Keep in mind that this benchmark doesn't necessarily mean that the device is just around the corner from a launch. For all we know, the device is still in testing with a launch happening some time in the Spring.
Via:  Nenamark | Blog of Mobile