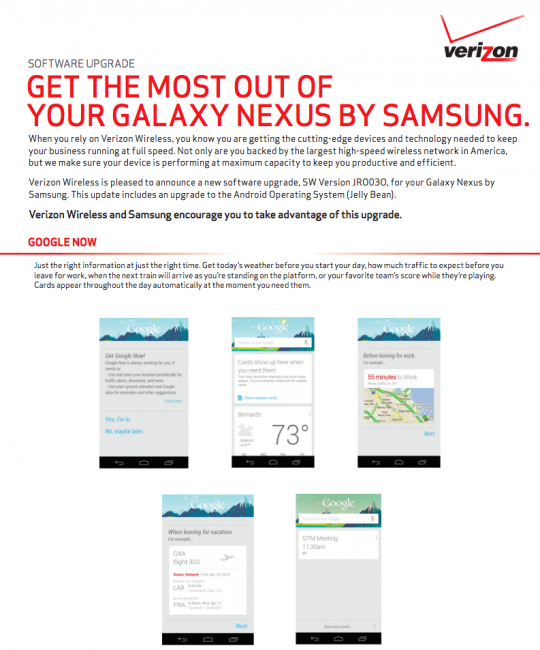 It's official. The Jelly Bean (JRO03O) update for Verizon's Galaxy Nexus has been approved and should be available to everyone shortly.
If it hasn't popped up on your device yet, we recommend that you check with WiFi turned on, as the pop-up screen for the update says that it is only available via WiFi until October 1. Support docs also mention that this is a WiFi update. If it's still not showing up with WiFi on, try the Framework clearing trick that has worked for many in the past.
Framework trick:
1.  From your phone, head into Settings>Apps>All.
2.  Search for  Google Services Framework.
3.  Once found, tap on it and choose "Force stop."
4.  Then choose "Clear data."
5.  Back out of Apps to your About page in Settings and check for the System update.
If that doesn't work either, there is a manual way to update it, which we have posted here.
As you can see from the support docs, this is indeed the Jelly Bean that you have all been waiting for. Google Now, new Voice Search, better notifications, a better keyboard, smoother transitions, more intelligent widgets, sharing photos and videos over NFC, and improved camera functionality is all included.
If you want to watch a full Jelly Bean overview, check out the one we ran through on the Nexus 7.
The update is 146MB in size.