Is the Jelly Bean (Android 4.1.1) update actually rolling out to Verizon's Galaxy Nexus at this time? According to the dozen or so emails in our inbox from readers who are claiming to have received it, we are starting to wonder if it is. The Build is JRO03O, which is the same build that popped up as a test build a few weeks back. You still can download it directly from Google if you'd like.
Verizon hasn't mentioned that the update is rolling out, so we'll have to ask you to check your phones and let us know. My Galaxy Nexus is already running JRO03O, so there is no update to be had on my end. 
If you would like to try to force the update, try this set of instructions:
1.  From your phone, head into Settings>Apps>All.
2.  Search for  Google Services Framework.
3.  Once found, tap on it and choose "Force stop."
4.  Then choose "Clear data."
5.  Back out of Apps to your About page in Settings and check for the System update.
Update:  The pop-up for the update mentions something about the update being "Via Wi-Fi only until Oct 1." So, if you want to check for the update, I would suggest having WiFi on 1st, and if it still doesn't show up, trying the instructions above with WiFi on. Interesting that they would do something like this, but again, today is iPhone 5 launch day and they probably aren't interested in the tiny G-Nex world hammering on their LTE towers.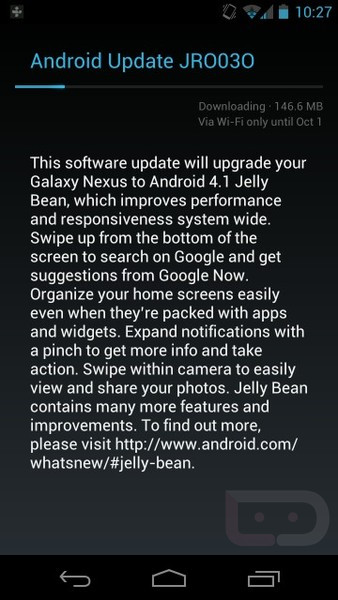 Update 2:  It's official, the instructions for the update are up:
Update:  It's official!
Let me know in the comments!
Cheers Rory, Kevin, Will, Shawn, Justin, @rick_trujillo75, @POTIN1 and more!