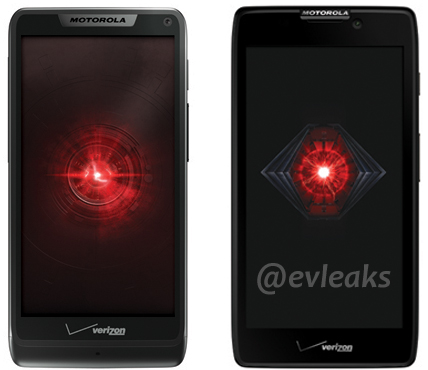 Here are the official press shots for the DROID RAZR M (left) and DROID RAZR HD (right). "But, but, where is the edge-to-edge device?" We told you over the weekend that everyone was blowing this "edge-to-edge" rumor out of proportion and that this supposed tipster was referring to nothing more than the RAZR M, something you should have seen in the various leaked photos of the device over the last couple of weeks. Because it does indeed have a somewhat edge-to-edge display, unfortunately for tech enthusiasts, that display is only qHD.
On the other hand, we have the RAZR HD, which will be a much bigger device than the RAZR M, even if it doesn't appear that way in this picture. You have seen it as well. It's the big dog in this fight.
Both devices are expected to be unveiled in about 2 hours. Our live blog will be up here, shortly.
Via:  Twitter