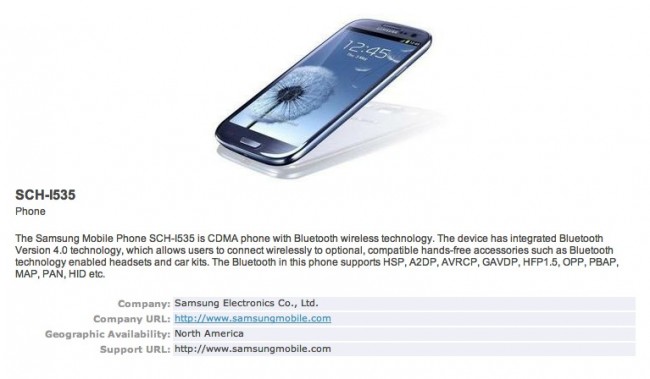 The SCH-I535 aka the Samsung Galaxy SIII variant expected to launch with Verizon, cruised through Bluetooth SIG recently. While this doesn't necessarily mean that the phone is on the verge of a release, it's definitely a good sign of things to come. Bluetooth SIG is sort of a certification program for phones that include Bluetooth technology and is usually one of the items on a launch list that we like to see checked off.  
After watching the unveiling of the device in London a few weeks back, we were told that the device would launch overseas at the end of May and possibly in North America by June. With things like Bluetooth SIG appearances already happening, there is a chance that Samsung and the U.S. carriers could end up meeting that time frame.
What do we know about Verizon's variant? Well, it should be incredibly similar to the international version of the phone (our hands-on), but instead of the quad-core Exynos processor, it will likely have a dual-core Snapdragon S4 to play nicely with LTE and because Samsung probably can't keep up with production of their quad-core chipsets. We still aren't sure if they will remove the physical home button and go with on-screen soft keys or all hardware keys, but a version of the GT-I9300 (international SGS3) has been on video a handful of times with on-screen keys, so it certainly seems like there is a version like that on the way.
Whether you were blown away during its unveiling or not, there is no denying that this phone will be a massive global success.
Via:  Bluetooth SIG | Phandroid