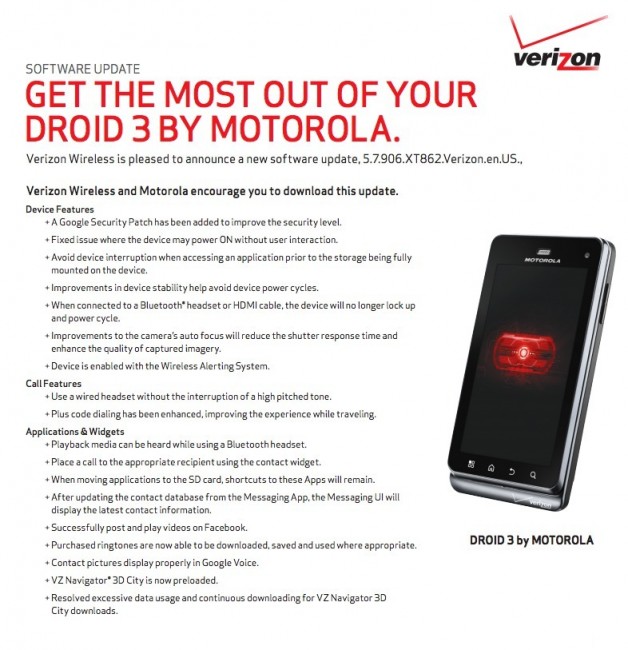 We mentioned this morning that a soak test was in the works for the DROID 3, however, it appears now as if the software in that test has already been given the green light. The changelog for build 5.7.905 5.7.906 has been posted and it's a doozy. Weighing in at 224MB, this should fix any bug that D3 users may have been experiencing. Unfortunately, this phone is not on Moto or Verizon's list of those expected to receive Ice Cream Sandwich, so even at that size, don't expect this to be a game changer. You will see updated bloatware, security patches, and a whole bunch of bug fixes.
Update:  The update will actually be 5.7.906. Verizon has changed the support doc to reflect this. There aren't any changes from .905 to .906 that we can tell.
What we are finding odd, is that this update leaked some two months ago. Also, the support docs for it from Verizon were created in February, so we have to ask, "What was the hold-up?" I don't want to question Verizon too much on their update practices since I don't know all of the dirty details, but really, a 2 month delay? We saw this last week with the Xperia Play too. Is their testing group overwhelmed and simply cannot get to these updates to test them thoroughly? You have to wonder, especially knowing that the Galaxy Nexus has gone 5 months without an update, leading Android devs to question the carrier approval process.