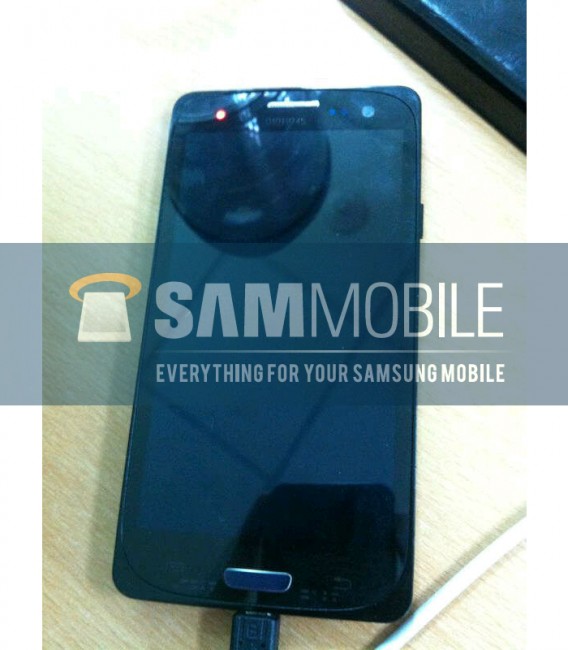 The folks over at SamMobile believe with all their heart that the phone above is 100% the Samsung Galaxy S3. As you can see, it looks exactly like the other dummy box leaks that we have seen over the last couple of weeks. According to their source and blurry photos, this is the GT-i9300, runs Android 4.0.4 and received a kernel that was built on April 23. Clearly the box around the outside of this will be gone when the phone is unveiled, leaving a Galaxy Nexus-esque phone to drool over.
The odd thing again, is that the home button simply looks like a sticker, but if you check on each side of it, you can faintly see back and menu buttons. At the end of last week, we saw a device that reportedly had the dummy box removed that also had a physical home button and menu/back keys. Why on Earth Samsung decided to forgo on-screen soft keys is beyond us. We also aren't sure how Ice Cream Sandwich is going to work with a dedicated menu button and no task switcher. Maybe they built the task switcher into a home button or menu long press as they did with the Galaxy SII?
In related news, the source of these pics claims that there is also a GT-i9800 device in the works and that the i9300 is "just the beginning." The model number of i9800 has been rumored in the past along with i9300, so I guess it's fair to say that anything is possible at this point. Ready to start speculating about a second device?
Thankfully, we will know it all in 2 days.
Via:  SamMobile