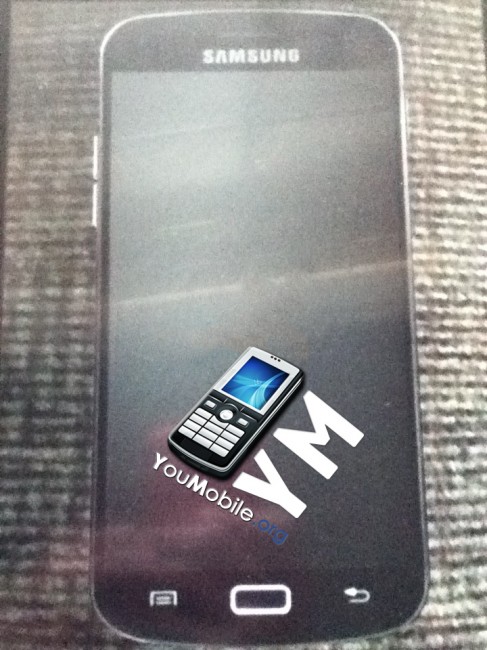 Last night, the picture you are seeing above was spammed out from a "source" to who knows how many different sites. It is said to be the "next Galaxy" or what a Samsung executive referred to during their Q1 earnings call as the "Galaxy S3." The picture certainly mimics the design we saw yesterday in a leaked user guide, with a physical home button, volume rocker on the left, and back/menu hardware keys. But I'm not going lie, this just confused the hell out of the whole situation. Let me explain. 
We have seen a phone by the model number GT-i9300 leak a handful of times now with on-screen soft navigation keys in some sort of "dummy" box to hide its real design. But then this phone surfaces with a physical home button and hardware back and menu keys and now this is supposed to be it. So which is it because you can't have both.
On one hand, I'm not completely buying into this being the phone. First of all, Samsung created the Galaxy Nexus and chose to go with on-screen soft keys while also knowing that Google had done away with the menu button in Ice Cream Sandwich, instead replacing it with an action overflow menu for apps. So this design, goes directly against that idea which they helped initiate. This phone didn't take the HTC approach to ICS either which has hardware task switcher, home and back keys and instead went with the Galaxy SII lineup of menu, home and back. Makes no sense.
On the other hand, the Galaxy SII was a global sensation, so if you release the next version and change up the navigation sequence for those millions of users that will likely switch over to it, you could run into some early adoption issues. Maybe Samsung said, "Last year's phone was such a hit, let's not change it all up drastically and scare everyone." Seems silly, I know, but look at Apple. They keep pumping out 3.5″ display devices with the same tired old design.
Overall though, I really like the design of this device, with its almost edge-to-edge display and rounded Galaxy Nexus-esque body. I'm just not a fan of the hardware navigation keys.
Note:  As has been pointed out, you can see a reflection of the person's hand on the carpet. That's not humanly possible. Well, unless they were taking a picture of a picture of a phone on a carpet on a screen…if that makes sense. Or it could be behind glass. Could be a troll looking to take over the internet for a day. If so, they did a nice job. The good news is that we'll know for sure next week.
Note 2:  Another reader tossed out the idea that those aren't real buttons and are stickers. In the "dummy" box units, we definitely saw stickers or pieces taped onto the device so that it at least mimicked the Galaxy SII in form factor. Since this phone has its screen off, why are the physical buttons lit up? Or are they lit up? Another twist to add to the story.
Thoughts? Real or fake? Like or hate?
Via:  YouMobile
Cheers to everyone who sent this in!