Soooooo, about that Galaxy Nexus 4.0.4 update that you are all waiting for – is it ready to roll out as build IMM76K? According to one of our readers, the update appeared for installation this morning on a replacement phone that he picked up over the weekend. He claims to be running stock Android 4.0.2 and to not be rooted.
As anyone in this business knows, readers try to deceive blogs all of the time, but the date on the kernel, the brand spankin' new radios, and the newer build number over any other Galaxy Nexus including the Sprint and GSM versions, leaves us to believe that this may be real after all. We keep hearing "early May" for a release of this update and being May 1, that certainly matches up. The odd thing here is that he is the only one to have mentioned it, anywhere, on the internet.
Stay tuned for more. And be sure to check your phone immediately and throughout the day to see if you are prompted as well. 
Update:  After hitting "publish" on the post, another reader received the same update.

Update 2:  A handful now have it, some with screenshot in the comments:
Update 3:  Store unit with it: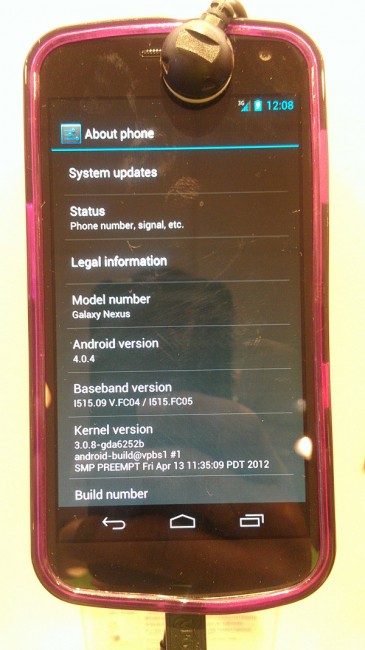 Update 4:  Folks, if you are prompted, we need pictures of the pop-up that is notifying you of the update. Also, install a logcat app so we can find the location of this file. Or better yet, when you are notified that it is ready, email us before installing it.
Update 5:  A lot of talk in the comments about VZW support confirming that an update is rolling out to select devices with a mass rollout happening later in the week or even month. That's usually how updates work, but feel free to keep checking. We'll continue to update this post as we have more.
Update 6:  If you are following along in the comments then you are probably seeing the same trend we are – VZW corporate devices are all seeing the update. In our update above, we posted a picture of a store device with the update and were told that all of them had it available to be downloaded. Since then, multiple DL readers have been in stores and noticed that the display devices all have the update available as well. Here is the prompt to update which lists it as 39.8MB in size:
Update 7:  DOWNLOAD LINK.
Cheers Scott!