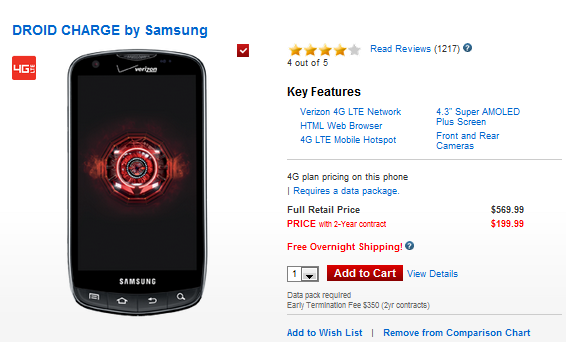 So as of Friday, Verizon cut the price on the DROID Charge all the way down to just $199 on contract. Anyone wondering why?  I'd say it's because the Samsung Galaxy Nexus is only a couple of weeks away and is reportedly the Charge's replacement.  (We know in the grand scheme of thing that it is much more than that, but it's model number makes it look that way.)
It's pretty well known around these parts that the next Nexus is headed to Big Red first as the SCH-I515. And of course, with the Charge being the SCH-I510, it only makes sense that VZW would look to move all remaining stock since there will be no reason to purchase this phone once the G-Nex is out.
For those of you looking at a phone with a beautiful Super AMOLED Plus screen though, you may want to…well, I can't in my right mind tell you to buy this phone now, knowing what is coming.  A leak to our inbox pegs the G-Nex for a 10/27 launch, but that date could easily change over the next few weeks.
Buy.
Cheers to everyone who sent this in!