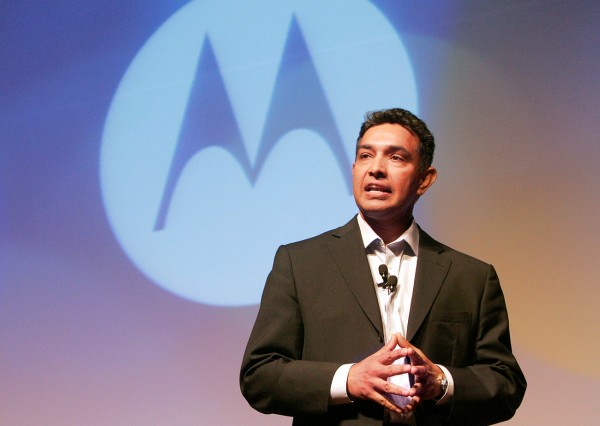 Motorola CEO Sanjay Jha spoke this morning at the Oppenheimer Annual Technology & Communications Conference, delivering on a variety of questions over a 30 minute period.  He touched on the importance (or lack there of?) of the DROID Bionic, where they plan to go globally in the near future through branding, 2nd half tablets, and whether or not he would want to be first to Ice Cream Sandwich.
Sanjay is always a good listen, so we've put together a brief summary of some of these parts that stuck out below.   
DROID Bionic:
We'll start with the hottest of topics, the DROID Bionic.  While Sanjay would not go into any specific details, like say a launch date, he did make an interesting comment about this device being an "important product, but not the only product," which sort of struck us.  Moto in general seems almost surprised at the success of the Photon 4G, DROIDX2 and DROID3, making the late Q3 release of the Bionic much less important, perhaps.  We know that it'll be huge for their sales throughout the rest of the year, but you almost get the feeling that they have other things in the works to round out Q4 that could be as important.
A New Global Brand:
Moto could be looking to take a page out of Samsung's Galaxy branding playbook in the very near future.  When asked today about their fragmentation across carriers around the globe (DROID and non-DROID, Milestone, etc.) and if they would adopt something similar to Samsung's approach, Sanjay was clear that they are ready to do something immediately.
In fact he said that when you release lead products, "within a very short period across multiple carriers around the globe.  That then means you can put marketing dollars behind it and drive sales globally."  The follow up question then went directly into branding and whether or not it would become more consistent, garnering this response, "You got it.  You will see with global launches, much greater consistency."
Hello, KORE?  While many of us were looking at the KORE name as the next Moto tablet, what if they instead are using it as their new global brand name?  Just something to consider.
New 2nd Half Tablets:
Tablet talk this morning brought to the front, Motorola's realization that they put too much weight behind their 3G/4G tablet and that they should have been pushing WiFi versions from the beginning.  Clearly they don't read this site or our comments enough, or they would have know this from day 1.
He did say this though, "Price points move much faster than we anticipated.  We needed to launch globally with WiFi much earlier.  You will see us launch in 2nd half with our tablets, much more aggressive form factors, much greater differentiation in terms of enterprise capability, in terms of multimedia and in terms of distribution. And potentially some marketing plans behind that."
So they clearly understand now that people want tablets that aren't tied to carriers, in different forms factors, and that have much greater multimedia capabilities.  They are also planning a another mass marketing campaign which brings up that new KORE name again that we saw last week throughout a variety of new Moto domain purchases.  There is a chance that it could be the name of their next tablet, but it could also be the new branding of Moto's mobile line globally.
On Being First to Ice Cream Sandwich:
To finish out Sanjay's talk at today's Oppenheimer conference, he was asked point blank, if he would want to be the first to Ice Cream Sandwich after dealing with the frustrations of being first to Honeycomb.  He had this to say:
"It depends. I would say by and large I would like to be the first. But there are times when being the first to launch has greater schedule uncertainty. You are taking more chances with new innovation in the beginning and sometimes that has negative impact. By and large, largely it's a very positive thing."
So even after dealing with a half-baked version of Honeycomb and a not-so-impressive selling of the XOOM, Sanjay understands that being the first to a new Android OS is incredibly important  Unfortunately for him, we're pretty sure that Samsung will be first to ICS.
To Recap:
What I took from listening to this conversation, was that Motorola has big global plans in the very near future through both tablets and phones.  They have realized that marketing their products to a bigger market is much easier if they adopt a new brand name (possibly KORE), and that their focus is no longer just with Verizon and the DROID group.  I did not get the feeling that they will be moving away from DROID, but that everywhere else, they will have some sort of constant name other than Blur that their products can be recognized by.
Any thoughts come to mind from you guys?